Attenzione! Se non siete in pari con Game of Thrones 8 troverete degli spoiler!
È andata. Nel penultimo episodio di Game of Thrones 8, l'equivalente del classico e traumatico nono episodio delle stagioni passate, il peggio è avvenuto. Daenerys, contro tutti i suoi antichi buoni propositi, ha infine abbandonato l'ultimo brandello di raziocinio che le rimaneva. Ha obbedito alla cieca furia vendicatrice che risuonava nella sua mente più forte ancora delle campane di Approdo del Re. Ha obbedito al grido di odio e furore di Aerys Targaryen, il Re Folle, bruciando tutto e tutti. Infine, ha raso la città al suolo, incendiandola con le fiamme di Drogon e facendola saltare in aria con le riserve di Altofuoco esplose di conseguenza. Inavvertitamente, eppure in maniera tanto appropriata.
È stato quello l'ultimo anello di collegamento tra Daenerys e suo padre. Ha portato a termine il suo ultimo, delirante desiderio, e a contribuire alla distruzione della capitale e all'uccisione di un'infinità di innocenti è stata la stessa sostanza che intendeva utilizzare per bruciare vivi i suoi sudditi. La figlia del Re Folle è diventata Regina Folle a sua volta. La metamorfosi a Mad Queen è stata finalmente completata, consacrata nel fuoco e nel sangue.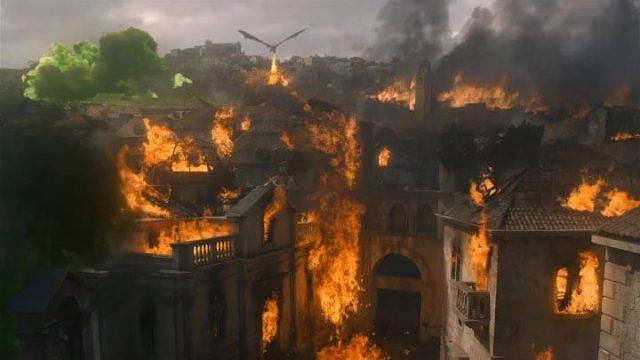 A fermare suo padre anni prima era stato Jaime Lannister. Ora che Daenerys ha preso il posto del Re Folle, avremo anche un successore dello Sterminatore di Re?
Dato il pericolo rappresentato ora da Daenerys, non possiamo escluderlo. Anzi, la sua morte è diventata il più grande imperativo del finale di Game of Thrones 8. Chi potrebbe essere a farsi carico di questa responsabilità? Nello scorso episodio un primo, infruttuoso tentativo è stato fatto da Varys, a cui abbiamo già dovuto dire addio.
Uscito dai giochi il Ragno Tessitore, i principali candidati sono tre.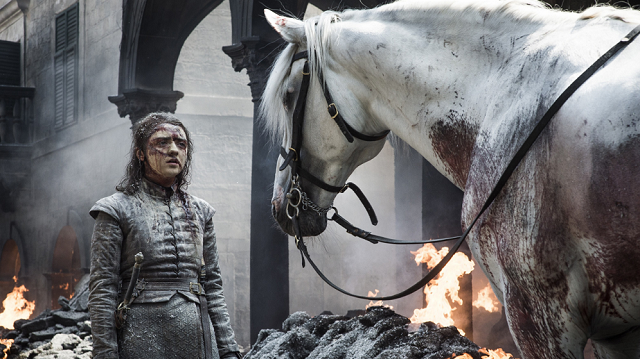 La prima e forse ora più scontata è Arya Stark. Se fino a poco prima non aveva alcun motivo per volere morta Daenerys, qualcosa sembra essere cambiato in quell'ultima scena della 8×05. I corpi carbonizzati di madre e figlia stretti in un ultimo disperato abbraccio, morti innocenti che gravano sulla regina come ogni singola vittima della carneficina appena conclusa, hanno fatto nascere un nuovo proposito nella mente e nel cuore della giovane Stark. Il nome di Daenerys Targaryen potrebbe essere finito in cima all'ormai scarna lista di Arya.
Una seconda opzione potrebbe essere rappresentata da Jon. Fino a ora è rimasto fedele a Daenerys nonostante i forti segni di squilibrio mostrati già prima dell'attacco ad Approdo del Re. Sembra però essersi reso conto della terribile realtà dei fatti quando "la sua regina" ha deliberatamente deciso di ignorare le campane e di mettere la capitale a ferro e fuoco. Lungi dall'abbandonare la ferrea morale ereditata da Ned Stark, Jon potrebbe prendere sulle proprie spalle questo fardello: uccidere la donna che ama per la salvezza di innumerevoli vite umane.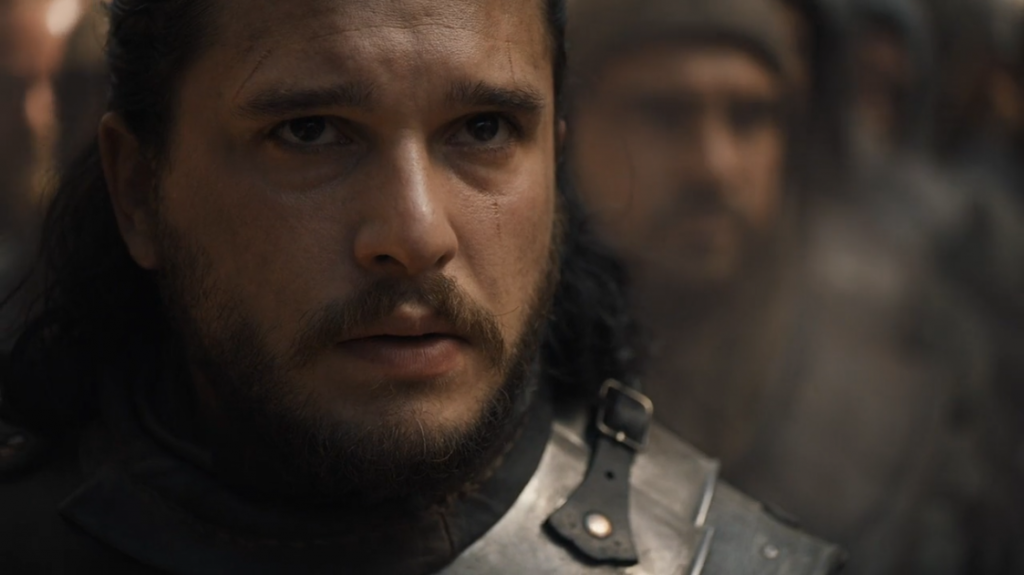 Così Jon potrebbe rientrare a pieno titolo nel ruolo del Principe che fu promesso, colui che secondo la profezia salverà il mondo dall'oscurità. Non portando però la fine della Lunga Notte con l'uccisione del Night King, avvenuta per mano di Arya. L'oscurità cui la profezia allude potrebbe essere la buia era di tirannia e terrore che inizierebbe con l'ascesa di Daenerys al Trono di Spade. Uccidendo la regina, Jon impedirebbe quella che sarebbe in definitiva la totale rovina non solo dei Sette Regni, ma anche di Essos. Questo potrebbe essere il vero scopo per il quale il Signore della Luce lo ha riportato in vita.
Infine, un ultimo candidato potrebbe essere Tyrion.
Tyrion Lannister, forse il meno probabile dei candidati eppure, paradossalmente, forse il più giusto. Durante le ultime stagioni il suo personaggio è stato un po' sotto tono. In Game of Thrones 8 questa tendenza si è acutizzata: costantemente sotto minaccia da parte di Daenerys, ha commesso un errore dopo l'altro e preso altrettante batoste. Gli ultimi e più fatali, l'errore di valutazione commesso proprio su Daenerys rifiutandosi di credere a ciò che sarebbe successo, e l'inevitabile sgomento quando questa ha gettato Approdo del Re nel caos, ignorando le grida di resa.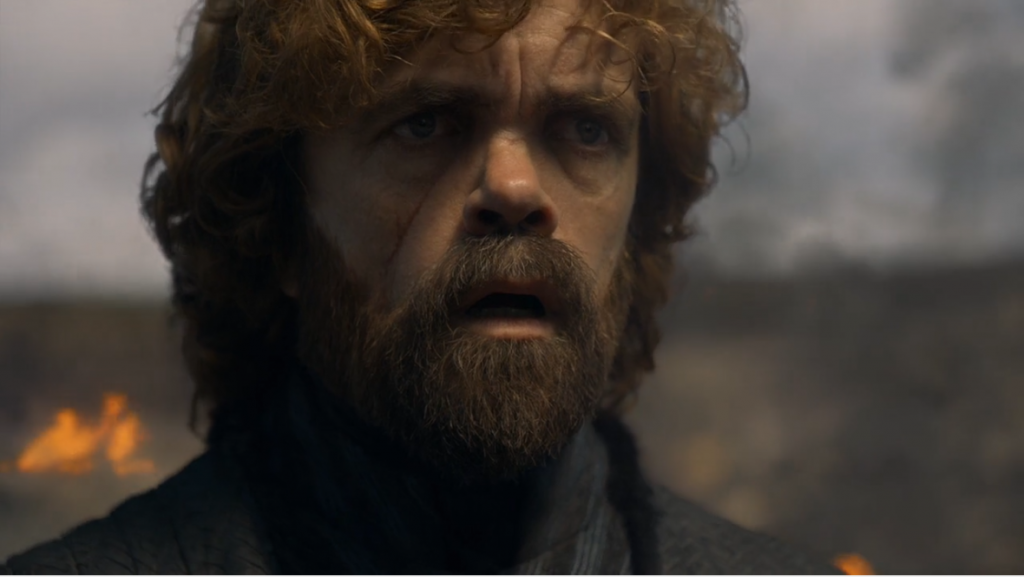 Potrebbe farlo. In quanto suo Primo Cavaliere è l'unico rimasto abbastanza vicino a lei da poter avere l'occasione giusta. Per chiunque altro superare misure di sicurezza, gli Immacolati, persino Drogon, sarebbe un problema considerevole. Tyrion ha modo di rimanere solo con lei. La motivazione ormai non gli mancherebbe. Ha aperto gli occhi e non può più negare che Varys aveva ragione: la regina che supporta non è più la donna giusta che aveva deciso di seguire e consigliare. Quella persona è annegata nel dolore e nell'isolamento, rimane solo l'ennesimo folle Targaryen.
Tyrion sarebbe il candidato migliore anche a livello narrativo.
Se fosse lui a uccidere Daenerys, verrebbero portati avanti quei parallelismi che hanno costellato Game of Thrones 8. Tyrion Lannister prenderebbe il posto di Jaime Lannister. Lo Sterminatore di Re uccise Aerys Targaryen che sul Trono di Spade gridava "Bruciateli tutti!". Tyrion ucciderebbe Daenerys Targaryen, salita al Trono di Spade dopo aver bruciato tutti. Un nuovo Sterminatore, nuovamente un Lannister, per la nuova Mad Queen. Il parallelismo sarebbe perfetto, e porterebbe alla chiusura un cerchio aperto anni prima, con l'uccisione del Re Folle da parte di Jaime e la vittoria dei ribelli.
Un atto estremo, ma necessario. Un altro Lannister che uccide il sovrano Targaryen che aveva giurato di servire. Un altro gesto compiuto in nome di un bene più grande, a costo stavolta di un enorme rischio: la sua stessa vita. Uccidere Daenerys potrebbe significare per Tyrion morire subito dopo. Ma così si riscatterebbe dagli errori commessi, e sarebbe la degna chiusura per un personaggio dal potenziale enorme rimasto in secondo piano troppo a lungo.