# #
Il nostro viaggio nel mondo di Westeros sta per concludersi. Nulla sarà lo stesso dopo quello che accadrà nell'episodio finale di Game of Thrones. La HBO ha diffuso le prime criptiche immagini della puntata in onda questa domenica.
# #
Le foto del finale super segretissimo sono appena state diffuse. Il risultato pare abbastanza chiaro, rimangono in due. E sì, perché le foto sono solo due e inquadrano due dei personaggi principali.
Daenerys ha vinto il regno di Westeros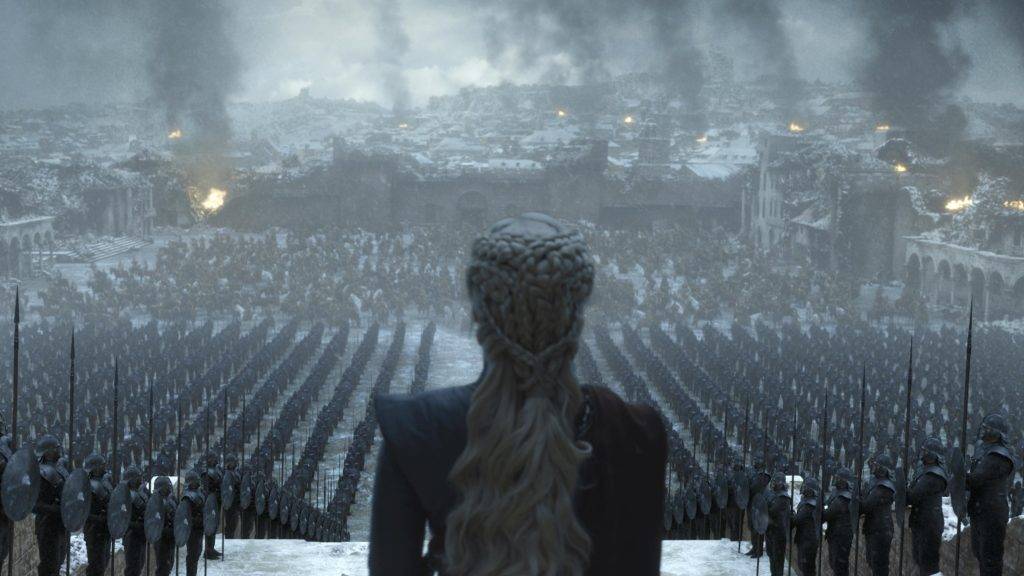 Nella prima foto vediamo Daenerys circondata dalla cenere davanti al suo plotone armato. Dopo aver conquistato, o meglio bruciato, Approdo del Re ora è lei la regina dei Sette Regni. La ragazza è pronta per proclamare un discorso di vittoria al suo popolo.
# #
L'immagine in questione è presente anche nel trailer dell'ultimo episodio diffuso giorni fa da HBO. In questo video non vengono però rivelate informazioni importanti sulla trama del finale dell'epica saga.
Nella seconda e ultima foto incontriamo invece un primo piano di Tyrion Lannister che appare perplesso e forse anche un po' timoroso. Non sappiamo se l'immagine sia tratta da un confronto con la nuova regina o il legittimo erede Jon Snow.
Sarà Tyrion a fermare la follia della nuova regina?
La presenza di queste sole due foto ci porta a pensare che probabilmente sarà l'ultimo dei Lannister a riparare al danno fatto e fermare l'ormai folle Targaryen.
Il grande assente di queste foto promozionali è Aegon Targaryen/Jon Snow. Il ragazzo non appare neanche nel trailer ufficiale, ma nonostante questo si può pensare che avrà comunque un ruolo cruciale nel gioco dei troni, che non si è ancora concluso.
Dopo gli avvenimenti del penultimo episodio qualsiasi cosa può accadere. Non sappiamo con certezza nulla se non che gli sceneggiatori di Game of Thrones non hanno paura di prendere decisioni contro ogni aspettativa.