Fuoco e sangue. Mai come nell'episodio di Game of Thrones 8×05 il motto dei Targaryen si imprime come un bollente marchio, nella morbida pelle di un popolo innocente. Non è solo la cenere a fluttuare nel cielo ma anche le speranze e le illusioni, di tanti uomini e donne che avevano riposto fiducia in Daenerys Targaryen. Riposto fiducia nella persona sbagliata.
In questo panorama si realizza il più tragico dei disegni, attraverso le mani di un fato rigido e spietato. La Khaleesi, così come è nata, conclude il suo cammino nella tempesta. Come un incubo senza fine, le urla e la disperazione sono talmente acuti da coprire ogni cosa. Coprono le lacrime di Cersei Lannister, coprono il dolore di Tyrion, coprono le sorde e metalliche lance spezzate dei due schieramenti.
Eppure non tutto è perduto, forse esiste speranza. Un finale agrodolce per ogni personaggio in gioco, per gli spettatori e per la stessa Daenerys Targaryen. In una scena di pochi minuti Game of Thrones 8×05 strizza l'occhio al gran finale e una tramortita Arya Stark riprende i sensi.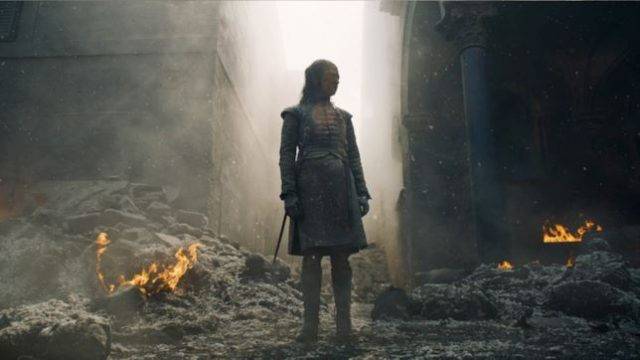 I passi sono lenti, incerti. Solo macerie intercettano il suo sguardo per poi cadere lì. Una madre e una figlia, a noi sconosciuti, ma immagine di un intero popolo. Una famiglia che Arya ha tentato disperatamente di salvare. L'inquadratura stringe sul giocattolo di un cavallo bruciato e poi sul bianco animale, in carne e ossa, che silente osserva la giovane Stark.
In quell'istante, il tempo si ferma. L'ambiente si trasforma, e nella sua devastazione diviene caldo, quai etereo. È una scintilla di amore, una leggera vibrazione di speranza.
Un istante più lungo dell'intero episodio che non vuole dirci nulla. O forse vuole dirci tutto.
Non sappiamo a quale dei tanti soldati appartenga il cavallo, tuttavia il comandante della guardia dorata Harry Strickland viene più volte inquadrato in sella a un cavallo bianco. Fiero combatte per la sua regina, la sua città e il suo popolo, cadendo per loro. Abbandona il regno dei vivi come tanti, nell'incubo di un'apocalisse che non fa sconti a nessuno.
Ed ecco mi apparve un cavallo bianco e colui che lo cavalcava aveva un arco, gli fu data una corona e poi egli uscì vittorioso per vincere ancora.
E se di Apocalisse parliamo, le parole dell'evangelista Giovanni appaiono quantomai singolari. Per alcuni esegeti il primo cavaliere dell'Apocalisse è una figura controversa. In sella al suo cavallo bianco è la corsa vittoriosa della predicazione cristiana o il Cristo stesso. Inoltre il bianco è simbolo di pace, purezza e innocenza, ma anche di morte e tragedia.
In seguito alla battaglia di Winterfell osserviamo Arya Stark, compiaciuta del suo trionfo contro gli Estranei, scoccare una freccia. Trionfante si addestra in vista del suo prossimo obiettivo: Cersei Lannister.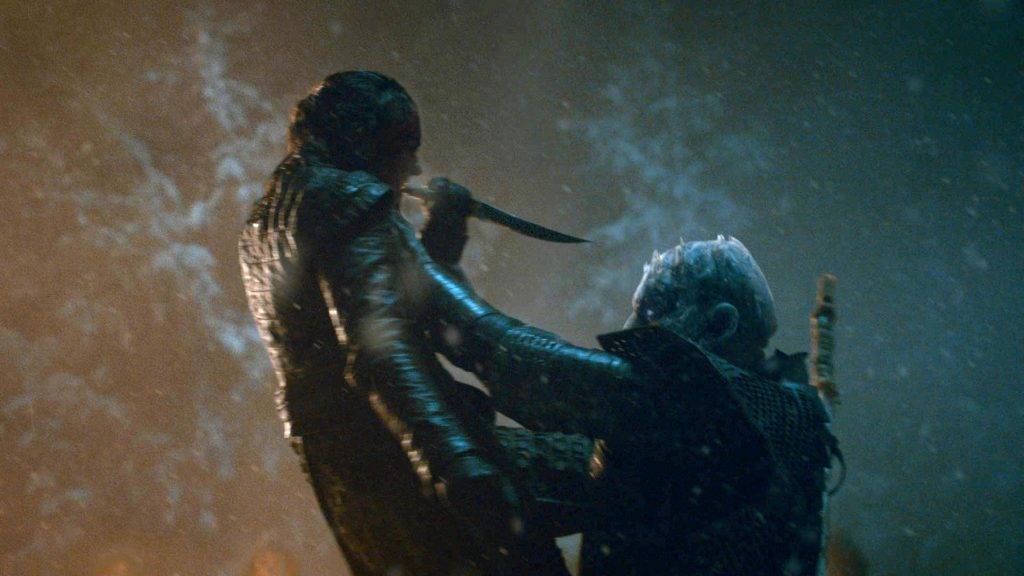 Tuttavia in Game of Thrones 8×05 si percepisce un leggero cambio di rotta. Per la prima volta, rivediamo lo sguardo impaurito di quella ragazzina che ha visto decapitare il padre. Debole, come tutti gli esseri umani. Una ragazza che nulla può contro la furia di un bellicoso Dio che sputa fuoco dal cielo.
In quell'unico istante, sconnesso dal resto dell'episodio, il suo viso torna rilassato e serio, in connessione con lo sguardo del cavallo. E lei comprende. Ogni cosa diviene cristallina. Riesce a vedere l'innocenza e la bontà d'animo di una Khaleesi ormai morta e sepolta. Il regalo di Khal Drogo alla sua timida e terrorizzata giovane sposa. La speranza e la forza vitale di chi è sopravvissuto e può rialzarsi, per ricominciare, più forte di prima.
In fondo la speranza è un giocattolo che teniamo stretto vicino al nostro cuore. Una piacevole illusione, che solo i più forti conservano anche in età adulta. I più sfortunati rischiano di portarsi la loro forza nella tomba, schiavi della loro innocenza e di quella infanzia strappata via. Inconsapevoli, tra le fiamme dell'inferno.
Arya Stark lo ha compreso e forse il suo ciclo narrativo può dirsi concluso. Può abbandonare il Dio dai mille volti, per tornare "umana" e compiere un ultimo atto, non più accecata dalla vendetta.
Colei che era entrata nella Casa del Nero e del Bianco, ne è uscita solo in parte cambiata, non avendo mai terminato il suo addestramento. Quella stessa ragazzina, che varcò le porte di Approdo del Re su un cavallo nero, abbandona le macerie delle città in sella a un cavallo bianco.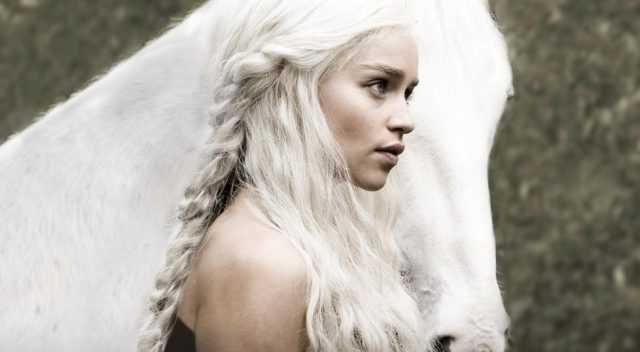 Se romanticamente accettiamo questo scenario suggeritoci da Game of Throne 8×05, Arya Stark potrebbe essere colei che ucciderà la nuova Mad Queen. In sella al suo cavallo bianco e con un arco teso, la sua mira potrebbe non fallire. Un giustiziere che dona la speranza di un nuovo inizio, concludendo la profezia di Melisandre. Saranno gli ultimi occhi a chiudersi e con essi forse la stessa Arya Stark.
Attraverso questa idea, Daenerys Targaryen potrebbe avere il giusto epilogo che la sua anima tormentata merita. Una fine agrodolce in cui, nel regno dei morti, il suo sguardo incontra quello di Khal Drogo e del bambino mai nato. Il compimento dell'ultima visione che la città eterna mostrò alla giovane Khaleesi. Un ultimo e coraggioso slancio per riappropriarsi di quello che nel suo cuore non ha mai perduto. La possibilità di poter tornare quella bambina, fiera dei suoi ideali.
Un finale agrodolce per Daenerys, per i Sette Regni e anche per noi. Una chiusura dove la speranza si materializza tra il fuoco e il sangue.