Momenti di puro smarrimento ad inizio puntata: niente sigla, succedono cose a caso, veniamo catapultati in medias res ne "I Pilastri della Terra".
E poi succede. SBAM. Ritorna lui, più badass e vivo che mai: il Mastino.
Benjen Stark piange in posizione fetale in un angolino, il suo ritorno è appena stato surclassato di brutto.
Manca solo Gendry al conteggio.
Ad Approdo del Re:
Margaery vestita e pettinata come alla prima comunione ha imparato a memoria tutto il manuale di "Istituzioni di Teologia dei Sette Volume I" per fisseggiarsi con l'Alto Passero ma sbaglia in pieno il programma d'esame: oggi Educazione Sessuale, niente lezione di catechismo.
Eh già, il piccolo Re infatti sta piangendo disteso sul letto come solo una principessa Disney sa fare: Margaery ha mal di testa/il ciclo/è stanca da troppi giorni ormai.
Insomma, si è unito ad un credo folle, si è fatto odiare da tutta la propria famiglia e fatto la figura della mammoletta per poter andare a letto con la propria Regina e TAC, questa lo frega.
Mai una schifo di gioia in questa vita.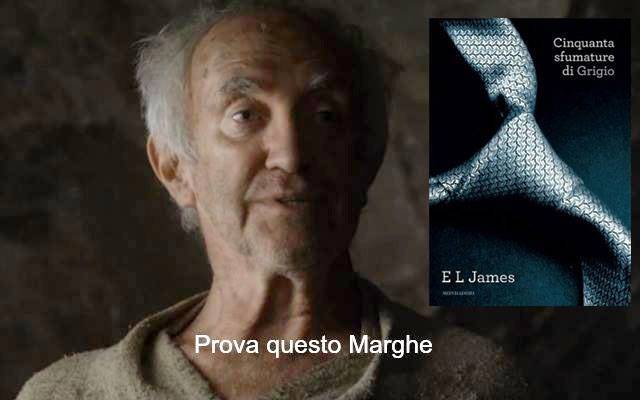 L'Alto Passero poi ci caccia un bel discorso altamente sessista, giusto perché ancora non si era fatto odiare abbastanza dal pubblico femminile. Ok l'ambientazione "medievale", ok che questo è Game of Thrones eccetera eccetera, ma la voglia di prenderlo a testate non me la toglie nessuno.
Nonna Olenna intanto è altamente preoccupata per l'improvviso cambio di rotta della nipote ma, come previsto, Margaery ha un piano ben preciso. La nipote della Regina di Spine non poteva certamente essere una povera sprovveduta.
Septa Trinciabue perculata verrà ricordato negli annali dello sputtanamento per sempre.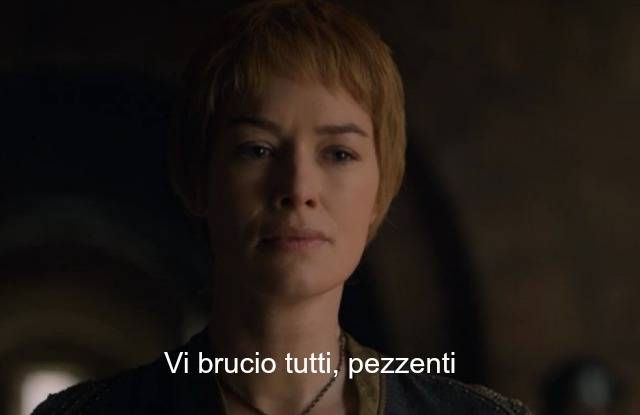 Cersei, grazie ad un velatissimo e gentilissimo suggerimento di Olenna, si rende conto di essere sola e non avere più alcun potere in mano. Si è scavata la fossa con le sue stesse mani e adesso uscirne sarà difficile.
Vedo già il suo occhietto tremolante da psycho killer accendersi pensando alle urla dell'Alto Passero nell' Altofuoco. Siamo tutti con te Cersei.
Margaery è così complottista da essere entrata nel cast di Quantico: 7
Tommen è tornato tristemente da Federica e alle vecchie tristi abitudini: 6 di consolazione
Olenna uscirà probabilmente di scena: fiumi di lacrime ed un ultimo 10 +
Cersei ha chiamato il professor Oak per sapere se ci sono ancora Charmander disponibili da allenare: 7, ottimo piano
A Riverrun:
Jaime e Bronn finalmente riuniti. Gente che si strappa i capelli dalla gioia, balletti, pianti e coriandoli lanciati in aria.
L'incompetenza dei Frey è lampante e imbarazzante da subito.
Jaime si impone subito come la peggior stronza del ghetto: schiaffi al popolo, sculettamenti, prende il comando e cambia le carte in regola. Tuttavia riesce comunque a farsi mandare a quel paese da Bronn alla frase "Un Lannister paga sempre i suoi debiti". Ore e ore di applausi.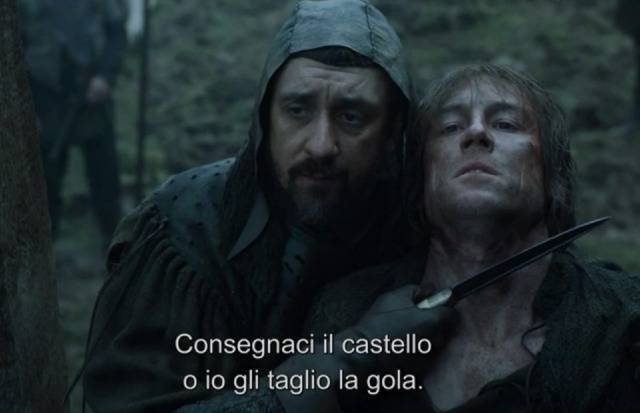 Intanto Edmure continua ad essere così inutile che a confronto T Dog è stato un personaggio memorabile nella storia di The Walking Dead.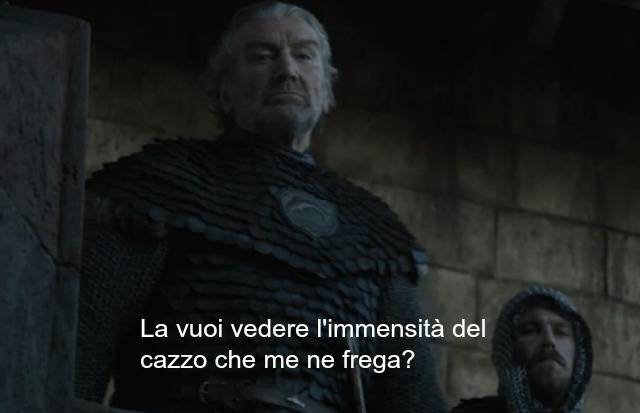 A nessuno piace Edmure, nemmeno a suo zio.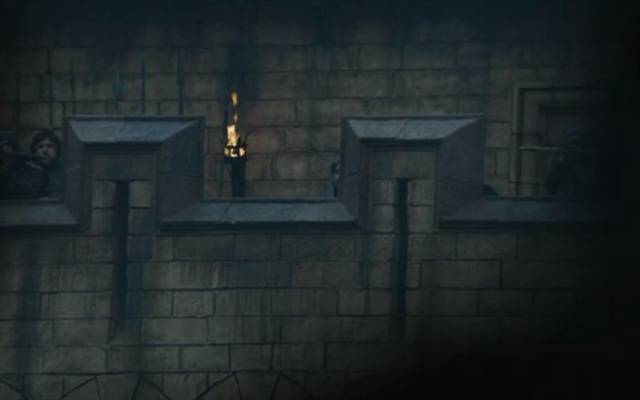 Il Pesce Nero ci fa vedere chi veramente ha le palle/ pinne in famiglia, l'alleanza Frey-Lannister (o come li chiameremo d'ora in poi i #Frannister) può continuare a giocare a fare l'assedio quanto vuole, loro si sono fatti l'abbonamento a Netflix per due anni e hanno scorte di pizza surgelata fino a scoppiare: dal divano non li muove proprio nessuno.
Più o meno nella stessa zona si trova anche Sandor, è stato salvato da Tom il Costruttore (eh scusate i richiami ai Pilastri della Terra sono troppi per non essere raccolti) proprio all'ultimo momento: il suo corpo era praticamente morto, con vermi e tutto, cose da far inorridire pure il Re della Notte dallo schifo.
Per fortuna a Sandor è andata meglio che a Paulo e Nikki (gli amici di Lost capiranno).
Ma come al solito nei Sette Regni le gioie non possono durare troppo a lungo: soprattutto quando sei un prete che si veste in modo informale, fai i primi discorsi sensati sulla religione dopo sei stagioni e rinunci totalmente alla violenza. Nessuno può scampare al proprio destino.
La Fratellanza senza Vessilli compie una vera e propria strage di innocenti disarmati, solo per prendere cavalli, provviste e acciaio. Da lettrice, personalmente, non mi tornano molto i conti, spero che ora papà Thoros prenda per le orecchie questi disgraziati e li punisca per bene.
Per quanto riguarda quel misterioso arrivo (LS), io non penso arriverà ragazzi, c'è già troppa carne al falò di R'Hllor.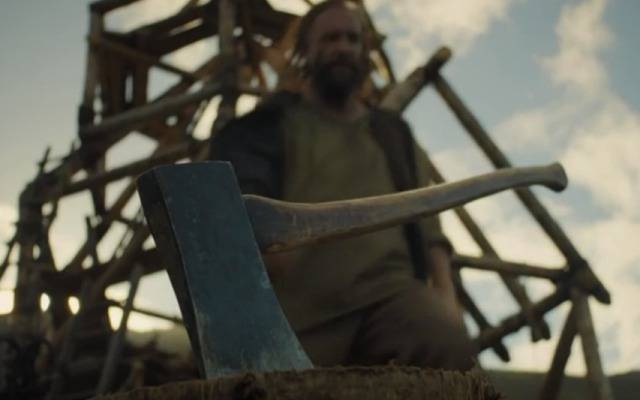 Ora Sandor andrà all' Overlook Hotel a prendere lezioni di "come distruggere il mondo con un accetta". Oh, Jack Torrence è un ottimo maestro.
Il Pesce nero si rivela essere un fan di Robin Sparkles: 9
Bronn e Jaime hanno la migliore bromance in assoluto: 7
Il grande ritorno di Sandor ci fa sperare nel famoso Cleganebowl: 8
Al Nord:
Sansa, Davos e Jon fanno i cosplayer di Maria, Giuseppe e il Bambin Gesù (faccio notare l'ottima scelta di Jon per l'affinità nella resurrezione). Girano inutilmente di casa in casa alla disperata ricerca di un posto per la notte/ esercito, ma alla fine si riducono ad una triste grotta con mangiatoia.
La piccola grotta in questione sono i 62 uomini guadagnati a fatica da Lyanna Mormont, chiaro no?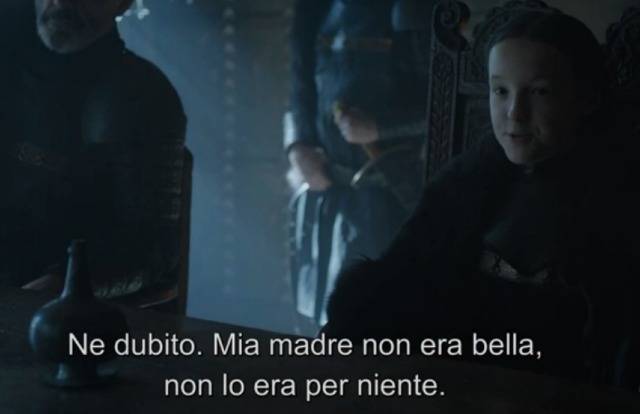 Ci tengo a precisare che secondo me Lyanna è Olly sotto mentite spoglie, tornato dal mondo dei morti per vendicarsi e guardare nuovamente tutti con il suo sguardo da Satana reincarnato. Sono UGUALI.

Solo io noto questa somiglianza?
Ancora risate a profusione per Jon, che è palesemente ancora in abbiocco post resurrezione, sia per il fatto che riesca a farsi mettere i piedi in testa pure da una ragazzina di 10 anni sia per la frase detta da Sansa, e lui lì tranquillo tranquillo:
"Ti chiami Lyanna come mia ZIAHAHAHAHAHAHAHAHAHAHAHAHAHAHAHAHAAHAHAH"
Sansa da quando ha finito il tirocinio con gli X Men se la sta tirando un pochino troppo, il Cavaliere delle Cipolle non si tocca mia cara.
Si riduce a chiedere aiuto al più viscidone dei Sette Regni: Ditocorto. Prevedo fulmini e tempeste nella serena reunion tra Stark/Snow.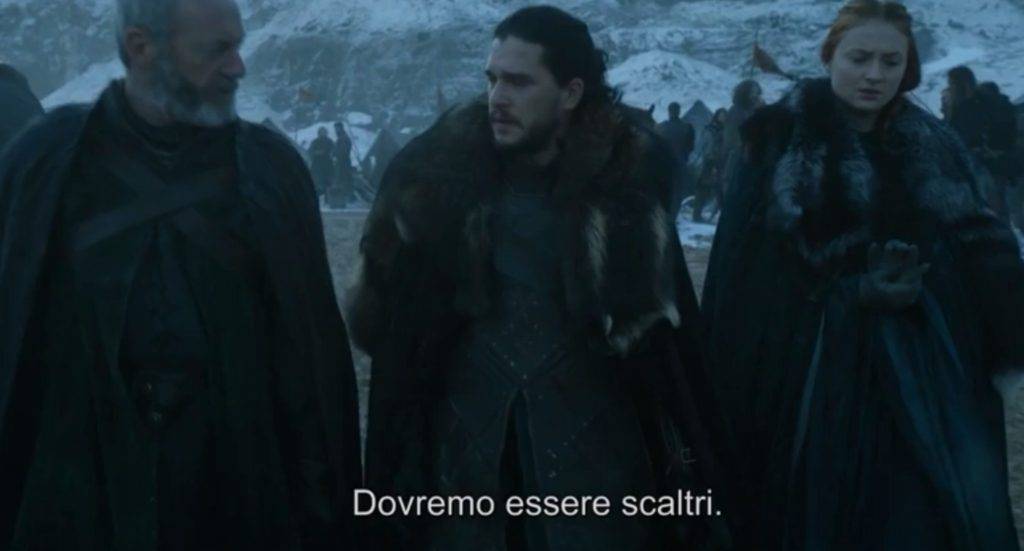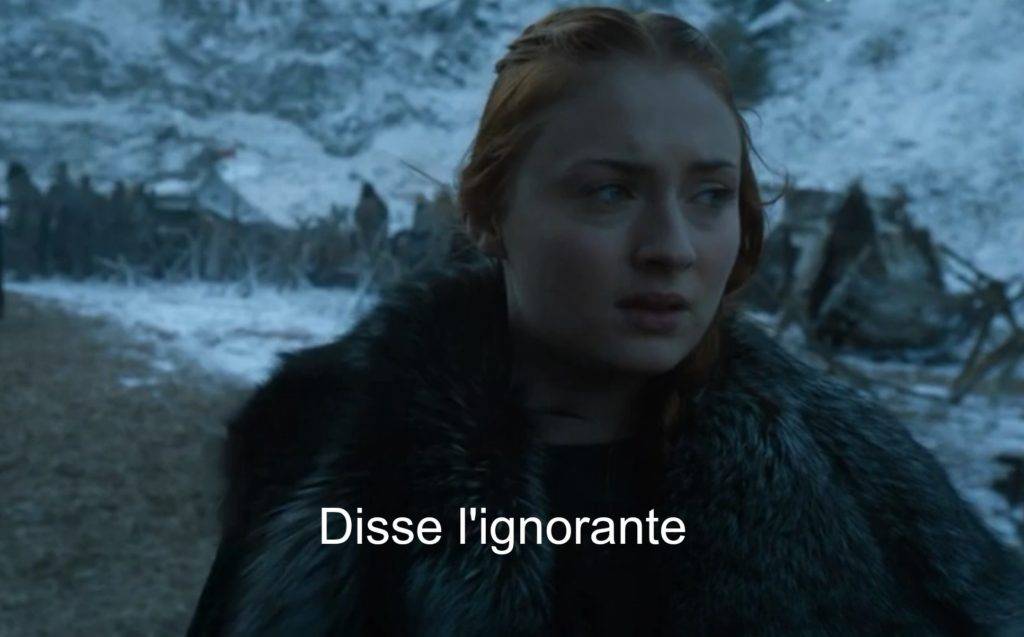 Lyanna sul Trono di Spade, SUBITO: 10000000
Jon è ancora il più ignorante degli ignoranti, uno di quelli che dopo 5 anni di liceo scientifico fa ancora le sottrazioni e addizioni prima di moltiplicazioni e divisioni: 2
Prendete tutto lo screenplay dell'Alto Passero e datelo a Davos, grazie e arrivederci: 5
Ad Essos:
L'essere un pochino scemi e troppo fiduciosi nei confronti del prossimo deve essere proprio di famiglia, c'è poco da fare.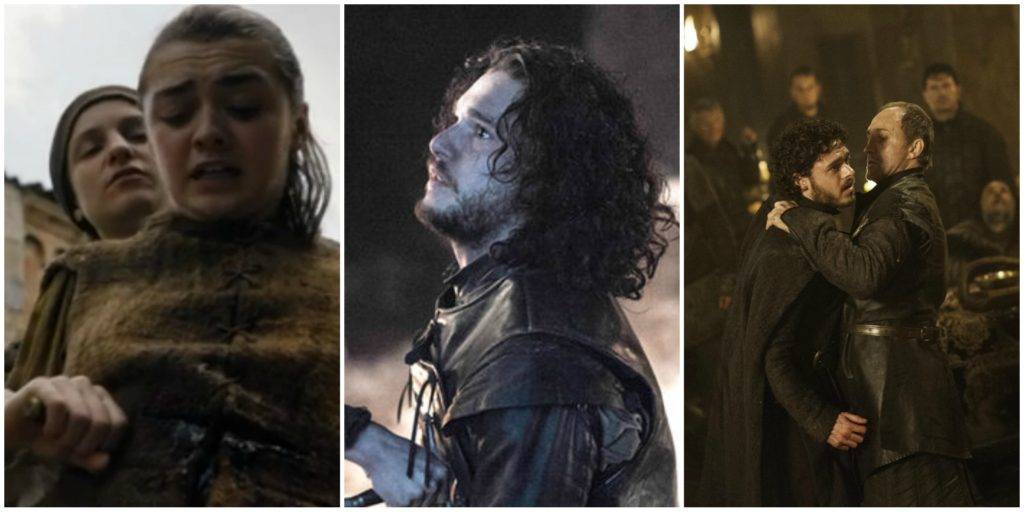 Coincidenze? Io non credo.
Insomma, ammetto di essere quasi svenuta perché per un istante ho creduto che l' orfana ninja avesse tagliato la gola ad Arya. Puro smarrimento per una frazione di secondo che ha visto il mio intero universo collassare su se stesso.
Invece l'ha solo sventrata. Per fortuna oh.
Aspetto con ansia l'intervento di Lady Crane, le deve un favore no?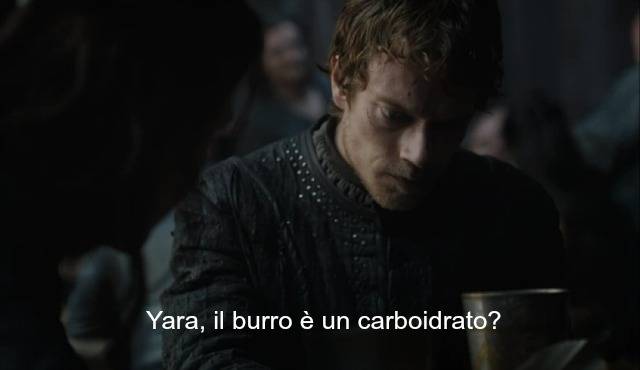 Theon intanto si prepara alla prova costume e non assaggia nulla dal meraviglioso banchetto che la Baia degli Schiavisti offre. Sua sorella invece gode a piene mani dei piaceri della vita, lei è una di quelle stronze con il metabolismo veloce.
Arya è proprio una Stark: 4
Theon capisce che forse le torture di Ramsay non erano poi così male, il "guardare ma non toccare" lo distrugge: 7
La ship #Yanerys deve diventare canon, grazie: 8
Anche in queste pagelle tornano…. gli Oscar del Trono!
Premio scemo del villaggio: Edmure
Premio muori male: L'orfana maledetta
Miglior nuovo personaggio: Lyanna fucking Mormont
Premio spaccaculi: Sandor Clegane (e chi altri???)
Premio non ce la faccio a farcela (neanche per sbaglio): L'intera famiglia Frey, complimentoni per la tecnica militare degna dei figli di Atena (andate a prendere lezioni da Annabeth Chase, pezzenti)
Ringraziamo i nostri partner di  Game of Thrones – Italy, Game Of Thrones fans page -ITA- , Game of Thrones ITALIA , L'immane disgusto di Varys nei confronti dell'umanità. Team Sansa, Il trono di spade