Della prima stagione di Game of Thrones, ormai, abbiamo detto e scritto qualsiasi cosa. L'abbiamo vista, l'abbiamo rivista e soprattutto l'abbiamo analizzata.
Ogni singolo fotogramma dei primi 10 episodi del Trono di Spade è passato sotto la minuziosa lente dei fan, alla ricerca di prove o indizi a suffragio delle proprie congetture circa il passato e il presente degli illustri abitanti di Westeros.
Già, ma di quello che in onda non c'è andato cosa si può dire?
In questo articolo di qualche tempo fa, avevamo parlato di alcune delle scene tagliate che si possono facilmente reperire su Youtube o affini. Esistono però ulteriori scene girate e mai trasmesse, e altre invece che sono state scritte e che poi, per un motivo o per l'altro, non hanno mai visto la luce.
Momenti che avrebbero potuto sciogliere qualche dubbio o spiegare meglio determinati passaggi di una storia che, al netto di quanto indiscutibilmente ci piaccia, è decisamente complicata nell'intreccio.
Alcuni di questi sono citati nei libri scritti da uno degli autori di Game of Thrones, Bryan Cogman: Inside HBO's Game of Thrones e Game of Thrones – The Storyboards. Ecco quindi qualche scena che avremmo potuto (e magari dovuto) vedere nella prima stagione di GoT, e che invece è finita nel dimenticatoio…
IL SOGNO DI NED
Sappiamo tutti come inizia Game of Thrones. La disavventura di Will con gli Estranei ci catapulta fin da subito nell'atmosfera incerta del continente occidentale, dove l'unica cosa su cui si può stare ragionevolmente sicuri è che la morte è dietro l'angolo. E non ditelo al povero Will.
In realtà, il prologo del Pilot di Game of Thrones sarebbe dovuto essere un sogno – o per meglio dire un incubo – di Ned Stark. Il signore di Grande Inverno avrebbe visto passare davanti ai propri occhi i tragici momenti della fine di suo fratello e di suo padre giustiziati dal Re Folle, prima di svegliarsi di soprassalto.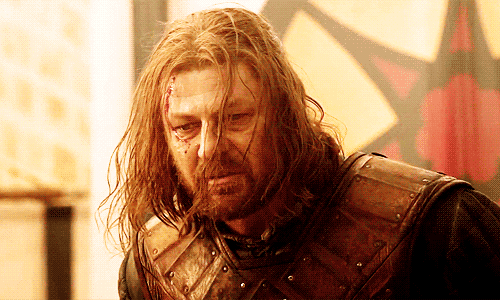 Oggettivamente, un inizio di questo tipo ci avrebbe fatto capire ben poco. La prima scena è quella che apre le finestre sulla storia, e cominciare con un semi flashback di quasi vent'anni prima, tra l'altro parzialmente avulso dalla trama della prima stagione, non era con tutta probabilità la scelta migliore.
Vada per Will, con buona pace della sua testa.
IL TORNEO DEL PRIMO CAVALIERE
Il torneo del Primo Cavaliere – siamo ancora nella prima metà della stagione – è stato parecchio asciugato rispetto ai piani originari. Prima dell'inizio dei duelli, era prevista una processione di tutti i cavalieri partecipanti di fronte al palco reale.
Avremmo anche dovuto vedere Sansa prendere posto sulle tribune insieme alla sua amica Jeyne Poole, che per chi ha solo visto la Serie Tv è un nome sconosciuto, noto al contrario per i lettori delle Cronache di Martin.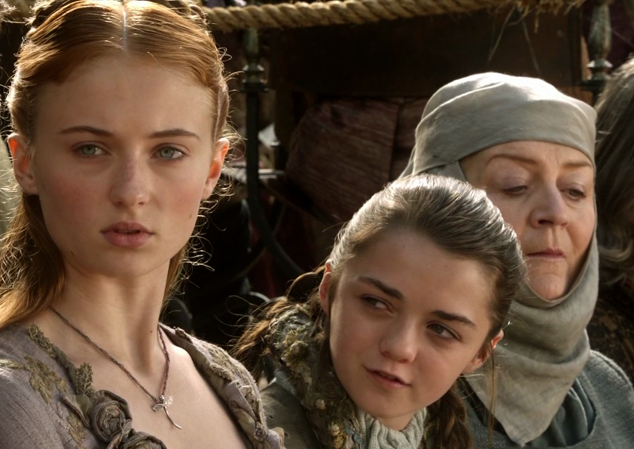 Jeyne ci viene presentata come una specie di sorella per Sansa, più di quanto lo sia Arya, e nel corso dei libri assume anche un altro ruolo molto particolare che non starò certo qui a spoilerare.
Il dialogo tra Sansa stessa e Petyr Baelish, inoltre, era più lungo, e prevedeva Ditocorto impegnato a complimentarsi con la figlia di Catelyn per i suoi capelli, identici a quelli della madre. Oddio, magari anche in questo caso meglio il taglio.
Infine, moine a parte, manca all'appello la giostra tra Jaime Lannister e il Mastino.
LE RAZZIE DELLA MONTAGNA
Durante l'assenza di Robert per la battuta di caccia – poi fatale al Re – Ned riceve le lamentele di un gruppo di contadini delle Terre dei Fiumi assaltati e massacrati dagli uomini di Ser Gregor Clegane. Ebbene, una scena raffigurante le razzie della Montagna era prevista per la sesta puntata, ma non è mai stata girata.
Stando al racconto fatto dal portavoce del villaggio, non sarebbero stati momenti adatti a gente dallo stomaco debole. Fermo restando che persone così forse non dovrebbero vedere Game of Thrones a prescindere. In questi casi meglio la versione censurata.
SPETTRO ERA INGOMBRANTE
Più di così, ovviamente.
Nell'episodio 8, uno dei due Non-Morti si intrufola negli appartamenti del Comandante Mormont all'interno del Castello Nero, prima di essere fermato a colpi di spada e fuoco da Jon Snow. Secondo la prima sceneggiatura, sarebbe toccato a Spettro inseguire lo zombie e attaccarlo a suon di zanne.
Invece, alla fine, il Meta Lupo di Jon è stato escluso dalla lotta per motivi… logistici! In effetti appare strano come Spettro non prenda parte alla contesa, quando è prassi – soprattutto nelle prime stagioni – vedere i fedeli compagni degli Stark balzare in difesa dei padroni in ogni momento.
Per ulteriori informazioni chiedere al dito di Jon Umber.
LE SCENE AGGIUNTE ALL'ULTIMO
Come Bonus Track, ci sono anche diverse scene che invece non avrebbero dovuto avere luogo, ma che si sono rese necessarie per "allungare" alcuni episodi che, dopo i tagli e il montaggio, risultavano troppo corti.
Per ragioni di budget, si è preferito inserire conversazioni tra due personaggi, al chiuso, senza azione o necessità di effetti speciali. Sequenze introspettive, utili per approfondire le relazioni e per capire meglio sentimenti e modo di pensare dei protagonisti.
Un paio di esempi:
La prima apparizione di Tywin Lannister, all'inizio del settimo episodio. Vediamo il decano della famiglia di Castel Granito impartire due o tre lezioni di vita a suo figlio Jaime, senza trascurare nel frattempo la macellazione di un cervo (elemento dal forte valore simbolico, col senno di poi). In quel momento si capisce da dove nasca l'astuzia di Tyrion, la perfidia di Cersei e l'antipatia dello stesso Jaime.

La "resa dei conti" tra Robert e Cersei, una delle scene più franche e sincere della prima stagione, forse l'unico momento in cui la regina dice veramente tutto quello che pensa. Anni di bugie, falsità, odio malcelato e tradimenti, che per un attimo ci fanno comprendere, quasi giustificare, la fredda corazza di ghiaccio che sembra avvolgere il cuore della donna più potente dei Sette Regni.
Solo per un attimo però, eh.