Della prima stagione di Game of Thrones, ormai, abbiamo detto e scritto qualsiasi cosa. L'abbiamo vista, l'abbiamo rivista e soprattutto l'abbiamo analizzata.
Ogni singolo fotogramma dei primi 10 episodi del Trono di Spade è passato sotto la minuziosa lente dei fan, alla ricerca di prove o indizi a suffragio delle proprie congetture circa il passato e il presente degli illustri abitanti di Westeros.
Già, ma di quello che in onda non c'è andato cosa si può dire?
In questo articolo di qualche tempo fa, avevamo parlato di alcune delle scene tagliate che si possono facilmente reperire su Youtube o affini. Esistono però ulteriori scene girate e mai trasmesse, e altre invece che sono state scritte e che poi, per un motivo o per l'altro, non hanno mai visto la luce.
Momenti che avrebbero potuto sciogliere qualche dubbio o spiegare meglio determinati passaggi di una storia che, al netto di quanto indiscutibilmente ci piaccia, è decisamente complicata nell'intreccio.
Alcuni di questi sono citati nei libri scritti da uno degli autori di Game of Thrones, Bryan Cogman: Inside HBO's Game of Thrones e Game of Thrones – The Storyboards. Ecco quindi qualche scena che avremmo potuto (e magari dovuto) vedere nella prima stagione di GoT, e che invece è finita nel dimenticatoio…
IL SOGNO DI NED
Sappiamo tutti come inizia Game of Thrones. La disavventura di Will con gli Estranei ci catapulta fin da subito nell'atmosfera incerta del continente occidentale, dove l'unica cosa su cui si può stare ragionevolmente sicuri è che la morte è dietro l'angolo. E non ditelo al povero Will.
In realtà, il prologo del Pilot di Game of Thrones sarebbe dovuto essere un sogno – o per meglio dire un incubo – di Ned Stark. Il signore di Grande Inverno avrebbe visto passare davanti ai propri occhi i tragici momenti della fine di suo fratello e di suo padre giustiziati dal Re Folle, prima di svegliarsi di soprassalto.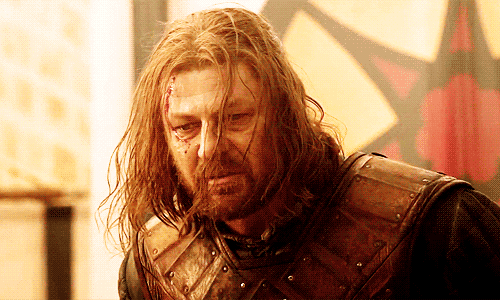 Oggettivamente, un inizio di questo tipo ci avrebbe fatto capire ben poco. La prima scena è quella che apre le finestre sulla storia, e cominciare con un semi flashback di quasi vent'anni prima, tra l'altro parzialmente avulso dalla trama della prima stagione, non era con tutta probabilità la scelta migliore.
Vada per Will, con buona pace della sua testa.