Chandler Bing e Monica Geller rappresentano quasi sicuramente la coppia più amata in Friends e più in generale in televisione. Il loro amore non è mai stato messo in discussione da nessuno. Mai fino ad ora. I sostenitori della coppia saranno infatti scioccati dalla teoria che stanno per leggere.
Questa teoria sostiene che quando in Friends Chandler ha sposato Monica era in realtà ancora innamorato della sua ex-ragazza Kathy.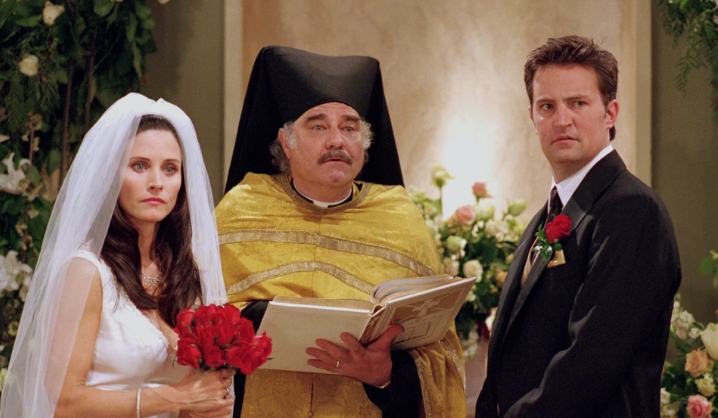 Nel corso della quarta stagione Chandler si innamora di Kathy (interpretata da Paget Brewster), una ragazza che usciva con Joey. Per il compleanno della giovane donna Chandler le acquista un libro con un significato molto particolare. Si tratta infatti della prima edizione del libro d'infanzia preferito da Kathy: The Velveteen Rabbit. Tuttavia, convinto che fosse troppo sentimentale, lo dà a Joey suggerendo a lui di regalarlo a Kathy. Questa però capisce tutto. Chandler e Kathy si baciano e iniziano a frequentarsi dopo aver ricevuto l'approvazione di Joey. Le cose però non si concludono bene: infatti Kathy decide di lasciarlo.
Dalla quarta stagione saltiamo ora all'ottava stagione di Friends: Chandler pensa ormai a Monica e Kathy sembra essere solo un ricordo appartenente al passato. Ed è proprio qui che la teoria inizia a svilupparsi.
Monica compra a Chandler un costume da coniglietto rosa da indossare ad Halloween del 2001. Per quanto l'episodio sia stato divertente, c'è un dettaglio che ai più sembra essere sfuggito. Monica dice infatti di aver acquistato proprio quel costume perché sapeva che il libro d'infanzia preferito di Chandler era The Velveteen Rabbit.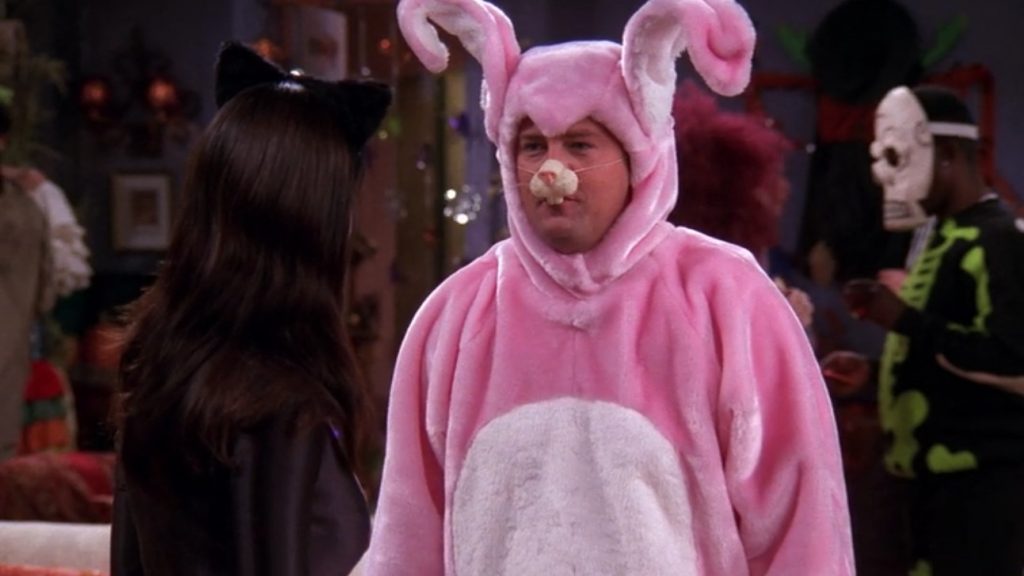 Chandler, tuttavia, non ha mai detto che il libro fosse anche il suo preferito, oltre a essere quello di Kathy. Ed è qui che un utente di Reddit ha suggerito quanto segue:
Chandler è rimasto attaccato a Kathy per tutti questi anni e il sentimento che provava era così forte che ha deciso di rendere il libro preferito dalla ragazza come qualcosa che apparteneva anche a lui.
Questo piccolo buco di trama potrebbe davvero cambiare la storia d'amore di Monica e Chandler in Friends? Come commenta un altro utente di Reddit, questo plot hole potrebbe essere sfuggito agli autori, che non ritenevamo importante esplicitare che il libro fosse anche il preferito di Chandler.
Insomma, niente ci farà pensare a qualcuno di diverso da Chandler e Monica.
Leggi anche – I numeri parlano chiaro: persino Friends ha un protagonista