Una delle qualità più rare ma necessarie ai nostri giorni è la capacità di far ridere le persone. In molti ci provano, si allenano per riuscirci, mentre per altri è una capacità innata. Un istinto che si manifesta fin dalla tenera età, senza allenamento o nient'altro. È del tutto naturale, come se le cose non potessero andare in nessun altro modo. Alcuni lo chiamano destino, altri solamente fortuna. Ma quando si comincia a parlare di Andy Samberg, il nostro Jake Peralta di Brooklyn Nine-Nine, solo una parola può descrivere tutto ciò: talento.
Classe 1978, nonostante non li dimostri minimamente, il nostro Samberg ha appena compiuto 40 anni (precisamente il 18 agosto).
E quale occasione migliore per dare un'occhiata al passato del protagonista di Brooklyn Nine-Nine?
Figlio di un fotografo e di un'insegnante, Andy è nato e cresciuto in California. Fin da piccolissimo mostra una passione sfrenata per la stand-up comedy. In particolare, il piccolo Samberg era completamente innamorato del Saturday Night Live, Show comico trasmesso sulla NBC a partire dal 1975. Talmente ossessionato dal programma da guardarlo di nascosto dai suoi genitori che preferivano il wrestling.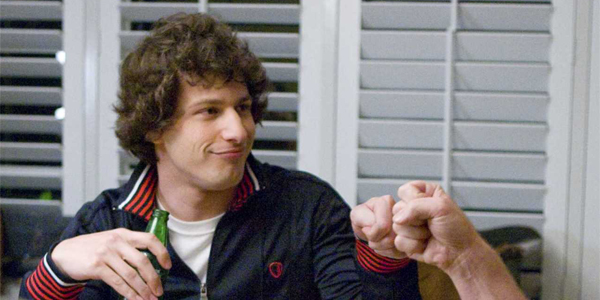 Nonostante il suo carattere vivace ed esuberante – per questo molto criticato dalle sue insegnanti – si diploma e successivamente si laurea nel 2002 alla New York University. E non dimentichiamoci che alle elementari era compagno di classe di Chelsea Peretti, Gina in Brooklyn Nine-Nine.
Youtube e The Lonely Island
La passione per la stand-up comedy lo porta a formare il gruppo comico The Lonely Island insieme agli amici Akiva Schaffer e Jorma Taccone. Con l'apertura di Youtube nel 2005, il trio diventa famoso attraverso la diffusione virale dei loro video. Ed è stato proprio grazie alla visibilità ottenuta, che Andy Samberg viene notato dal Saturday Night Live e si unisce al cast insieme al resto del trio intorno al settembre del 2005. Per il primo anno le sue apparizioni sono molto limitate, ma successivamente la sua capacità di saper far divertire e intrattenere non passano inosservate. Il nostro Jake conquista all'interno dello Show un posto sempre più rilevante.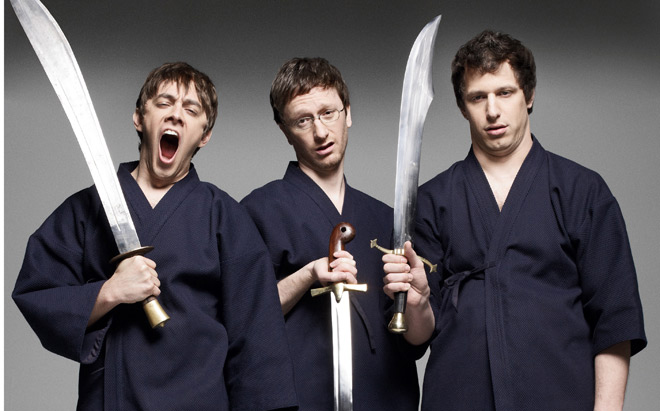 La carriera musicale
Samberg si è cimentato anche nel settore musicale con enorme successo. Ha duettato con Justin Timberlake nel video "Dick in a Box": brano d'apertura dell'album Incredibad del gruppo The Lonely Island – perché sì, sono anche un gruppo musicale.-. Ovviamente l'album oscilla tra la parodia e la serietà, nel completo stile di Andy Samberg. Il singolo con Timberlake ha ricevuto persino un Creative Arts Emmy per il testo e la melodia, oltre alla fama ottenuta diventando virale. Ci sono altri due singoli con Timberlake: Motherlover e 3-Way (The Golden Rule) insieme a Lady Gaga, che compongono insieme a Dick in a Box una trilogia.
Di cosa parla il video?
Andy e Justin sono due ragazzi alla ricerca del perfetto regalo di Natale per le rispettive fidanzate, che sono interpretate da Maya Rudolph e Kristen Wiig. Tutto il resto lo lascio alla vostra immaginazione.
Andy ha rischiato di vincere perfino un Grammy con la canzone I'm on a Boat con T-Pain.
La carriera da attore
Nel 2012 Samberg decide di abbandonare il cast del SNL dedicandosi completamente alla carriera cinematografica e seriale.
It's an incredibly emotional and strange moment in my life. Obviously it's not a huge shock, but I did officially decide not to come back.
A partire dal 2003 non solamente recita in svariate pellicole, ma scrive per il cinema e presta la sua voce come doppiatore per alcuni film d'animazione, come Piovono Polpette. Lo potete ammirare in Amici di Letto sempre con Justin Timberlake, oppure in (S)Ex List con la bellissima Anna Faris. Ha fatto anche dei cameo in diverse commedie, come Un Weekend da Bamboccioni 2 con Adam Sendler oppure Vicini del terzo tipo con Ben Stiller.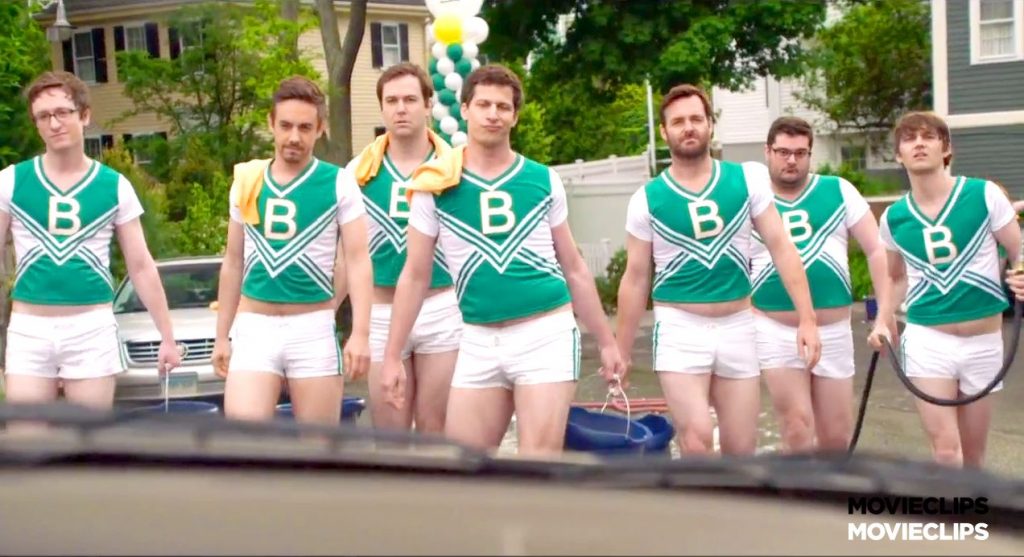 Anche per quanto riguarda le apparizioni in Tv, sono varie e sporadiche fino all'arrivo di Brooklyn Nine-Nine, di cui è protagonista e produttore.
E dopo?
A partire dal 2013 Andy ha prestato la voce al personaggio di Jonathan Loughran in Hotel Transilvania I, II e III in uscita nel 2018 affiancato da Selena Gomez. Nel 2015 presenta i 67esimi Emmy Awards, serata che ha saputo condurre egregiamente ma non senza problemi. Infatti il suo discorso d'apertura, nel quale ha esplicitamente dato del razzista all'allora candidato Donald Trump, ha fatto sicuramente parlare.
Nel 2016 è protagonista del film Vita da Pop Star – disponibile su Netflix – commedia in cui con la tecnica del finto documentario viene raccontata la vita e il successo di Conner Friel, una stella nascente del Rap, ovviamente interpretato dal nostro meraviglioso Andy.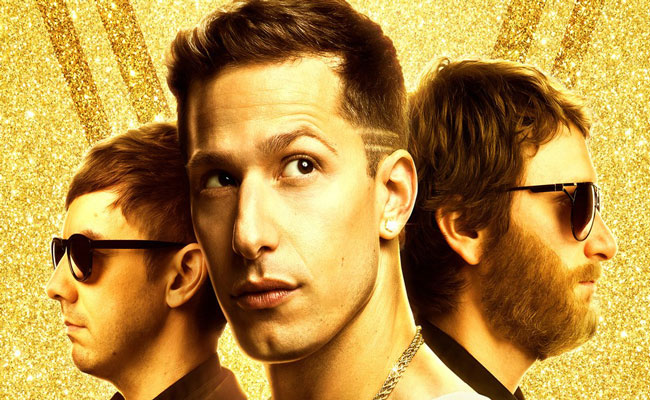 E fortunatamente, Samberg ritornerà il prossimo anno con la sesta stagione di Brooklyn Nine-Nine. Dopo essere stata cancellata dalla Fox, la NBC ha deciso di dare una seconda possibilità allo Show, ascoltando le numerose voci dei fans che lo seguono tra cui Beyonce, Tom Holland, Mark Hamill e il Premio Oscar Guillermo del Toro.
It was like getting to go to your funeral and hear how much everyone loved you but then getting to be being alive still
Per Andy il personaggio di Jake Peralta è molto importante, perché gli ha dato la possibilità di continuare a divertirsi con il suo lavoro, differentemente dal SNL che richiedeva uno Sketch nuovo ogni settimana.
Una piccola cotta
Andy Samberg è felicemente sposato da cinque anni con Joanna Newson: cantante e arpista statunitense. L'attore ha più volte confessato di aver avuto una cotta per la futura moglie molto prima di conoscerla. Era un suo grande ammiratore e molto spesso andava ad assistere ai suoi concerti. Fortunatamente dopo un incontro organizzato da amici in comune, i due si sono conosciuti e l'amore è scoppiato immediatamente. Entrambi condividono lo stesso amore per la musica e per la recitazione.
She's so proud of everything that he has accomplished.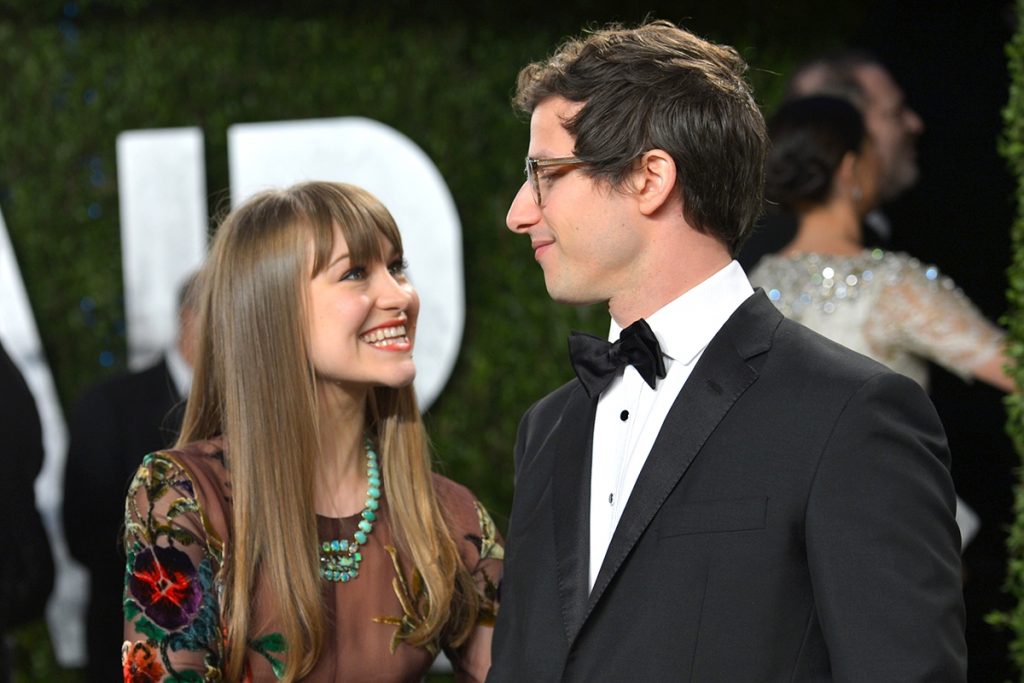 Insomma… Andy Samberg è l'uomo dai mille talenti.
Non trovate?