# #
Come saprete, maggio è un mese particolare per le Serie Tv. È il mese delle sentenze, quello in cui si concedono le indulgenze o si decreta la condanna per molti degli show che ci stanno più a cuore. Nelle ultime settimane siamo passati in breve tempo dalla gioia per un rinnovo alla disperazione per una o più cancellazioni eccellenti (qui trovate la liste delle vittime). Una delle scelte più clamorose è stata quella della FOX che, lo scorso 11 maggio, ha annunciato la fine anticipata di Brooklyn Nine-Nine.
# #
Lo stupore e l'indignazione suscitati dalla notizia sono stati senza precedenti. Celebrità del calibro di Mark Hamill, Sean Astin e Seth Meyers, nonché il novello premio Oscar Guillermo del Toro, hanno espresso tutto il loro disappunto su Twitter, lanciando l'hashtag #RenewB99. Per fortuna l'appello è stato raccolto a tempo di record; all'indomani del triste annuncio ne è seguito uno molto più lieto. La NBC è infatti venuta in soccorso di Brooklyn Nine-Nine, ordinando una sesta stagione da 13 episodi. Un doveroso hip hip urrà dunque alle star che si sono immolate per la causa, contribuendo al salvataggio in extremis del nostro amato Distretto 99.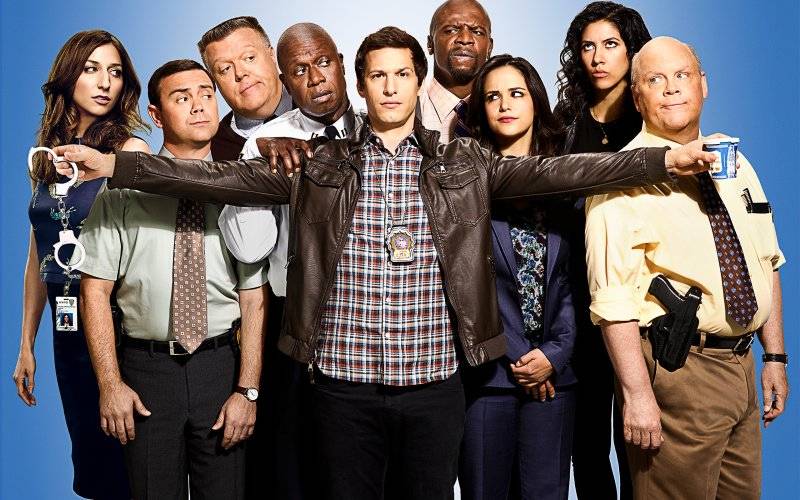 # #
Chi non ha ancora visto questa Serie, poco nota in Italia, si starà giustamente domandando: Brooklyn Nine-Nine è davvero così valida da meritare tutta questa levata di scudi? La risposta è sì e adesso vediamo perché.
La comedy creata da Dan Goor e Michael Schur (già autore di Parks and Recreation) narra le strampalate vicende del 99esimo distretto di New York, introducendo il genere comedy all'interno del più classico police procedural. Vi è dunque la solita squadra di agenti deputata a risolvere casi; solo che in Brooklyn Nine-Nine ogni indagine, per quanto seria e verosimile, è contraddistinta da un tourbillon di risate e situazioni surreali.
Pur essendo una Serie corale, ogni storia ruota principalmente intorno a Jake Peralta, il detective più brillante dell'intero distretto. Nonostante detenga il record di arresti, Peralta è anche il più vanitoso, infantile e indisciplinato poliziotto dell'intero NYPD. Sfortunatamente per lui il suo modus operandi non va affatto a genio al nuovo arrivato; non propriamente uno qualunque, dato che si tratta del nuovo capo del Distretto.
C'è un nuovo sceriffo in città.
La Serie inizia infatti con l'arrivo al 99 del Capitano Holt, uomo totalmente inespressivo e indecifrabile, all'apparenza intransigente e dichiaratamente omosessuale.
Fin da subito il rapporto con Jake sarà problematico, visti i caratteri agli antipodi dei due. La volontà di ridare smalto, stile e professionalità al distretto di Holt cozza non poco con il modo di lavorare libertino e senza regole di Peralta, figlio anche di una precedente gestione totalmente scellerata. Gli scontri tra il capitano e il detective saranno dunque frequenti. I due però, conoscendosi meglio, impareranno a venirsi incontro e ad andare d'accordo.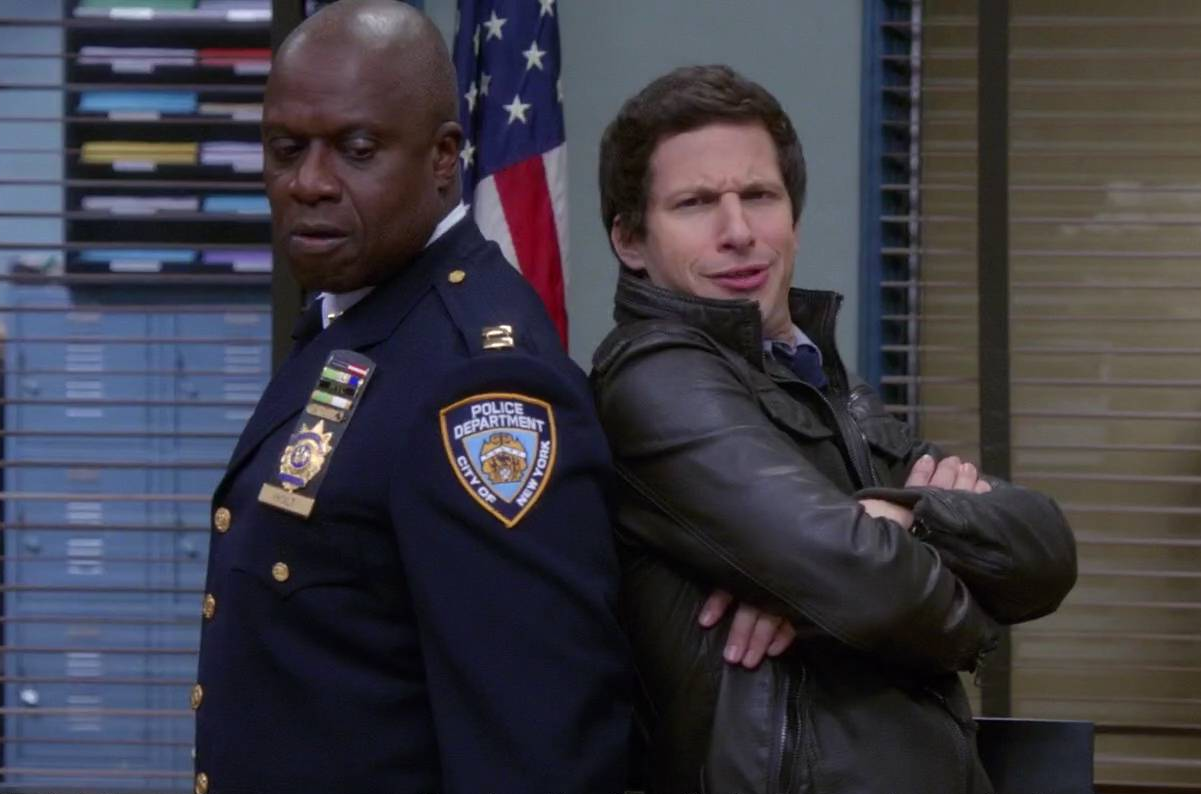 Il Distretto 99 si compone di ulteriori regular. Fin dal primo episodio facciamo la conoscenza di Amy Santiago, detective ispanica bella e ambiziosa, nonché la più "normale" del team. Collega e allo stesso tempo rivale di Peralta, stravede per il nuovo capo e fa di tutto per entrare nelle sue grazie. Charles Boyle invece è il miglior amico di Peralta; goffo e minuto, è un ingenuo bonaccione, segretamente innamorato della collega (anche lei ispanica) Rosa Diaz, l'agente più dura e misteriosa della squadra.
Dietro la scrivania troviamo il muscoloso, ma sensibile, sergente Terence Jeffords, capo della squadra investigativa, relegato per propria scelta al lavoro d'ufficio, e Gina Linetti, svampita segretaria amministrativa e assistente personale di Holt. A completare il quadretto infine abbiamo la coppia Hitchcock-Scully, due bolsi e inetti detective buoni solo a riscaldare la poltrona.
Brooklyn Nine-Nine prende in giro ogni stereotipo tipico delle Serie crime, ribaltandolo e offrendoci un prodotto che va oltre la semplice parodia.
Nonostante l'impostazione e lo humor ricordino quelli di altre storiche comedy corali, come The Office e Arrested Development, la Serie è una mosca bianca nel genere poliziesco. Era di fatto dai tempi di Police Squad! (la Serie del 1982 che ispirò la trilogia de Una Palottola Spuntata con l'indimenticabile Leslie Nielsen) che non veniva sviluppato uno show così squisitamente demenziale sulle forze dell'ordine.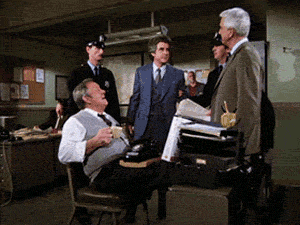 Al pari di altre sitcom più note e blasonate (la Serie ha comunque vinto un Golden Globe 2014 come Miglior Serie commedia o musicale) Brooklyn Nine-Nine può vantare un cast brillante e affiatato in tutti i suoi componenti. È la sceneggiatura però il vero punto di forza di Brooklyn Nine-Nine. Pur avendo rimpolpato il Distretto con personaggi di etnia, sesso, religione e orientamento sessuale differenti, gli autori riescono nell'impresa di trattare e scherzare su tematiche sociali spinose senza eccedere e senza mai scadere nel cattivo gusto.
La storia orizzontale si sviluppa lentamente e sottotraccia, dando quasi sempre la precedenza al caso del giorno, abitualmente risolto nei suoi 20 minuti canonici di durata.
È forse un demerito quest'ultimo aspetto? Niente affatto.
I protagonisti hanno sì una loro costante evoluzione, ma gli eventi più importanti vengono quasi sempre relegati al finale di stagione. Il che, a ben vedere, offre la possibilità a chiunque di potersi innamorare dello show imbattendosi in una puntata a caso, qualità di non poco conto per qualsivoglia comedy.
Le gag sono soprattutto di parola e non mancano tormentoni più o meno ricorrenti. Impareremo fin da subito a conoscere la passione di Peralta per Die Hard, l'amore di Jeffords per sue le figlie e il sapiente uso dei flashback, con riconoscibilissimo stacco di montaggio. Come per Scrubs o I Griffin, quest'ultimo aspetto è sempre fonte di risate assicurate.
Insomma, dopo aver rischiato di dirle addio prematuramente, è arrivato il momento di recuperare Brooklyn Nine-Nine.
Se siete stufi delle vecchie sitcom e andate alla ricerca di risate fresche, magari condite da un pizzico di action che male non fa, il Distretto 99 è il posto che fa per voi. Su Netflix e su Sky, canale Comedy Central, sono presenti le prime tre stagioni.