Quando si cita Breaking Bad non si può che pensare ai suoi protagonisti. Walter White, Jesse Pinkman, persino Hank Schrader: essi balenano subito nella mente di chi ha seguito la serie tv con affetto e costanza. Eppure c'è un personaggio di Breaking Bad, delineato con minuziosa attenzione, la cui storia riprende persino in Better Call Saul. Un uomo il cui epilogo si è rivelato essere l'inizio del declino di qualcun altro.
Un uomo che esprime il paradosso di cui Breaking Bad è permeata: Gale Boetticher.
Introdotto nella 3×06, Gale viene presentato come il banale chimico nerd, la cui vita è scandita dalla routine perfetta di chi non si aspetta nient'altro che la sua quotidianità. Gale, che cattura l'attenzione di Walt con la sua eccellente dedizione allo studio della ricetta per creare la blue sky. Sempre Gale, la cui vita sembra quella di un sempliciotto, ma la cui morte cambierà per sempre le sorti degli stessi protagonisti. È infatti la morte del chimico a scombussolare dapprima i piani di Gus Fring, poi quelli dello stesso Walter White. Infine, anche la vita del proprio assassino – Jesse Pinkman – che vivrà con il rimorso di aver ucciso un uomo innocente.
Se dovessimo fare un bilancio circa le vite dei personaggi di Breaking Bad, postume alla morte del chimico, ci renderemmo conto che ognuna di esse è caratterizzata da un lento declino che precede il loro annientamento.
Gale Boetticher non è stato inserito a caso nella storia di Walter White, tantomeno raffigura l'agnello sacrificale che permetterà a Heisenberg di emergere e prendere il posto di Fring. Al contrario, Boetticher rappresenta quasi l'alter ego di Walt.
Se osserviamo il suo personaggio con attenzione, possiamo quasi rivedere lo stesso insegnante che nella prima stagione decide di allontanarsi dalla retta via. Come Walt, anche Gale decide di dare una scossa alla propria vita, divenendo l'assistente del migliore produttore di metanfetamina. L'uomo infatti cerca una sorta di espiazione che trova solamente nel commettere qualcosa di illegale ma straordinario (ovvero produrre la droga più pura al mondo).
In Breaking Bad non è facile definire i ruoli di vittima e di carnefice. Quest'ultimi si scambiano e ancora si ribaltano, rendendo l'idea che nessun personaggio è effettivamente buono o cattivo.
Gale rientra perfettamente in quest'ottica, perché malgrado il suo assassinio sia stato crudele e ingiusto ha causato il lento declino del piano perfetto di Fring. Ma non solo. È proprio il famoso libro di Walt Whitman, che Boetticher regala a Walt, a svelare l'identità di Heisenberg. Se solo Walt se ne fosse liberato in tempo, forse le cose sarebbero andate diversamente.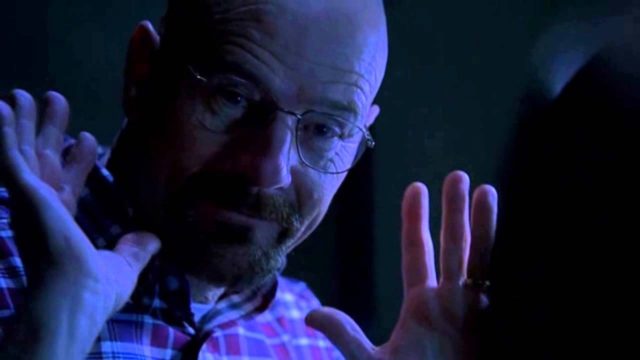 Si potrebbe pensare che Walt ha visto in Gale una minaccia, non solo perché sarebbe divenuto il suo rimpiazzo una volta morto, ma perché egli rispecchiava un po' se stesso prima del suo "risveglio". Uccidere Gale avrebbe significato trucidare anche quella piccola parte di Walter White che ripeteva "L'ho fatto per la mia famiglia". Uccidere Gale avrebbe significato sbarazzarsi dell'insegnante di chimica per far spazio a Heisenberg, alla sua mente e al suo controllo.
E un po' come Giuda e il suo famoso bacio, Gale riesce a condannare Walt per le sue azioni attraverso quel dono.
Leaves of Grass, e in particolar modo la dedica lasciata da Boetticher, rappresenta infatti l'unica prova capace di inchiodare Walt. Ed è sempre Walt che viene simbolicamente rappresentato dai versi delle poesie di Whitman. Versi che definiscono l'uomo arrogante e ammaliato dalla cieca voglia di libertà, di controllo. Il simbolismo che unisce i due uomini non si limita affatto alle iniziali dei loro nomi, ma è ampliato da un coerente paragone tra le poesie dello scrittore e il protagonista di Breaking Bad.
Gale Boetticher non è solo una vittima, ma diviene giudice ed esecutore dello stesso protagonista. Malgrado il chimico non abbia mai mostrato alcuna cattiveria nei confronti di White, egli lo condanna attraverso quel libro. Libro che rappresenta, forse, ciò che rimane della coscienza di Walter White. Nella quinta stagione, infatti, quando Walt si ritrova tra le mani Leaves of Grass sorride, come se nulla di male fosse capitato a Gale. E in quel sorriso si percepisce l'orgoglio che tutto è andato secondo i propri piani, la soddisfazione di aver finalmente le redini della situazione.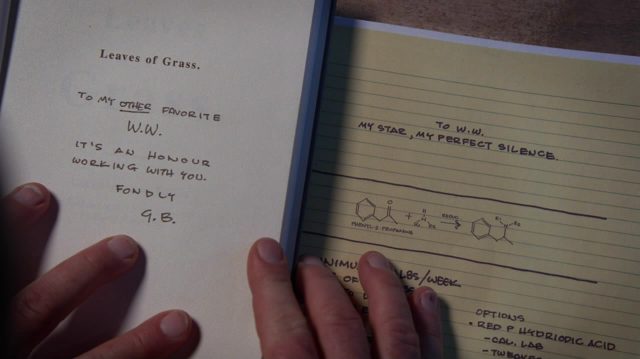 Ma Gale, anche da morto, rientra nella vita di Walter e ne rovina i progetti. Lo stesso Gale che si è sempre mostrato disponibile e pronto a essere la spalla destra di Heisenberg malgrado le idee malsane e folli di quest'ultimo, malgrado ogni sua strategia nascosta.
In molti hanno persino ipotizzato che Boetticher potesse nutrire quasi una forma di amore platonico nei confronti di Walt, ma non ci sono abbastanza prove per dimostrarlo.
Ciò che è appurato, invece, è che Gale nutriva in White ammirazione e rispetto, vedendo in lui quasi una versione migliore di sé, un'ispirazione.
Quella famosissima frase, "A W.W., la mia stella, il mio perfetto silenzio", ci ha lasciati senza parole. Inizialmente dubbiosi se fosse rivolta al protagonista, abbiamo amato quella dedica e il significato profondo che lasciava trapelare.
Parole che abbiamo letto e fatto nostre, capendo che Gale Boetticher non era affatto un semplice chimico ma un uomo dalle grandi ambizioni. E l'ambizione più grande era proprio quella di sentirsi vivo. Realizzare la blue meth non era un semplice lavoro, ma lo strumento per raggiungere la sua vetta. L'unico modo possibile per apprendere quanto più possibile da quell'astronomo ricco di nozioni e cultura che forse riconosceva in Walter.
Heisenberg diviene mentore e amico, consigliere e maestro. Di lui Gale apprezza i metodi, i modi, e malgrado le differenze tra i due è il loro amore per la chimica a unirli e renderli simili.
Nei versi che Gale recita a Walt si legge la passione per la chimica e l'ingenua voglia di indipendenza. Si legge di un uomo che cerca la libertà, che non si conquista soltanto con la scienza ma osservando quelle stelle che rendono perfettamente l'idea di infinito. Proprio quelle stelle, Gale le ha trovate attraverso Whitman e il lavoro con Walt. E forse, donando quella copia di Leaves of Grass al protagonista, sperava che anch'egli fosse capace di trovarle, e sentirsi libero quanto lui.