Nel panorama, alquanto vasto ormai, delle serie tv, sono stati sviluppati soprattutto negli ultimi anni, veri e propri capolavori e credo che True Detective sia il capolavoro tra i capolavori. Impossibile non citare altre opere come Breaking Bad, Sons of Anarchy, Dexter. Ma nella storia dell'uomo arrivano eventi unici e magnifici, nascite di uomini come Giulio Cesare, Alessandro Magno e opere d'arte uniche come i Picasso, i Dalì, i Modigliani; capiamo quindi solo in seguito che il concetto di capolavoro non può scindersi da tre caratteristiche : l'unicità, la forza comunicativa e la bellezza.

Rapportandosi al microcosmo della serialità, vediamo che molte serie sono uniche ma non bellissime e molte altre sono bellissime ma non uniche, pertanto passano alla storia come lavori degni di nota, buoni ed ottimi ma non raggiungono l'epicità e il concetto di masterpiece ad esso legato. True Detective è stata la serie (o meglio ancora mini-serie, targata HBO) che secondo me ha toccato, come solo BR. BAd è riuscita prima, il concetto di perfezione, concetto o idea che a noi comuni mortali non può appartenere, ma che quantomeno possiamo intravedere e provare a capire. Il definire T.D. una "serie", è forse il primo errore, infatti la tipologia della storia, il cast eccellente, la sceneggiatura e la sublime regia, sono tipiche della miglior produzione cinematografica.
La storia è semplice, ben riuscita e accattivante; i due detective Rust Cohle e Marty Hart, hanno lasciato i conti in sospeso, nelle loro vite, nel loro lavoro e nella loro amicizia. 1995, Louisiana, i due detective indagano sulla morte della prostituta Dora Lange , ritrovata morta, in una posa mistica-pagana con una corona di cervo, sotto un albero solitario in una distesa di grano.
L'azione della serie è in continuo movimento, soprattutto nei primi episodi, vaghiamo tra il passato (1995-2002) e il presente (2012) , con le ricostruzioni dei due detective, davanti ai federali del bureau. In questi momenti la tecnica del flashback spadroneggia, non annoiandoci affatto, ma anzi ci colpisce puntata dopo puntata. I due detective sono personaggi agli antipodi, la testa e la croce di una stessa moneta : schivo e filosofo Rust, (Matthew McConaughey), fedifrago e concreto Marty (Woody Harrelson). Nell'oceano di True Detective si trova di tutto : crudeltà, misticismo, filosofia, cinismo, oscurità e luce, religione, amore, coscienza. Non si commetterà il grave e meschino delitto di raccontare il resto della trama, con il suo incredibile finale; ma l'articolo si limiterà a interessare i lettori ancora un po'.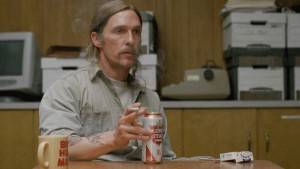 Se la storia, come detto prima, ha una trama semplice (almeno inizialmente), funzionale e adatta, la regia, la sceneggiatura e la fotografia, invece, sono sviluppate con una tecnica di rara intensità estetico-stilistica, che non ritroviamo in nessuna altra serie esistente (in tal caso, il mio giudizio è ancor di più scevro da giudizi soggettivi). L'ormai noto piano-sequenza di 6 minuti nel ghetto afro-americano con "l'infiltrato" Rust ( lode a te, o' Fukunaga), la scena di Carcosa nel finale (grande riferimento all'opera di R. Chambers "The yellow sign") , le indagini su i "Ledoux Brothers", hanno reso incredibile e stupefacente quello che poteva essere l'ordinario, in altri film o serie tv.
La serie è stata molto premiata e glorificata in tutto al globo, ma ha avuto la piccola sfortuna di entrare in collisione con altre serie che giungevano al capolinea o erano in grande ascesa (Br.Bad, Dexter, Game of Thrones); comunque conta trofei prestigiosi e gloriosi quali : – Television Critics Association Awards : Miglior attore drammatico a Matthew McConaughey e Migliore nuova serie televisiva – Emmy 2014: Miglior regia per una serie televisiva drammatica a C. J. Fukunaga; Miglior Casting per una serie drammatica ; Miglior design per una sigla. – Golden Globe : 4 nomination – British Academy Television Awards : Migliore serie internazionale –Writers Guild of America 2015: Miglior serie drammatica e Migliore nuova serie (in assoluto).
Nic Pizzolatto, scrittore e padre della serie, ha rianalizzato, modellato e cambiato il genere, assorbendo il noir\poliziesco\dramma in un nuovo genere, rendendo al pubblico un'esperienza di rara emozione ed estasi. La scelta degli attori è ragionata e non casuale, come lo è purtroppo in altre opere della televisione; sicuramente Rust Cohle, siede ormai in quell'olimpo di personaggi straordinari con Dexter Morgan, Walter White, Michael Scofield.
Impresa difficile quella di raccontare in modo sintetico un capolavoro che avrebbe bisogno di una bibliografia di riferimento ed un sapere enciclopedico, ma nell'universo di True Detective nulla può esser mai abbastanza. Mai così selvaggia, insana, febbrile è stata una caccia al serial killer nel cinema e nella serialità; raramente si potranno dimenticare i monologhi di Rust intrisi di filosofia ed instabilità, il cinismo e pragmatismo di Marty, le visioni oniriche, le indagini, le vite distrutte, le notti insonni e tutto il resto. Non è possibile dimenticare questa geniale e innovativa serie. Si ha la netta sensazione, di non poter più vedere un lavoro simile e ne siamo compiaciuti e tristi, al contempo; T.D. , è ora il termine di paragone per ogni serie tv che vuole superarsi.
True Detective si avvicina al concetto di perfezione come nulla o quasi, e ci sembra di essere al cinema.
Un saluto agli amici di True Detective Italia e Andare a Gardaland con Velcoro e figlio!