# #
Dopo la scorsa settimana (qui la recensione) The Walking Dead è di nuovo tornato.
Tutti ci aspettavamo di vedere le varie reazioni dei personaggi, magari nel viaggio di ritorno verso Alexandria o di salvezza verso Hilltop. Invece ci ritroviamo in alcune scene quasi surreali che ci spiazzano e ci fanno riflettere. I protagonisti di The Walking Dead sono silenziosi, chiusi in se stessi, dubbiosi e insicuri. 
# #
Il disagio si percepisce dagli sguardi muti, vuoti e impazienti. Il letto caldo in cui far finta di dormire, il fucile nascosto nel camino, la katana sulla schiena di Michonne e non più attaccata al muro. Brevi sequenze e attimi che hanno un solo scopo: farci percepire l'insicurezza e l'instabilità in cui tutti si trovano.
Ad Alexandria potrebbe sembrare una giornata normale. Rick si occupa di Judith, Michonne si esercita con il fucile, Eugene ripara un apparecchio elettronico, qualcuno esce per fare provviste. Potrebbe sembrare una giornata normale, ma è ben evidente che non lo sia. Tutti fanno cose diverse, ma tutti le fanno con un solo scopo: prepararsi all'arrivo di Negan. 
# #
Il suo nome sembra quasi impronunciabile. 'Quando arriveranno' o 'per loro' sono solo alcuni dei riferimenti che vengono proposti per farci capire. Perché nulla è certo. Eugene non sa se riuscirà a riparare la radio, Rosita e Spencer non sanno se troveranno qualcosa, Michonne non sa se riuscirà a sparare. Nulla è sicuro, tranne che Negan arriverà. E pretenderà.
E Negan arriva, anche in anticipo.
Arriva con il suo esercito, il suo sorriso, la sua sfacciataggine, la sua esaltazione per i suoi servizi, con le sue righe schierate.
Tra quelle righe c'è anche Daryl. Negan non l'ha portato lì per fargli respirare un po' d'aria fresca. L'ha portato perché è il suo schiavo, perché Rick possa vedere cosa gli sta succedendo, per fare in modo che nessuno pensi di poter reagire alla situazione.
Lo sguardo di Rick è il grande protagonista anche di questa puntata. La presentazione in anticipo di Negan lo infastidisce, ma il terrore ridipinge i suoi occhi appena incrocia quelli di Daryl. Non può parlargli, non può guardarlo, non può fare nulla se non sapere che anche il suo amico appartiene a Negan.
E Negan sa che è quella è solo una minima parte della sua guerra psicologica. Perché nel mondo di The Walking Dead puoi combattere finché vuoi se hai la speranza giusta per farlo.
Negan lo sa. Negan se ne approfitta. Vuole spezzare quella speranza e quegli sguardi di sfida. Sbatte in faccia a Rick il suo servizio per essere ringraziato. Gli fa reggere l'arma che ha ucciso i suoi amici per metterlo alla prova. Fa continui riferimenti al Rosso o al Numero Due come se Glenn e Abraham ai suoi occhi non meritassero nemmeno un nome.
Nelle vesti dei suoi uomini e di Dwight Negan invade lo spazio personale di tutti coloro che vivono ad Alexandria. Non esiste un posto dove Negan non possa andare. Non esiste una cosa che Negan non possa prendere, qualcosa che non possa dire. L'acqua, un cappellino, una poltrona, una missione suicida, i materassi, l'intimità di una registrazione video simbolo di una vecchia speranza per il gruppo di Rick.
Non c'è nessun diritto che si possa vantare.
Non esiste il diritto di ribattere, non esiste il diritto di stabilire la metà delle cose da prendere. Non esiste il diritto di avere un'arma quando si esce dal recinto, non esiste il diritto di ribattere ad una richiesta assurda.
Esistono solo due cose: Negan e ciò che vuole Negan. Nel mondo di The Walking Dead ora ci sono solo le sue provocazioni, che avvengono in qualsiasi modo possibile.
Il riferimento al bellissimo posto in cui vivono, le beffe per il video e per le parole pronunciate (quello non sei più tu, giusto?). Le domande su Maggie e l'allusione al suo legame con Glenn, anzi, al suo legame con il Numero Due. Il dare la colpa a Daryl per la morte del suo amico davanti alle tombe, il puntargli la pistola addosso mentre esegue i suoi ordini. Togliere dalle case tutto ciò che rende Alexandria un posto in cui vivere e non solo sopravvivere. Togliere le armi per rendere indispensabile il loro servizio di protezione. Togliere i palloncini a Enid per rimuovere ogni simbolo di speranza e per farci sentire ancora di più la mancanza di Glenn.
Rick non può fare nulla. Prova a reagire senza farsi notare, a stringere Lucille per sfogare la sua rabbia. Ma gli occhi sono lo specchio dell'anima e Negan lo frena subito. Attento. Attento a come mi guardi Rick.
Carl, degnamente figlio di suo padre, sembra non starci. Ad ogni reazione al saccheggio però, corrisponde una conseguenza drastica. Alla minaccia del ragazzo corrisponde la presa di tutte le armi. Alla richiesta di Rick di parlare con Michonne corrisponde il doverlo domandare con tono reverenziale. Al mancato ringraziamento per il cibo lasciato in dispensa corrispondono minacce e insulti.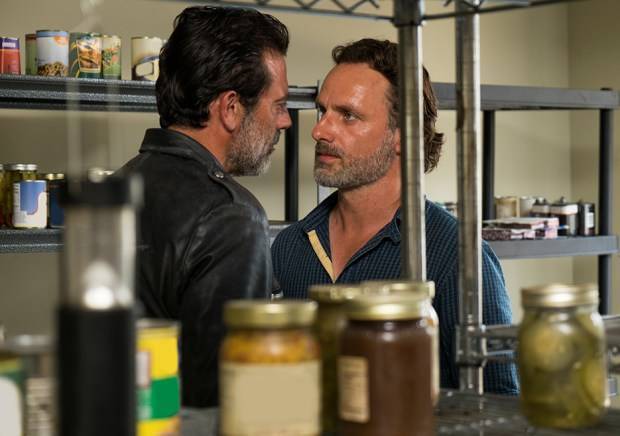 Lo sparo contro la finestra ci riporta indietro nel tempo, a quando il problema di Alexandria era un uomo violento.
Se mantieni la finestra intatta mantieni la società intatta. Il parallelismo con il passato di The Walking Dead è evidente. L'epoca in cui Rick rischiava di porsi come un tiranno in una parte di mondo appena conosciuto torna a galla.
Ma tu non sei più quell'uomo.
Rick non è più il capo. Daryl non è più il suo braccio destro. Alexandria non è più la sua città. Non è più una casa. E' solo uno dei tanti magazzini dei Salvatori. E' solo una casella da spuntare nella lista di Negan. E' un luogo dove non si fanno sconti. Se il conto delle pistole non torna, qualcuno ne pagherà le conseguenze.
Alcuni ruoli si invertono, altri si fortificano.
Rick regge Lucille per quasi tutta la durata dell'episodio, trasformandosi, nel finale, in una versione soft di Negan con Spencer. Spencer stesso si conferma nelle sue paure, nelle sue provocazioni e nella sua debolezza. Tradisce, nasconde, mente e sembra non aver imparato nessuna lezione.
Michonne fatica a comprendere le intenzioni del suo leader, come quasi tutti gli abitanti di Alexandria. Perché non combattere? Perché piegarsi in quel modo? Perché arrivare a dover supplicare Negan per riavere Daryl?
La risposta è molto più semplice del previsto: la sopravvivenza prima di tutto. Sarà la sottomissione, per ora, a tenerli in vita.
Come in precedenza è stato l'omicidio di Shane, il passare sopra al tradimento di Lori e riuscirne a parlare dopo così tanto tempo, il prendersi cura di Judith come se fosse sua, il dare una seconda possibilità a padre Gabriel, il diventare un assassino spietato, il concedere i materassi ai Salvatori per farne un falò, il guardare Daryl andare via senza poter fare nulla. Tutto ciò che Rick Grimes ha fatto, lo ha fatto per mantenere in vita la sua famiglia, le sue persone. 
A volte ha fallito. Ha imparato anche ad ammetterlo. Ha imparato a sperare di nuovo e a concedere possibilità. Ora ha imparato a piegare la testa e a dormire senza materasso o certezze. Lo ha fatto e continuerà a farlo. Perché è questo che fa un leader: tutto il necessario per restare vivi. 
Tuttavia io sento che … so che si risolverà tutto. Ho fede in noi. Ho fede in te. 
Non dimenticatevi di passare da qui: Norman Reedus Italia, The Walking Dead ITA , The Walking Dead-Italy , The Walking Dead Italia , TWD – Am I the only one Zen around here? Good Lord. , Caryl Italia, Andrew Lincoln Italy, Daryl Dixon ITA e FIGHT the Dead. FEAR the living – The Walking Dead gdr, The Walking Dead Pagina Italiana ! In più vi consigliamo un canale YouTube di un nostro affiliato Don't Open Dead Inside !