Uno dei titoli più attesi e che ci farà compagnia per gran parte dell'autunno e dell'inverno è certamente The Walking Dead. Come molti sapranno, il  22 ottobre 2017  verrà rilasciata negli USA la prima puntata dell'ottava stagione. Possiamo certamente dire che quella passata è stata caratterizzata da parecchi alti e bassi. Ormai un marchio di fabbrica dello show dell'AMC. Però non possiamo negarlo, il finale di stagione fu una vera bomba! Vi ricordate proprio tutto, ogni minimo dettaglio? Se la risposta è no, oppure se volete solo fare un breve ripasso insieme, questo articolo fa al caso vostro.
SPOILER ALERT: Ovviamente se non siete in pari con la visione di The Walking Dead, state lontani da questo articolo!
Mentre aspettiamo il 22 ottobre, rivediamo insieme come terminò l'adrenalinico ultimo episodio, dal titolo profetico 'Il primo giorno del resto della tua vita'.
La puntata si apre con un primo piano di Sasha, al buio, evidentemente sofferente mentre ascolta della musica dall'ipod. Questa stessa immagine ci verrà riproposta più e più volte all'interno dell'episodio. Ogni volta che Sasha chiude gli occhi ha inizio un flashback degli ultimi istanti di lei con Abraham da soli. Si tratta dei pochi attimi che precedono la partenza di Rick e del suo clan in direzione di Hilltop. Ma sappiamo che non ci arriveranno mai e verranno fermati da Negan, che truciderà due di loro. Sono quindi minuti preziosi tra il rosso e Sasha, in cui l'uomo la convince del fatto che sia giusto seguire gli altri e rischiare la vita per ciò che reputa giusto. A dispetto di Sasha, che invece vorrebbe inizialmente rimanere per una volta 'in panchina' con lui, al sicuro.
Probabilmente l'unica scena in cui i due ci hanno mostrato il loro amore che, seppur appena nato, era molto intenso.
Ci vengono proposte altre scene di Sasha, cronologicamente precedenti a quella di lei al buio, in cui si trova nella fortezza dei Salvatori e stringe un accordo con Negan. Verrà usata come pedina per l'attacco contro Rick e gli altri, a patto che venga giustiziato solo uno di loro. Sasha verrà poi condotta ad Alexandria in una bara chiusa per tutto il tempo del tragitto.
Nel frattempo Dwight, prigioniero, avverte Rick e gli altri che è disposto ad abbracciare la loro causa e a tradire Negan, tornando nelle sue file e posticipandone l'attacco. Rick, titubante, non può far altro che tentare di fidarsi e per questo lo lascia andare. Per prepararsi all'imminente attacco dei Salvatori, Rick, Michonne, Rosita e gli altri tentano di ritardarne l'arrivo, piazzando degli ostacoli lungo il loro passaggio. Poco dopo, come da promessa, Jardis e il suo clan della discarica arrivano ad Alexandria, ben armati e pronti alla battaglia.
A Hilltop invece, Jesus e Maggie valutano la possibilità di affiancare Rick e il suo gruppo contro Negan e i suoi uomini.
Finalmente giunge lo scontro che attendavamo da tutta la stagione.
Negan e il suo esercito fanno il loro ingresso, non prima che Eugene tenti di trovare un accordo di resa con Rick, lasciando tutti sconvolti quando afferma 'Io sono Negan'. Ben presto le cose si rovesciano. Jardis e i suoi uomini in realtà erano da sempre in accordo con i Salvatori e non perdono tempo a rivoltarsi contro i protagonisti, ormai tenuti in pugno. Negan così inizia a giocare come il gatto con il topo, ribadendo il fatto che se gli consegneranno Daryl e si arrenderanno, lui rilascerà Sasha. Promettendo che invece di un massacro, ucciderà solo uno di loro. Per dare conferma alle sue parole, apre la bara dove è nascosta la ragazza e la invita a parlare.
A sorpresa la ragazza esce tramutata in un avventore e si scaglia contro Negan. Questo diversivo dà il tempo a Rick e agli altri di reagire e iniziare a sparare.
Grazie all'ultimo flashback che la riguarda, riusciamo a comprendere la fondamentale storyline di Sasha in questa ultima puntata di The Walking Dead. Non avrebbe mai acconsentito a un accordo con il suo acerrimo nemico, per questo prima di entrare nella bara si era fatta consegnare una pillola mortale da Eugene. Il suo obiettivo era proprio quello di trasformarsi in un avventore e sperare così di concedere una possibilità di salvezza ai suoi compagni.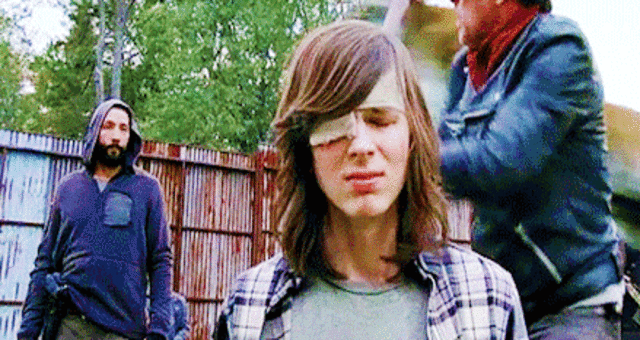 Inizia uno scontro a fuoco a cui è difficile stare dietro. Ma essendo in numero nettamente minore, il clan dei protagonisti ha da subito la peggio. Michonne viene gravemente ferita e così anche Rick che, insieme a Carl, viene condotto da Negan. Quest'ultimo continua con i suoi monologhi super badass e si appresta a uccidere il ragazzino. La sua mazza sta quasi per sfiorare la testa di Carl, ma prontamente viene fermato da Shiva, la tigre. A sorpresa (forse nemmeno troppo) intervengono l'esercito del Regno, capitanato da Ezekiel, assieme a Carol e Morgan e quello di Hilltop, guidati da Maggie e Jesus. La situazione si ribalta subito e i nostri eroi hanno la meglio, mietendo molte vittime.
Però i pezzi grossi come Negan e Jardis riusciranno a fuggire.
Verso la fine Negan, ritornato alla base, incita tutti i suoi numerosi uomini a prepararsi alla battaglia finale. A concludere l'episodio però è la voce di Maggie che spiega come il gesto iniziale di Glenn di salvare Rick, abbia cambiato tutto. Da perfetti estranei, divisi, ora tutti loro sono una famiglia solida.
Mentre Maggie parla, assistiamo alla visione dei personaggi gravemente feriti durante lo scontro, in particolare Rosita e Michonne, e del ritrovamento di una statuina con scritto 'non lo sapevo'. Probabilmente un messaggio di Dwight per spiegare che, in fondo, non aveva tradito Rick e gli altri. Mentre Maggie sottolinea l'importanza del sacrificio di Sasha, viene ritrovato il suo walker e ucciso. Nell'ultimo minuto di questa puntata di The Walking Dead, vediamo la giovane che stringe l'orologio di Glenn e parla insieme a Rick a una piccola folla.
Hilltop, Alexandria e Il Regno ormai sono un unico esercito!
Vi ricordavate proprio tutto tutto, o qualcosa era sfuggito alla vostra memoria? Speriamo in un'ottava stagione fantastica, noi fan ce la meritiamo. Nel frattempo, il countdown è ufficialmente iniziato!
Non dimenticatevi di passare da qui: Norman Reedus Italia, The Walking Dead ITA . The Walking Dead-Italy , The Walking Dead Italia , Caryl Italia, Andrew Lincoln Italy e FIGHT the Dead. FEAR the living – The Walking Dead gdr . The Walking Dead Pagina Italiana . Le migliori frasi di Negan . Il Regno di Ezekiel e Shiva . Le migliori frasi di Rick Grimes ! In più vi consigliamo un canale YouTube di un nostro affiliato Don't Open Dead Inside  e il gruppo The Walking Dead – Safe Zone !
Partecipiamo all'iniziativa #ItalyWantTWDtoo con il gruppo su Facebook!