# #
I love The Walking Dead, but…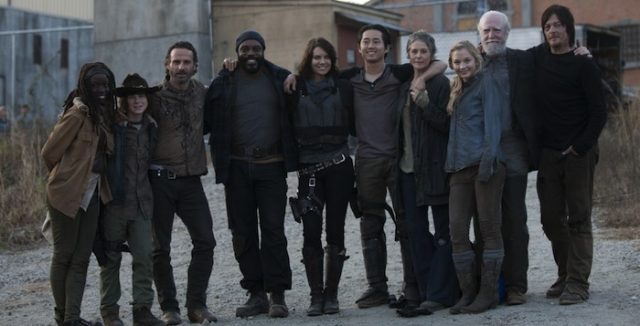 Seguo The Walking Dead dal 31 Ottobre del 2010.
# #
Esatto, dalla data di trasmissione del primo episodio della Serie Tv a marchio AMC. Niente binge watching dunque, bensì il classico (e un po' vintage) appuntamento settimanale con la mia Serie Tv preferita.
È quindi fisiologico che nel corso di sette stagioni si registrino momenti in cui si è tentati dall'idea di mollare. D'altro canto la visione di un episodio a settimana, condita da lunghi intervalli in mid-season, porta con sé un certo bagaglio di stanchezza, impazienza e insofferenza.
# #
Perché The Walking Dead è anche questo. Una vicenda che si è andata a evolvere tra le pieghe di eventi più o meno significativi, scanditi da protagonisti segnati, che si sono avvicendati al centro di uno scenario catastrofico.
A volte questo "schema" ha funzionato. Altre volte è stato meno efficace. Altre ancora invece ho pensato di esserne saturo, tra dipartite strazianti, cliffhanger snervanti e saghe interlocutorie.
Eppure sono ancora qua, come voi, a seguire il destino di Rick Grimes e compagni!
Preso atto di ciò, tenendo conto del sentire comune manifestato dal fandom in questi anni, nonché del personale grado d'insoddisfazione misto sopportazione, ecco svelati a voi fan (e non solo) quelli che per il sottoscritto sono i 10 momenti in cui ho pensato di non guardare più The Walking Dead.
1) Il ritorno del Governatore
Con il senno di poi, il ritorno del Governatore era necessario. E che ritorno, aggiungerei! Ciò che all'epoca mi spiazzò fu il "modo".
Dopo un vagare in solitaria, Philip Blake s'imbatte in una piccola famiglia e da questo incontro viene a crearsi un quadretto (per quanto avrà vita breve) a cui non ero preparato, conoscendo il tipo d'uomo con cui abbiamo a che fare. Probabile che il nuovo contesto gli abbia riportato alla mente il vissuto di padre, ma dopo i fatti di Woodbury mi sembrò di assistere ad un grande (e incomprensibile) passo indietro nella gestione di un personaggio con la p maiuscola.
Il Governatore mostrerà il suo vero volto da lì a breve, ma anche se per poco ho pensato "davvero ci state rovinando questo villain fantastico?".