Ah, The Walking Dead. Quante emozioni, quante attese, e soprattutto…quanti litigi!
Quando una Serie ha un seguito di una portata simile, il fandom spesso abbandona le sue vesti di luogo di condivisione di amore e angosce e si trasforma in un campo di battaglia. E se il fandom in questione è quello di The Walking Dead, preparate gli elmetti, trovate un bunker, armatevi di rabbia e prendete una posizione.
The Walking Dead è una Serie che è partita con una prima stagione talmente avvincente che alcuni spettatori si sono sentiti in qualche modo traditi già dalla seconda stagione. Per chi l'ha seguita e continua a seguirla, a volte verso la quarta stagione viene avvertito un punto di rottura in termini di tecniche narrative. Altre volte la fedeltà verso questa Serie supera qualunque stallo narrativo. Le emozioni sono troppo forti, l'affetto nei suoi confronti troppo grande e questi fan farebbero di tutto per difendere The Walking Dead.
Qui vi presentiamo 10 controversie che continuano a spaccare il fandom di The Walking Dead. Alcune più generali, altre più specifiche Ma è una cosa è certa: quando questi argomenti entrano in una discussione, non avrete bisogno di attendere l'ottava stagione per assistere a una guerra!
1. Il confronto fra la Serie e il fumetto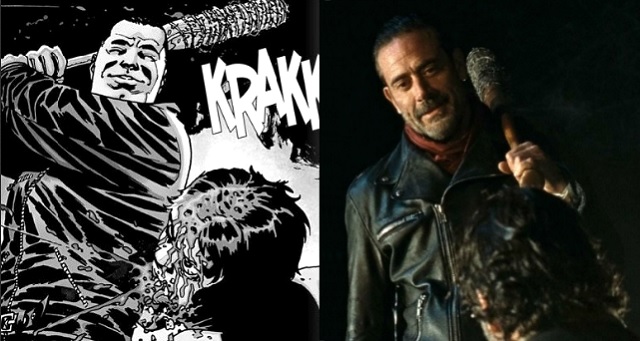 Quando un prodotto non parte da un'idea originale, ma si basa su un altro lavoro, il confronto fra i due sembra inevitabile. Per quanto Kirkman sia fra i produttori esecutivi della Serie, ci sono grandi differenze fra il suo lavoro e il The Walking Dead televisivo. C'è chi era già fan del fumetto quando è iniziata la Serie e chi lo è diventato successivamente. Visto che ciò non si può dire dell'intero fandom della Serie, lo scontro fra le due prospettive è inevitabile.
A volte i confronti con il fumetto sanno essere abbastanza neutrali, o vogliono cercare di sciogliere possibili perplessità. In altri casi sono occasioni per esprimere lamentele sulla qualità dello show. Se nel secondo caso è facile prevedere l'astio da parte dei fan esclusivi della Serie, vi assicuriamo che si presentano problemi anche nel primo.
Per molti fan della Serie, il The Walking Dead prodotto dalla AMC deve essere considerato un prodotto a sé, distinto e non paragonabile al fumetto. Ogni confronto fra i due è futile.
Per molti fan del fumetto, The Walking Dead è Kirkman ed è il fumetto e la AMC ha solo saputo rovinarlo nel voler coinvolgere un pubblico molto più vasto.
Fra chi ha preso una posizione sin da subito, chi si è pentito e qualche diplomatico che cerca di essere aperto a tutto, ogni volta che scatta questo confronto le scintille sono assicurate.