-Abbiamo fatto quel giretto per il modo in cui mi guardavi. Volevo che lo cambiassi. Vorrei che capissi, ma continui a guardarmi ancora nello stesso cazzo di modo, come se avessi cagato sulle tue uova strapazzate e non funzionerà. Quindi..devo darti un'altra chance? (…) Non prendere una decisione è una grande decisione!
Ecco il punto di non ritorno anche per Rick. Come dicevamo nella recensione, Rick è un insieme di due persone. E' il leader di una famiglia di sopravvissuti disposto a tutto per mantenere in vita le persone che ama, ma oltre a questo è un padre. E si sa, essere padre in un mondo come quello di The Walking Dead non è cosa da poco. Ha già rischiato di perdere Carl moltissime volte tra lo sparo alla fattoria, l'epidemia alla prigione, il colpo all'occhio di Alexandria, ma nonostante questo ce l'hanno sempre fatta. La parte di padre è la parte di Rick che non ha mai e poi mai vacillato. Come leader lo abbiamo visto destabilizzato, privo di umanità, ma come padre non è mai mancato. Negan è riuscito, con l'omicidio di Abraham e Glenn a spezzare la prima parte di lui. Lui è furbo e attento però, sa che per innalzarsi definitivamente davanti a lui deve fargli capire che può colpire anche Carl. E può colpirlo in un mondo senza eguali. 
Negan capisce che fargli prendere quella decisione (tagliare il braccio a Carl o vedere altri membri del gruppo uccisi) è una delle peggiori cose che potesse capitargli. E così vince lui, di nuovo. 
Il richiamo al braccio tagliato poi è molto forte per diversi ricordi. Rick non esitò nemmeno un secondo ad amputare la gamba ad Hershel, sapendo che così gli avrebbe salvato la vita. Poi non esitò a tagliare il braccio di Jesse che veniva sbranata dagli zombie per salvare Carl. Trovarsi a dover amputare il braccio del figlio senza apparenti motivazioni, solo perchè ti viene ordinato da un uomo, è tutt'altra situazione.
-Tu rendi conto a me, tu lavori per me, tu appartieni a me. (…) Questo è lo sguardo che volevo vedere.
Una delle citazioni simbolo di tutta la puntata. Finalmente la paura e la sottomissione sono arrivate anche agli occhi di Rick. Quel gesto estremo che stava per compiere se lo porterà dietro per molto, moltissimo tempo. Negan è riuscito nel suo intento, ha sottomesso il leader, ha sottomesso il padre, ha sottomesso Rick Grimes. Sancisce il suo patto, si volta e se ne va. Non c'è molto altro da aggiungere.
-Scommetto che pensavi che sareste invecchiati tutti insieme, intorno a un tavolo per il pranzo della domenica, felici e contenti.
Uno smacco per Rick e per tutti noi che altro non facciamo che sperare in questo lieto fine. Negan gioca con quei sogni perchè sa bene chi ha davanti, lo ha capito dal primo momento che ha incrociato lo sguardo con Rick e che ha visto le reazioni al primo omicidio.
La visione paradisiaca di Rick che racchiude anche chi non c'è più o chi potrebbe ancora esserci è la traduzione visiva di tutti quei sogni che lo avevano pervaso dopo l'invasione di Alexandria e gli accordi con Hilltop. Tutti quei sogni che nella notte di Lucille sono stati presi a mazzate e inchiodati ad un terreno arido.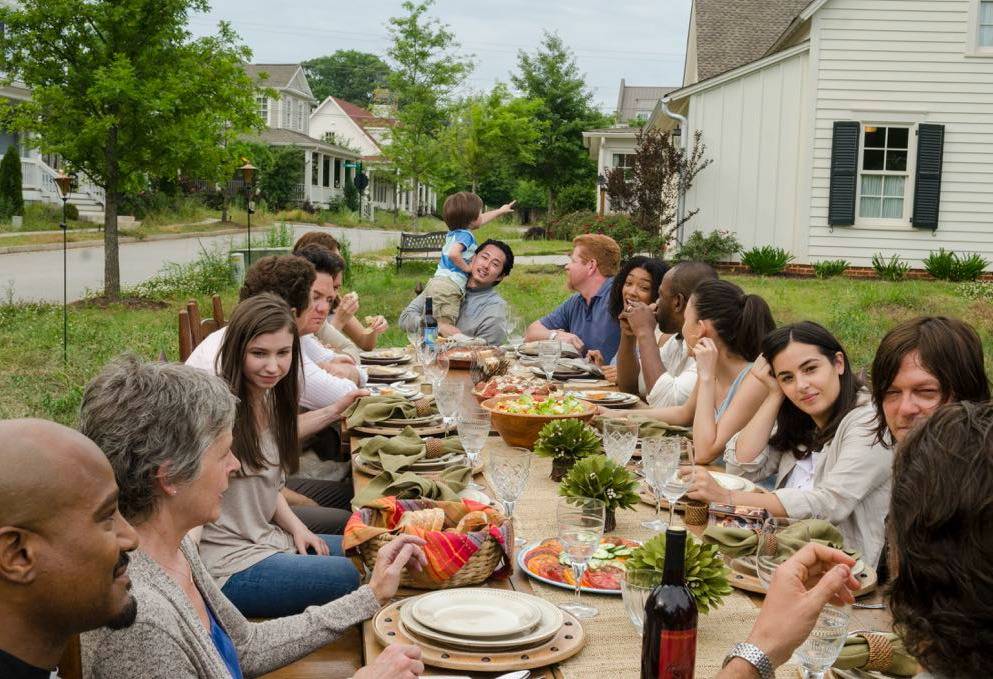 Non dimenticatevi di passare da qui: Norman Reedus Italia, The Walking Dead ITA , The Walking Dead-Italy , The Walking Dead Italia , TWD – Am I the only one Zen around here? Good Lord. , Caryl Italia, Andrew Lincoln Italy, Daryl Dixon ITA e FIGHT the Dead. FEAR the living – The Walking Dead gdr, The Walking Dead Pagina Italiana ! In più vi consigliamo un canale YouTube di un nostro affiliato Don't Open Dead Inside !