Se i primi due episodi di questa attesissima terza stagione di Stranger Things ci avevano riportati ad Hawkins, ci avevano presentato qualche nuovo e, aggiungerei, interessante personaggio, avevano ricordato ai ragazzi, così come agli adulti della cittadina, che da quelle parti non si può mai abbassare la guardia, nemmeno durante l'estate, quando gli amori e le avventure incalzano, Stranger Things 3×03 apre più di una finestra su scenari sia di trama, sia di rapporti, sia di pericoli, molto diversi. Del resto i Duffer Brothers e i vari trailer l'avevano anticipato: un'estate più cambiare tutto.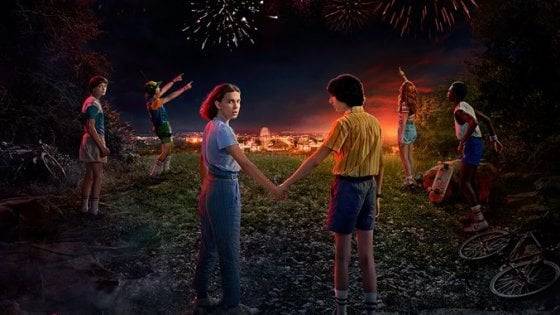 Proprio per inquadrare, fin dal principio, i cambiamenti che si stanno producendo, sia all'interno delle dinamiche del "nostro" gruppo di giovani eroi, sia per quanto riguarda le minacce che incombono, la camera, fin dalla prima scena, indugia su Eleven e Max, sorridenti, sbarazzine e, almeno per il momento, distanti dai rispettivi boyfriend, nel bel mezzo di una discussione da teenagers in pieno sviluppo ormonale.
Le due, infatti, reduci dalla prima vera litigata con Mike e Lucas, non esitano a mostrare apprezzamenti per il giovane raffigurato sulla rivista che Undi sta leggendo distesa a letto. Si tratta di Ralph Macchio ed è subito quote time: stiamo parlando dello storico protagonista di Karate Kid e Guest star nell'episodio dell'addio al celibato di Barney in How I Met Your Mother. Ma per farla pagare definitivamente agli uomini della gang, attraverso i sorprendenti super poteri della prodigiosa protagonista, le signorine decidono di spiare ciò che sta accadendo nel seminterrato di casa Wheeler. Quello che però sembrava solo un innocente gioco, finalizzato solo a smascherare piani e pensieri dei fidanzati, si trasforma in qualcosa di fondamentale per il plot.
Scovando infatti Billy Hargrove in giro per Hawkins, Undi scopre qualcosa di inquietante e pericoloso. In una prima "immersione" vede il fusto del villaggio nell'oscurità, con volto incattivito, quasi posseduto, sicuramente fuori dalla norma. E successivamente lo troverà piegato al suolo, nell'intento di maltrattare, magari violare e legare, una persona: si scoprirà essere Heather, bagnina e collega di Billy, figlia del caporedattore del giornale locale.
Da questa scena in poi, la serie prende una direzione assolutamente diversa rispetto alle precedenti e rispetto ai primi due episodi.
Da un accenno di action/thriller/sci-fi che ci era stato promesso negli episodi 1 e 2, assistiamo a una svolta psycho/horror, tanto attesa, quanto necessaria e perfetta.
La storyline della puntata ha 5 piani di narrazione, tutti destinati ad intersecarsi magnificamente. Tutti costruiti con un unico fine: quello di stupire, come mai prima. Come detto, abbiamo un racconto che mette al centro le due giovani amiche, poi ne abbiamo uno destinato alla squadra Dungeons and Dragons, composta da Will, tornato Will The Wise come nella prima stagione, Mike e Lucas, novelli dongiovanni; un altro frammento di storia per l'altro Dream Team, con Dustin, Steve e la new entry Robin; uno per l'infinita love story Nancy Wheeler/ Jonathan Byers, giornalisti d'assalto falliti; e, l'ultimo, per i genitori scatenati e instancabili Jim Hopper e Joyce (una Winona Ryder mai così in forma da vent'anni a questa parte).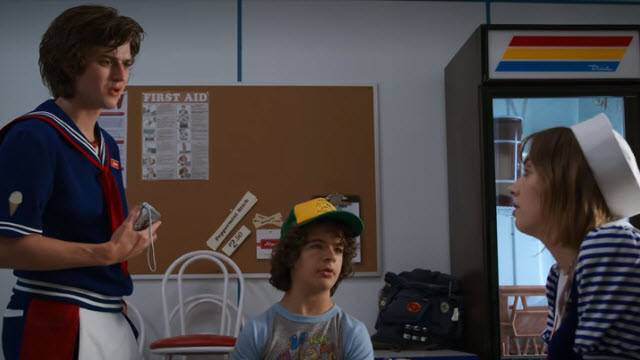 Proprio questi ultimi, dopo qualche battibecco assolutamente spassoso da vecchia coppia, che non sono (ancora?), sul perché la donna abbia dato buca al poliziotto la sera prima, si avventurano nel vecchio laboratorio, scenario principale delle ormai passate avventure, finite in tragedia ( troviamo un delicato e giustificato omaggio a Bob Newby, morto proprio tra quelle mura), per cercare informazioni sulle stranger things in divenire. Infurierà una lotta tra Jim e un losco individuo, impreziosita da un paio di inquadrature che fungono da citazione ad Hitchcock e al suo Io ti salverò (1945) da applausi, e, preceduta da un discorso toccante e duro tra lo stesso Hopper e la madre di Will, costretta a vendere la casa breve.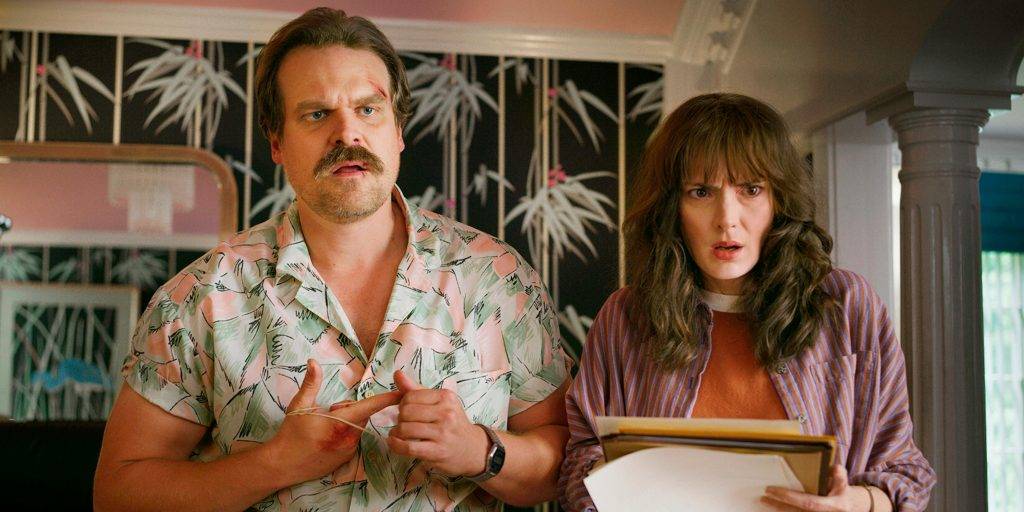 Proprio qui, lo stacco è forte e marcato, sulla dimora, più precisamente su Castle Byers. Quel fortino invalicabile, dove l'indifeso Will, fin dagli inizi di questo viaggio, andava a nascondersi, forse a proteggersi, dalla realtà. Una realtà che lo vedeva senza una famiglia unita, con una madre single, una casa fatiscente, difficoltà nel capire se stesso e un mostro destinato a crescere dentro di lui, ma con una sola, immensa, genuina, potente certezza: l'amicizia.
Friends don't lie? Purtroppo nemmeno quest'ancora alla quale aggrapparsi ormai.
Infatti il rapporto tra gli amici di una vita, quello scudo contro ogni male che, per i quattro Ghost Busters di quartiere, significava quotidianità, è minacciato da più fronti. La distanza che l'estate crea? Sì. La trasformazione fisica e anche di interessi che tutti tranne Will stanno affrontando? Sì. I primi amori? Sicuramente. Il fragile Will questa volta non è lì per nascondersi dentro Castle Byers, è lì per distruggere la sua stessa fortezza. È lì per distruggere l'unico vero simbolo di una serenità mai guadagnata. È li per dimenticare le parole durissime, strazianti e penetranti del suo migliore amico, quello più fidato, Mike.
"Non è un problema mio se non ti piacciono le ragazze" aveva tuonato qualche scena prima il compagno di infiniti pomeriggi passati tra un gioco da tavolo e un fumetto.
Quella frase aveva riacceso un impeto che solo il Mind Flyer, con la sua capacità di possedere le persone, era stato capace di innescare nel ragazzo (Ecco cosa dice Will Byers circa la brutalità del nemico di questa stagione). E nella furia più incontrollabile, devastando il rifugio, grondante di lacrime, Will sente nuovamente la presenza della creatura che tempo addietro, stava per togliergli la vita, ma che ora rappresenta un altro tipo di paura. La paura di essere abbandonato anche dalla famiglia che si è scelto e anche quella di crescere.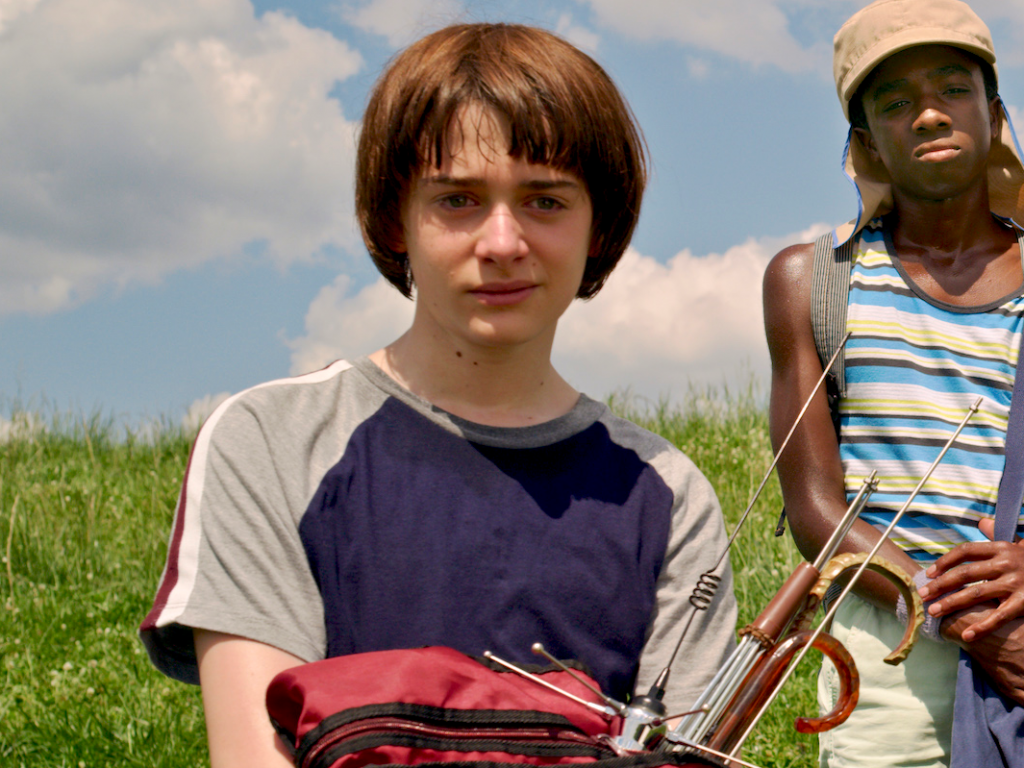 Parallelamente, come anticipato, vediamo Nancy e Jonathan, ancora alle prese con l'indagine riguardo i topi e gli strani comportamenti dei roditori; indagine che li porta, per una seconda volta, fino alla dimora della signora Driscoll, anziana donna, che viene ritrovata in cantina, anch'ella in condizioni tremende e quasi posseduta.
Scena ammirevole, che, come molte altre presenti in altri episodi, viene farcita con riferimenti chiari a La Casa (1981) di Sam Raimi, al primo L'Esorcista, oltre ai maestri dell'Horror made in USA, John Carpenter e più di tutti George Romero, assoluto punto di riferimenti per i Duffer Brothers e ispiratore dell'intero genere Zombie Movie.
Ma questo Stranger Things 3×03, ci coinvolge anche grazie all'ascesa del personaggio di Robin. No, non è la Scherbatsky che tutti amiamo e non è nemmeno il braccio destro di Batman. È la commessa del negozio di gelati presso lo Starcourt, nuovo centro commerciale del piccolo borgo. Compagna di lavoro del "papà dell'anno" Steve Harrington, la gelataia diventa fondamentale per la campagna contro il governo russo (?) che sta portando avanti esperimenti all'interno di un edificio sconosciuto.
L'ultima arrivata infatti riuscirà a decifrare un codice necessario al dynamic duo che, da ora in poi, non potrà fare a meno di lei, per vincere anche questa challenge contro i cattivi.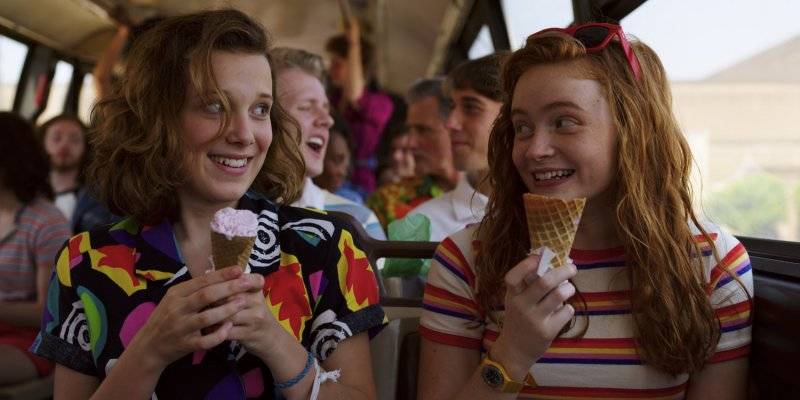 È una terza stagione che ci sta dando molto più di quello che ci aspettavamo: nuovi enigmi, nuovi stimoli, ci sta incuriosendo con cambi di ritmo e innalzamenti di tensione inaspettati. Ci sta portando a conoscere nuovi amici, nuovi nemici, nuovi turbamenti per le facce note e nuovi temibili sbocchi di trama. Con il fiato sul collo dall'inizio alla fine di ogni singolo episodio, ma con la consapevolezza che Eleven e compagnia hanno ancora troppo da capire, da escogitare, da sventare, da superare.
La definirei la stagione dell' Età dell'innocenza, tanto per ricordare un altro assoluto maestro della settima arte come Martin Scorsese che, 26 anni fa sceglieva proprio Winona Ryder per il ruolo di protagonista in quel meraviglioso historical drama movie. Un tempo era proprio l'interprete di Joyce Byers a cercare di fortificarsi e di raggiungere certezze, come i coraggiosi giovani di Hawkins stanno facendo oggi. Ancora innocenti, tra cotte estive e potenziale inespresso, tra una partita in taverna con draghi e maghi, e la lotta infinita con le forze oscure e con la pre adolescenza. Forse quella cantina di casa Wheeler è il vero Sottosopra?