Annalise Keating – How to get away with Murder (di Federica Brigida)
Per un perfetto Carnevale all'insegna dell'omicidio, ad un party che si rispetti non può mancare la professoressa Annalise Keating. E' pur vero che per renderla il più verosimile possibile non basterebbe svaligiare Prada in piena notte e nemmeno un lungo ciclo di lampade alle massime temperature, eppure con i giusti accorgimenti si potrebbe ottenere un outfit degno di nota.
Per cominciare, un abito, o una gonna a vita alta abbinata ad una camicia… tutto fa brodo.
L'importante è che sia il più aderente possibile, e che vi sentiate compresse come un'acciuga in scatola. Un po' di pancetta in evidenza? Fregatevene… siete Annalise Keating, siete fighe a prescindere. Anche sugli accessori si può giocare molto : collane, bracciali, orecchini, potete abbinare a caso, seppur con una certa sobrietà, altrimenti diventereste voi gli imputati, e i giudici Enzo e Carla. Non dimenticate una vasta gamma di parrucche.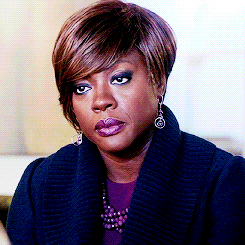 Alternatele, sfoggiatele tutte senza sosta… dalle treccine stile Whoopi Goldberg, alla chioma fluente di Oprah, e se c'è Raperonzolo tagliate i suoi e fabbricatevene una sul momento, non se ne accorgerà nemmeno. A quel punto basterà solo entrare in scena ciondolando come un metronomo scassato a passo svelto e urlare "Le preghiere sono per i deboli, io ti spacco il culo in tribunale" . Il premio a fine serata lo assegnerete voi… un trofeo, a Wes Gibbins, perché tanto lui è stato bravo a prescindere.