Gli anni 90 sono come un'enorme scatola di ricordi fatta di cimeli iconici dal sapore sgranato di qualcosa che possiamo rivedere solo in bassa definizione. Un immaginario che appartiene ad un tempo in cui i Pokemon non si catturavano con la realtà aumentata ma col game boy. Un immaginario fatto di Uomo gatto, Micro machines e Crystal ball che appartiene alla nostra infanzia ben diversa da quella che hanno vissuto i ragazzi nati intorno al 2000 ma che ci differenzia altrettanto da quella vissuta dalle generazioni prima di noi. Noi che guardavamo prima Dragon Ball e poi i Simpson tutti giorni dopo la scuola e che tutte le estati potevamo rivivere per l'ennesima volta gli intrecci di Dawson's Creek. Siamo i Millennials, quelli nati col Nokia 3310 e non con lo Smartphone. Quelli che giocavano a Snake e non si sono ancora iscritti su Snapchat perché abbiamo già troppi social. Siamo quelli che dovevano spegnere internet per far telefonare i propri genitori.
Senza le nostre Serie Tv questo immaginario non sarebbe stato completo ed è per questo che ho selezionato per voi i 15 personaggi più iconici degli anni 90 che resteranno per sempre nei nostri cuori.
1 Karen Walker, la regina dei personaggi iconici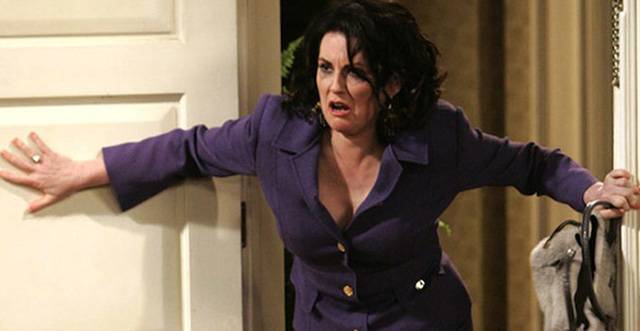 Una bomba ad orologeria dai capelli pompati e le tette esplosive. Il suo personaggio è stato inserito al 23º posto nella "25 Greatest TV Characters of All Time", giusto per farvi intendere che non sono solo io a subire il fascino di quella vocina acuta che insulta con eleganza/estrema volgarità/snobbismo/sagacia tutti quelli che non sono come lei ovvero chi non è dipendente da alcool e psicofarmaci, ricco sfondato e onnisessuale. È servita e riverita da una miriade di servitori ma la sua più fidata ed odiata "schiava" è Rosario, lo stereotipo fatto a personaggio di cameriera avanti con l'età e di origini latine, con la quale ha un rapporto di dipendenza e insulti reciproci.
Quelli che mi cucinano a volte mi puliscono casa… Quelli che guidano a volte mi forniscono un alibi… Tutti fanno tutto!
Inutile dirlo, senza di lei Will and Grace non sarebbe stato lo stesso. Uno dei personaggi più iconici nato nel cuore degli anni '90 che pur rappresentando tutto quello che ci può essere di spregevole per una persona è assolutamente il più amato della serie. La sua spalla Jack (il mantenuto amico di Will), è il suo gaissimo miglior amico con il quale può dar sfogo a tutte le sue follie anche perché condividono un innato senso di repulsione nei confronti delle scelte di vita di Will (ma anche di Grace) dando modo di creare una dialettica stravagante tra le due coppie.