E mi sa che siamo tornati alla soap opera, come nella scorsa terza stagione di How to Get Away with Murder. Questa puntata, infatti, la 4×07, mi ha fatto storcere un po' il naso, sinceramente.
Perché è stato tutto un po' troppo e perché ci sono state cose che non avevano davvero senso, considerando sia l'evoluzione caratteriale dei personaggi, sia i rapporti interpersonali tra i personaggi.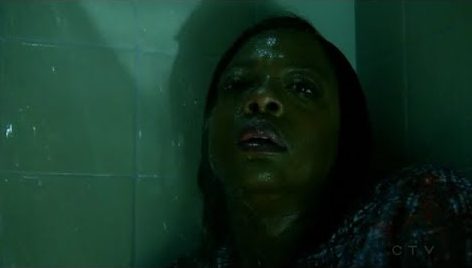 Ma procediamo con ordine. La nuova puntata di How to Get Away with Murder si apre esattamente dove si era interrotta la settimana scorsa, ovvero con l'ex moglie del terapista di Annalise, che va a trovare il nostro avvocato preferito. E fa esattamente quello che ci aspettavamo: chiede ad Annalise di scaricare il terapista perché la loro figlia si è suicidata (come credono abbia fatto Wes) e la sua storia potrebbe causare una ricaduta nell'uomo, ex drogato.
Buona la sequenza iniziale alternata, con le due donne che parlano davanti alla stanza del motel affittata da Annalise, e Annalise che scarica il terapista nello studio dell'uomo. Sa un po' di già visto, onestamente (specie perché la 4×06 è iniziata un po' nello stesso modo), ma comunque funziona.
Anche la trama base funziona. Infatti, le due storyline portanti di questa puntata di How to Get Away with Murder sono quella di Annalise, che viene accusata dalla difesa per far cadere la class action prima ancora che il processo inizi, e quella di Asher che, scoperto tutto, vuole fermare i suoi amici e lasciare Michaela.
La trama che segue Annalise è quasi impeccabile. Vediamo, infatti, la donna combattere per difendere la sua professionalità, screditata dal procuratore generale. L'uomo, infatti, mette agli atti una foto che vede Annalise con in mano una bottiglia di scotch, come prova che quest'ultima ha ricominciato a bere.
La difesa di Annalise sembra debole all'inizio: ha trovato la bottiglia nella sua auto e stava andando a buttarla quando le hanno scattato la foto. In pratica, l'hanno incastrata. Perché sembra debole? Perché, montando su un'accusa di cospirazione da parte del procuratore generale, rischia di screditarsi da sola.
Ma Annalise non è una stupida né tantomeno una sprovveduta. E così va dal procuratore distrettuale e stringe un accordo con lui: se screditeranno il comportamento del procuratore generale, lei avrà la sua class action e lui sarà facilitato alle prossime elezioni del procuratore generale.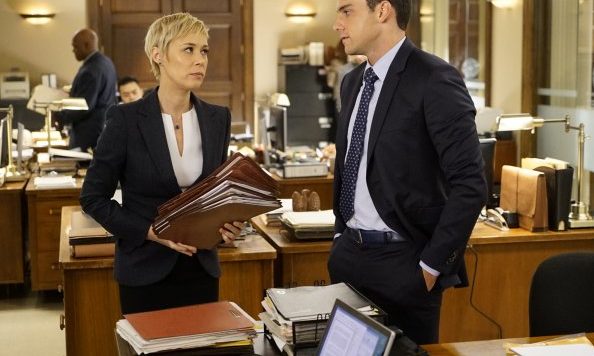 Insomma, tutto bene quel che finisce bene, no? No, perché Bonnie vuole farla pagare ad Annalise, specie perché adesso al suo posto c'è Connor. E si allea con il procuratore generale. E fa trovare ad Annalise, nella sua stanza d'albergo, una bottiglia di vodka, il liquore da cui lei è dipendente.
Ed è qui che la sceneggiatura sembra essere impazzita. Perché? Perché dopo l'effrazione, troviamo Annalise a casa di Nate, che le dà asilo. Nate. Lo stesso Nate che ha passato le ultime puntate a dire di aver chiuso con Annalise e a negarle aiuto. (Non l'ha nemmeno ostacolata, questo è vero, ma da qui ad aiutarla ce ne passa!) Insomma, sembra più che vogliano rattoppare un ruolo ormai stantio, che altro.
Anche perché Annalise e il suo terapista sembrano sempre più vicini. L'uomo, infatti, viene chiamato a testimoniare e afferma di essere sicuro che Annalise non avrà una ricaduta. E, alla fine, lei naturalmente va da lui, confessandogli il motivo per cui ha mollato la terapia.
Ma è la seconda storyline, quella che fa un po' acqua da tutte le parti. Infatti, all'inizio vediamo Michaela fare di tutto per far rabbonire Asher, senza riuscirci. E fino qui, okay. Subito dopo, Asher parla con Laurel e la costringe a raccontare tutto a Frank, che si mostra contrario. Ovviamente, Laurel fa leva sui sentimenti che Frank prova per lei per farlo capitolare.
A questo punto, Asher, giustamente incazzato, va via. Lascia anche Michaela, perché gli ha mentito e perché non le dà abbastanza spazio nella sua vita. Tutto assolutamente plausibile. Fino a quando Asher, da un momento all'altro, senza una scusa credibile, decide di aiutarli e di essere della partita, perché è giusto nei confronti di Wes.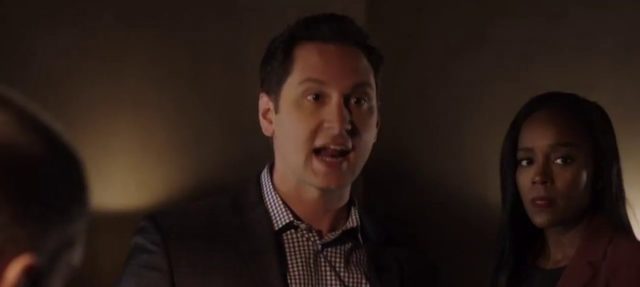 Così, dal nulla. Non c'è, ad esempio, una scena in cui si reca sulla tomba di Wes o in cui ricorda un episodio con Wes, o qualcuno dei ragazzi o Annalise parla con lui. Niente. Di punto in bianco, cambia idea, manco fosse bipolare. E solo, probabilmente, per farci vedere la scena figa e assolutamente irrealistica di Michaela che distrugge col ketchup il suo vestito da sposa di Ver Wang, costato 20000 dollari, solo per dimostrare ad Asher di amarlo.
Insomma, una soap opera, più che una puntata di How to Get Away with Murder. E, come nelle migliori soap opere, non poteva mancare la scena più cliché di tutte. La proposta di matrimonio di Connor a Oliver nella tenda in soggiorno. Proposta ovviamente rifiutata perché Oliver si sente una merda e gli confessa di avergli mentito e di stare indagando con gli altri sulla morte di Wes.
E, colpo di scena, pare che sia proprio Connor l'uomo aggredito questa volta e che al momento è sotto i ferri. Peccato che, però, non si sia visto l'uomo sotto i ferri, per cui io ritengo che, al 99%, non sarà lui, ma Simon, messo in mezzo dai ragazzi nel loro piano…