Il primo giorno suonò la tromba: grandine e fuoco, mescolati a sangue, scrosciarono sulla Terra. Un terzo della terra andò bruciato, un terzo degli alberi andò bruciato e ogni erba verde andò bruciata.
Un inizio esplosivo per questa ottava stagione di American Horror Story, un appuntamento autunnale ormai fisso e sicuro come le alluvioni estive o i bambini che urlano al ristorante. Come annunciato, questo nuovo capitolo è di fatto un crossover tra Murder House e Coven (una delle stagioni meno riuscite). Ryan Murphy ci porta in un nuovo incubo che ha tutta l'aria di poter riuscire e piazzarsi tra le prime posizioni della Serie Tv antologica. 
Tornano innanzitutto la musa Sarah Paulson e il protetto Evan Peters, insieme a loro altri volti noti ai fan dello show come Katy Bates, Billie Lourd e Adina Porter. Facciamo anche la conoscenza di diverse facce nuove.
Ma partiamo con ordine. Di cosa parla Apocalypse?
Los Angeles, presente. Una mattinata tranquilla viene improvvisamente interrotta da un allarme missilistico che risuona in tutto il Paese. La paura più grande del mondo moderno: la Terza Guerra Mondiale. La gente si dà alla fuga, le strade sono intasate, le persone si gettano dai palazzi per non assistere alla fine di ogni cosa. È il panico. In tutto questo ci vengono mostrati i primi protagonisti della storia. Il quartetto formato da Coco, la sua assistente Mallory, l'eccentrico Mr Gallant e la nonna di lui, Evie. Un gruppo che incarna la superficialità della società contemporanea e quel 1% della popolazione che comunque vadano le cose verrà sempre privilegiato.
Non brillano per intelligenza, anche in mezzo al caos si lasciano andare a commenti stupidi e futili eppure sono loro a salvarsi mentre il resto del mondo è destinato a scomparire.
Alla faccia della meritocrazia. 
Dall'altro lato della barricata ci sono Timothy (Kyle Allen) ed Emily (Ash Santos), due ragazzi normalissimi portati in un luogo sicuro perché il loro DNA li rende persone indispensabili per il futuro del pianeta. Ironico che del presidente degli Stati Uniti non venga fatta alcuna menzione, né dagli agenti speciali incaricati di prendere i ragazzi, neanche all'interno dell'Avamposto 3.
L'Avamposto 3, un bunker isolato e sotterraneo, ha lo scopo di proteggere coloro che ripopoleranno la Terra. All'interno di esso i residenti devono rispettare rigidi orari, attenersi alle regole e non contraddire Willhelmina Venable, la donna che controlla il luogo.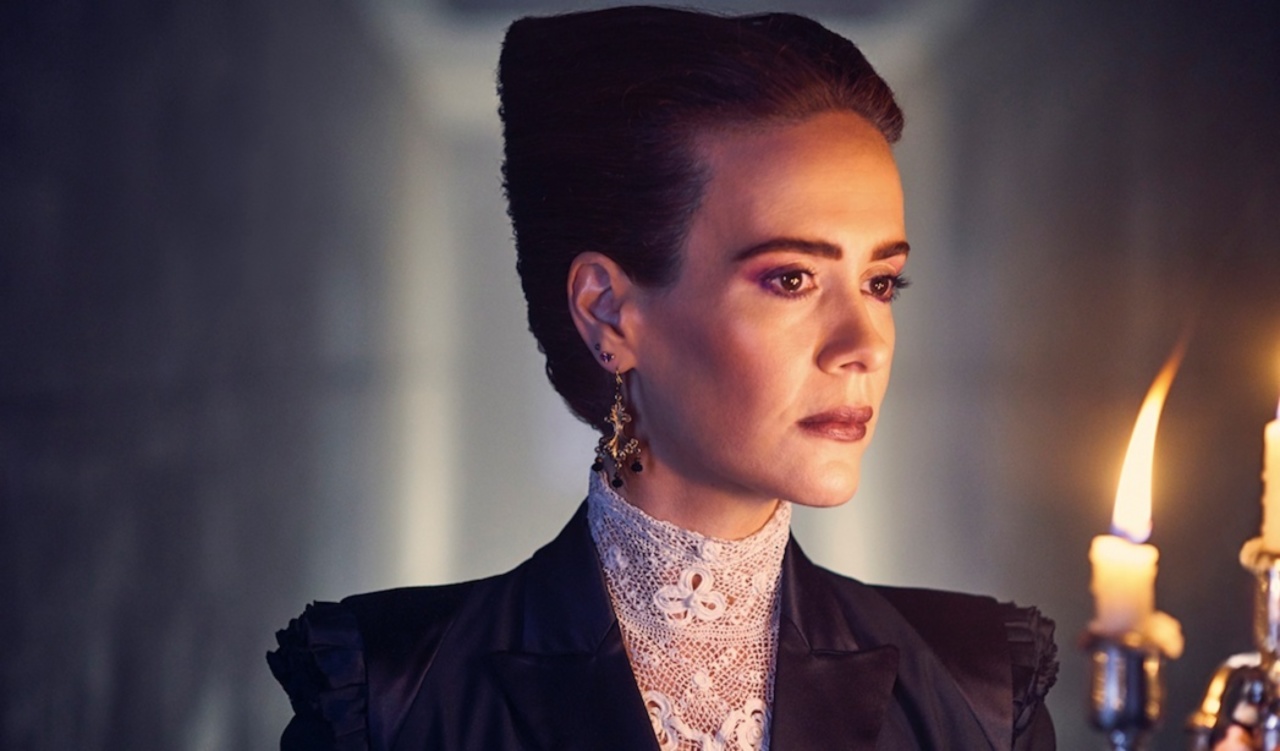 Sarah Paulson interpreta il personaggio finora più affascinante di American Horror Story: Apocalypse. Una donna severa, a tratti sadica e avvolta nel mistero. Controlla il bunker e i suoi abitanti, disciplina i "viola" ma non fa parte del loro gruppo, li osserva da lontano e regola la loro vita ma sa di non appartenere al loro mondo. C'è un velo di malinconia attorno a questo personaggio così austero che potrebbe anche rivelarsi il migliore della Paulson in questi otto anni.
A metà tra "Divergent" e "The Hole", la vita all'interno dell'Avamposto 3 scorre sempre uguale mentre fuori l'inverno nucleare distrugge gli ultimi residui di civiltà. 
Tra le pareti impenetrabili del bunker risuona sempre la stessa canzone e le risorse alimentari cominciano a scarseggiare. Quando il dissenso comincia a farsi largo tra gli ospiti del luogo, ecco spuntare un estraneo, uno strano individuo dai lunghi capelli biondi. Il suo nome è Michael Langdon. "E vidi salire dal mare una bestia che aveva dieci corna e sette teste, sulle corna dieci diademi e su ciascuna testa un titolo blasfemo."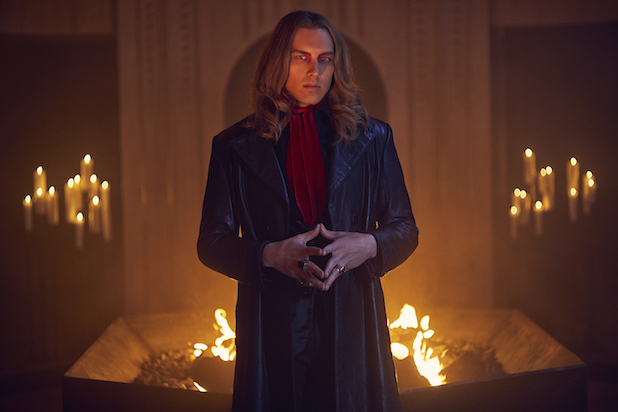 Perché Apocalypse potrebbe essere una delle stagioni migliori
Dopo il deludente Cult che, partito con le migliori intenzioni, si è risolto in un ammasso di idee buttate a casaccio e una fine ingloriosa per il personaggio di Kai, Apocalypse avrebbe tutte le carte in regola per tornare a quell'orrore puro che ci fece in origine innamorare di American Horror Story. L'Avamposto 3 è un luogo claustrofobico e sinistro che ricalca una delle ambientazioni più inquietanti dei film del genere: rimanere bloccati all'interno di uno spazio ridotto, possibilmente in compagnia di sconosciuti. Pensiamo a The Hole, menzionato prima (quello con Keira Knightley), a The Cube o al più recente 10 Cloverfield Lane.
L'isolamento porta le persone a perdere la ragione, a compiere scelte folli (The Shining?). Per questo motivo è spesso usato nei film e sempre per questo motivo la scelta di Murphy appare molto interessante, se verrà sviluppata come si deve. All'isolamento si unisce anche il microcosmo sociale reso evidente dalla ripartizione tra "viola" e "grigi". Nonostante imperversi l'apocalisse la distinzione tra ricchi e poveri rimane di primaria importanza.
Oltre all'ambientazione sono poi le atmosfere (per quanto visto finora) a dare all'ottava stagione di American Horror Story una spinta nella giusta direzione. Le guardie vestite da untori (la Peste Nera è stata un'apocalisse in miniatura), gli abiti vittoriani, la nebbia, il passaggio netto dalla realtà del XXI secolo a questo nuovo mondo catapultato nel passato.
Murphy compie una specie di fusione tra il gotico (nei toni e nello stile), il survival horror e il thriller psicologico. 
I giovani protagonisti, Timothy ed Emily, sembrano gli unici davvero meritevoli di essere salvati mentre gli altri personaggi paiono usciti direttamente dal bestiario tipico di Ryan Murphy. Un bestiario vario, ridicolo e allo stesso tempo inquietante che ci ricorda le primissime stagioni di American Horror Story. La domanda è: quanto durerà? Perché il problema di Murphy non sta nell'iniziare un'idea ma nel portarla avanti.