Nuovo mese, nuovo catalogo Netflix. Per combattere l'inverno a cui questo mese di maggio non ha voluto rinunciare niente di meglio che una tazza di cioccolata calda per preparaci all'estate. In questo articolo, vi abbiamo già anticipato qualcosa sul nuovo catalogo, qualcosa che prevede: un gruppo di nerd disadattati e un microfono. Stiamo parlando di Glee, ovviamente. La serie di Ryan Murphy arriverà sulla piattaforma il 30 giugno.
Non ci sarà solo lei ad attenderci, ecco qui le novità in arrivo su Netflix: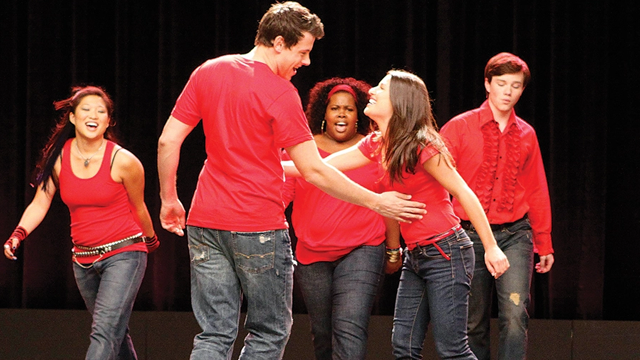 1 giugno
Cast Away
L'ultimo samurai
Resident Evil
Austin Power in Goldmember
Suxbad – Tre Metri Sopra Il Pelo
5 Giugno
Black Mirror – quinta stagione
Happy! – seconda stagione
7 giugno
Tales of the City – Miniserie
Designated Survivor – terza stagione
3% – terza stagione
I am Mother – film originale
The Black Godfather – documentario originale
The Chef Show

12 giugno
Rolling Thunder Revue: A Bob Dylan Story By Martin Scorsese
13 giugno
Jinn – prima stagione
14 giugno
Murder Mystery
Leila – prima stagione
Leila è una serie televisiva indiana diretta da Deepa Mehta, Shanker Raman e Pawan Kumar. Basata sul romanzo omonimo del 2017 di Prayaag Akbar, Leila segue la storia di Shalini, che cerca di trovare sua figlia scomparsa. La serie tv è ambientata in un futuro distopico. Scritto da Urmi Juvekar con Huma Qureshi, Siddharth, Rahul Khanna, Sanjay Suri e Arif Zakaria. Leila conta un totale di sei episodi per la prima stagione.
Marvel's Jessica Jones – terza stagione
Trincket
15 giugno
Via col vento
19 giugno
Beats
21 giugno
Neon Genesis Evangelion
Dark – seconda stagione
Jonas (Louis Hofmann) si ritrova intrappolato nel futuro e cerca disperatamente di tornare nel 2020. Nel frattempo, i suoi amici Martha, Magnus e Franziska cercano di scoprire come Bartosz sia coinvolto nei misteriosi episodi accaduti nella loro piccola città natale di Winden. Sempre più persone sono coinvolte negli eventi orchestrati da una figura oscura, che sembra controllare tutti gli elementi dei diversi fusi orari.
Mr Iglesias – prima stagione
22 giugno
La torre nera
28 giugno
7Seeds – prima stagione serie originale anime
Dope – terza stagione
30 giugno
Glee (tutte le stagioni)