L'ansia relativa alla fine di Game of Thrones continua a crescere, ma il mondo delle Cronache del Ghiaccio e del Fuoco è ben lungi dal volerci abbandonare una volta finita la Serie Tv madre, e continuano a trapelare meravigliose indiscrezioni.
Per quanto il presidente della programmazione HBO Casey Bloys abbia sottolineato più e più volte che nulla andrà in onda prima del termine della Serie Tv principale, sono già stati confermati gli sceneggiatori di almeno alcuni degli spin-off in programma.
Sono infatti già stati messi all'opera Carly Wray, che molti di noi si ricorderanno per Mad Men, Brian Helgeland (LA Confidential, Mystic River), Max Borenstein (Godzilla, Kong: Skull Island) e Jane Goldman passata alla storia cinematografica per Kingsman: Il cerchio d'oro e X-Men: First Class. Sappiamo con certezza che Carly Wray e Jane Goldman starebbero lavorando direttamente con il nostro amato, e odiato, George R.R. Martin, ed è proprio il marito della Goldman a farci battere il nostro debole cuoricino.
In un'intervista a HELLO! online al BFI Luminous Gala, il marito di Jane Goldman, il conduttore televisivo Jonathan Ross, avrebbe confermato che la sua dolce mogliettina ha da poco terminato la propria sceneggiatura «Non dirò nulla a parte il fatto che l'abbia appena finita», salvo poi farsi scappare un dettaglio fondamentale scherzando con l'intervistatrice «Beh, ha scritto ispirandosi a me… E io sono un drago in un certo senso. No, non posso parlarne. Scusate!»
E quando qualcuno si mette a parlare di draghi noi tutti non possiamo fare a meno di saltare dalla gioia all'idea di un primo spin-off incentrato sulla famiglia Targaryen.
Ci sarà dunque uno spin-off concentrato su quello specchio di passato che fino ad ora abbiamo potuto solo guardare da lontano con occhi pieni di speranze, illusioni e congetture.
In ogni modo sappiamo che la Goldman è in definitiva la più entusiasta del proprio incarico, e stando alle sue stesse parole, lo spin-off sarà riconoscibile per tutti i fan di Game of Thrones, e coinvolgerà umorismo e sangue freddo, due delle sue specialità.
Quando si tratta però del distorto umorismo tipico di Game of Thrones non ci si può comunque aspettare niente di buono, soprattutto quando la parola "aspettare" diventa il termine chiave.
Tuttavia oltre allo spin-off verosimilmente basato sulla dinastia Targaryen, abbiamo maggiori notizie riguardo al prequel sviluppato dallo scrittore dello staff di Game of Thrones, Bryan Cogman che collabora direttamente con George R. R. Martin da ormai parecchi anni.
Martin ha infatti dichiarato che si occuperà della co-produzione con Gogman proprio di questo spin-off in particolare, e con la sua consueta sicurezza ha dichiarato: «La serie di Bryan sarà un adattamento che entusiasmerà la maggior parte dei fan dei libri, penso. Sarà ambientato durante un periodo molto emozionante della storia di Westeros».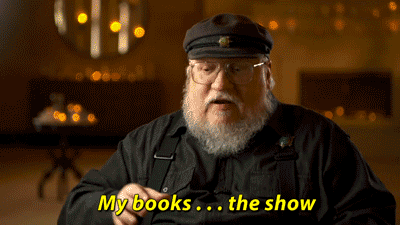 Possiamo forse immaginarci uno sceneggiato televisivo sul Cavaliere dei Sette Regni, o possiamo fremere all'idea di vedere presto le vicende della Ribellione di Robert Baratheon che in questi anni ci hanno tanto incuriosito?
Nessuna risposta definitiva, ma incrociamo tutti le dita che quel drago del marito della Goldman non ci abbia solo meramente illuso, o per lui sarà solo "fuoco e sangue".