Ora che Game of Thrones è terminato, le speculazioni dei fan si sono rivolte ai prossimi progetti per il mondo di HBO e George R.R. Martin. Ci sono più spin-off in produzione e soprattutto c'è molta segretezza sui temi trattati (almeno per gli altri 3). Tutto ciò che è stato rivelato fin ora è sulla serie prequel che riguarderà l'Era degli Eroi e la "vera origine dei White Walkers".
Questo tema è sicuramente uno dei tanti temi che i fan della serie vorrebbero vedere approfondito. Anche se molti sperano che gli altri temi possano interessare alla Ribellione di Re Robert e alla Guerra dei Cinque Re. C'è stato un grande interesse da parte dei fan riguardo uno spin-off su Arya, in questo articolo vi sveliamo la risposta della Williams. Tuttavia, il nuovo principe di Dorne apparso nel finale, interpretato da Toby Osmond, ha un'altra idea per uno spin-off.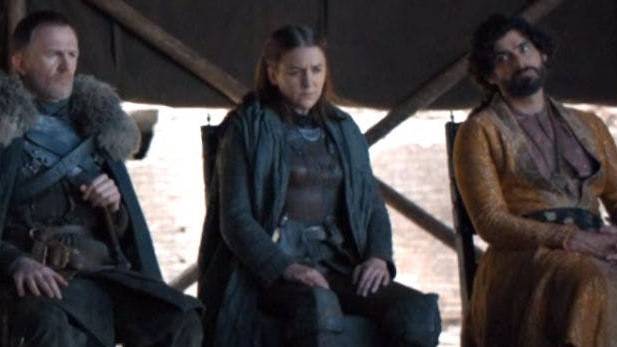 L'attore pensa a uno spin-off che darebbe a Dorne la possibilità di brillare e riportare sulle scene un personaggio sorprendente. Ecco cosa ha detto:
"Tutto ha il suo tempo. Stanno facendo alcuni spinoff e sono tutti prequel al momento, ma incrociamo le dita. #DorneSpinoff. Li amo, mi sarebbe piaciuto avere visto più Dorne nella serie, specialmente più dell'ultimo Principe di Dorne. Ci sono solo tre "Sand Snake" nello show e ad essere onesti sono dei duri assassini, ma quando li vedi per la prima volta combattere contro Jaime, Bronn e il resto delle guardie di Dorne avrebbero dovuto vincere. E poi quando sono stati uccisi sulle navi dai Greyjoy ho pensato 'Maledizione i serpenti di sabbia sono fantastici'".
Inoltre, Toby Osmond è assolutamente favorevole al ritorno di Ellaria Sand. Il suo personaggio non ha avuto una vera conclusione e effettivamente non la vediamo morire. E ipotizza un possibile scenario per il prossimo progetto della HBO:
"Prima stagione, episodio 1 di dieci dello spin-off sarà Dorne che andrà a salvare Ellaria Sand dalle rovine di King's Landing".
Che ne pensate? Il giusto proseguo per la storia di Game of Thrones?