ALLERTA SPOILER DELL'ULTIMA PUNTATA DI GAME OF THRONES, NON CONTINUARE A LEGGERE SE NON SEI IN PARI.
Tanti fan dopo la visione dell'ultima puntata di Game of Thrones hanno gridato al sequel.
L'insoddisfazione generale ha portato a cercare una motivazione ufficiosa che spiegasse i veri motivi per cui sono state prese certe decisioni di scrittura. Una delle motivazioni più in voga è stata il pretesto per uno spin-off sequel su Arya Stark.
So perfettamente che non occorre rinfrescare la memoria, ma vorrei comunque fare un brevissimo riassunto sulla situazione di Arya.
Negli ultimi minuti della 8×06 ogni Stark trova il suo posto nel mondo: Bran come Re dei Sei Regni, Sansa come regina di Winterfell, Jon (anche se non è un purosangue Stark) torna tra i Guardiani della Notte e Arya decide di esplorare le terre sconosciute ad ovest di Westeros.
Il fotogramma di Arya sulla barca in partenza verso nuove scoperte sarebbe un ottimo trampolino di lancio per un sequel spin-off incentrato su di lei, se non fosse che HBO ha categoricamente escluso questa ipotesi.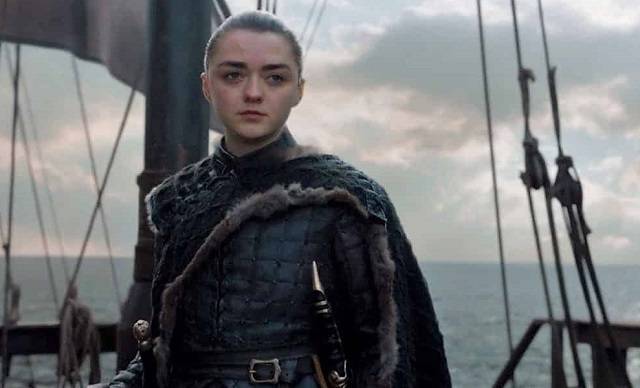 Beh, Casey Bloys, il presidente della programmazione di HBO, ha dichiarato esattamente il contrario: non ci saranno mai sequel e/o spin-off direttamente collegati ai fatti di Game of Thrones.
Si sta accelerando la produzione del prequel, ambientato migliaia di anni prima di Game of Thrones: le riprese sono infatti previste per l'estate del 2019.
Quando è stata posta esplicitamente la domanda su un eventuale sequel focalizzato su Arya, Bloys ha risposto così:
"No, no, no. In parte, voglio che questo spettacolo – il Game of Thrones di Dan e David – rimanga una loro cosa. Non voglio prendere personaggi da questo mondo magnifico e rimandarli in un altro mondo con un altro creatore. Voglio lasciare che sia il pezzo artistico che hanno. Questo è uno dei motivi per cui non sto cercando di fare lo stesso show. George R.R. Martin ha un mondo enorme e massiccio; ci sono tante vicende su cui soffermarsi. Ecco perché stiamo cercando di fare cose che si sentano distinte e di non provare a ripetere lo stesso spettacolo. Questo è probabilmente uno dei motivi per cui, in questo momento, un sequel ed il prendere in mano uno degli altri personaggi non ha senso per noi."
Non è chiaro se questa presa di posizione sia una cosa positiva (in questo modo non si può allungare il brodo di Game of Thrones) oppure una cosa negativa (è un peccato non vedere come Arya metta in atto tutte le conoscenze di guerra acquisite in queste 8 stagioni).
Staremo a vedere se questa decisione si rivelerà veramente definitiva!