Sono state rilasciate otto nuove foto del quarto episodio di Game of Thrones 8 che andrà in onda questa notte. Le immagini pubblicate da HBO le troverete sotto. La battaglia contro l'Esercito dei Morti è stata vinta e Daenerys Targaryen (Emilia Clarke) punta a spodestare Cersei Lannister (Lena Headey) da Approdo del Re. L'episodio, che durerà quasi 80 minuti, ci porterà dritti nella Capitale. Inoltre, sarà l'ultima puntata della serie diretta dal vincitore dell'Emmy David Nutter.
Le foto includono la flotta dei Greyjoy guidata da The Silence con lo stemma dei Targaryen, Dany e Drogon, il funerale dopo la Lunga Notte in quel di Winterfell e un incontro "strategico" tra Cersei ed Euron. Come vi abbiamo già anticipato dal trailer dell'episodio i protagonisti, dopo aver vinto la guerra contro i non-morti si sposteranno ad Approdo del Re per la guerra contro Cersei.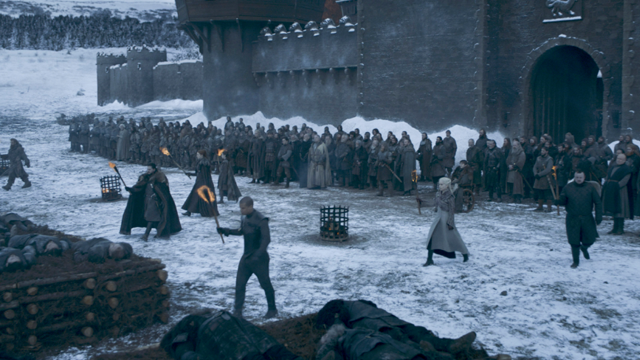 Possiamo iniziare a intravedere i sopravvissuti tra cui Ghost (il metalupo di Jon) vicino a Varys, ma che noterete meglio nel trailer. I protagonisti sono schierati per rendere omaggio ai caduti durante la Battaglia di Winterfell. Come possiamo vedere, dalle foto sotto, Dany sta preparando l'offensiva verso la Capitale che concluderà Game of Thrones 8. E come sospettavamo Jon/Aegon si farà da parte e lascerà che sia la donna che ama a governare sui Sette Regni (forse).
Il problema è proprio questo: la Targaryen riuscirà nella sua impresa? Nell'analisi del trailer di Game of Thrones 8, che potete trovare nell'articolo in basso, abbiamo visto una Dany in preda ai festeggiamenti per la recente vittoria contro gli Estranei. La teoria che sembra andare per la maggiore è che presto, data la morte di Jorah, la Madre dei Draghi possa perdere la testa. La follia incombe su di lei e la voglia di ribaltare Cersei dal Trono potrebbe sovrastarla causando la sua sconfitta.