L'articolo contiene spoiler del film Tick Tick Boom
Il musical è uno dei generi più divisivi e causa di discussioni all'interno di film e serie tv. Molte persone non comprendono proprio l'idea dietro al raccontare una storia tramite delle canzoni, forse perché preferiscono tenere divisi i due mezzi di comunicazione. Che siate fan dei musical o meno, però, c'è un uomo che sta rivoluzionando il genere più di chiunque altro negli ultimi anni: Lin-Manuel Miranda. Potremmo dirvi in cosa consiste la sua carriera, ma faremmo prima ad elencarvi cosa non sappia fare. È un attore, regista, paroliere, compositore, cantante, traduttore e anche rapper americano. Anche per questa sua duttilità, il primo lavoro da regista dell'uomo è un capolavoro per tutti.
Tick, Tick…
Potrebbe sembrare un orologio, ma è il ritmo che ogni parola del film dona all'opera. Questo film è tanto un musical quanto un drama, i temi raccontati sono così semplici e umani da confondere uno spettatore che si approccia in modo errato. La storia di Jonathan Larson viene raccontata tramite un adattamento di un suo vero musical chiamato, appunto, Tick Tick Boom e purché abbiamo visto questo riadattamento, siamo sempre meno convinti dei nostri primi pensieri.
Dove esiste veramente il musical?
È la domanda legittima che nasce da una scelta narrativa geniale. L'opera è infatti un musical all'interno di un film, all'interno di un musical. La narrativa principale, quella "odierna" ci mostra Jonathan Larson interpretato da Andrew Garfield che presenta al pubblico il suo musical e quando dovrebbero entrare in scena le canzoni, il film mostra le scene che hanno dato frutto ad esse tramite dei flashback. Al contrario, quando in questi flashback bisogna raccontare qualcosa, i sentimenti dei personaggi diventano canzoni a loro volta che caratterizzano sia il racconto dei flashback sia il musical che sta venendo mostrato al pubblico.
Tick, Tick…
Per gestire un'opera con così tanti salti in avanti e indietro serviva un montaggio chiaro. Tick Tick Boom è una consequenzialità di eventi e di canzoni su una linea di tempo ben definita, su più livelli, con un ritmo costante dato dal sopracitato montaggio. Perché seppur ben presenti le canzoni non prendono mai il sopravvento sul racconto. Al contrario, ognuna di esse ha sempre una motivazione dietro, sia essa usata come effettivo momento in cui i personaggi vogliono cantare o come spiegazione dei loro sentimenti. Ma non sono mai le uniche protagoniste della scena.
Il silenzio suona forte, anche più di Larson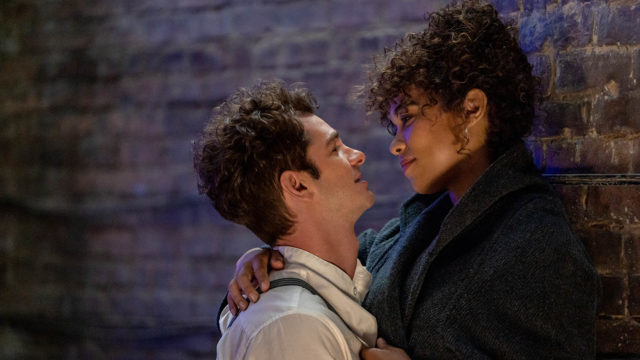 L'intera opera è un viaggio altalenante a livello emotivo: non è né positivo, né negativo. Se vi immaginate un'opera indirizzata solo su una delle due strade rimarrete delusi. Proprio perché la vita di Jonathan Larson è sempre stata dolceamara, sia nei momenti più alti che in quelli più bassi. E così anche nei flashback vediamo la sua genialità intervallata da sconforto e timore. La bellezza delle sue canzoni affiancata ai silenzi assordanti nel buio di una stanza o davanti a una segreteria telefonica.
Tick, Tick…
Il tempo però avanza inesorabile, con questo suono nelle nostre orecchie. Sempre nitido, mai fastidioso, ma incapace di lasciare le menti di chi lo sente. Anche perché il tempo in cui Larson è costretto a completare la sua prima opera "Superbia" è ristretto. Circa una settimana è la durata dei flashback che formano gran parte del film. In questa settimana l'uomo deve affrontare gioie e dolori, ma non gli è mai permesso fermarsi e noi siamo costretti ad avanzare con lui.
La soglia dei trent'anni fa paura
È questo il grande timore che aleggia sul protagonista. Lui sa di avere talento, il suo timore è di essere troppo in ritardo per dimostrarlo al pubblico. Anche per questo nel film ogni giorno è importante. Ogni singola mattina, pomeriggio, sera o notte vengono mostrate perché sarebbe un errore darle per scontate. A pochi giorni dal suo trentesimo compleanno Larson deve riuscire nell'impresa per cui ha lavorato da quasi un decennio rischiando di rovinarsi la vita. La sua vita non è, infatti, per niente rose e fiori. Non ha soldi per finanziarsi e vuole vivere un sogno che sotto sotto teme. Ha dubbi e potrebbe ripensarci.
Tick, Tick…
Ma non può ripensarci, non può fermarsi. Non importa se in ballo c'è la sua relazione o l'amicizia che porta avanti da tutta la vita. Tutti possono aspettare Jonathan Larson per una settimana. Aspettare non creerà problemi, vero? Può scoprirlo solo aspettando, ma nel frattempo l'opera ci ricorda che non esiste solo lui nel mondo. Certo, è il protagonista della sua storia e tutto quello che accade intorno a lui viene visto attraverso il suo campo visivo, ma non deve dimenticarsi di chi lo circonda. Anche per questo i temi trattati all'interno dell'opera, soprattutto quelli non legati direttamente a lui, sono così interessanti ed emozionanti.
Perché il film non vuole dare una risposta
Nel corso di quella settimana attorno a Larson vediamo montagne russe emotive che trasportano anche i suoi amici e la sua ragazza. L'opera è molto saggia ed evidenzia quanto in quegli anni fosse emotivamente faticoso avere una relazione omosessuale. Quante paure aleggiassero intorno a chi professava quel tipo di amore e l'enorme differenza di possibilità presentate rispetto alle coppie eterosessuali. Esattamente come il sessismo quasi intrinseco nella mente degli uomini dell'epoca. Come ogni frase, anche la più gentile, fosse immersa in quel senso di superiorità. Temi che avrebbero potuto essere analizzati a lungo e molto a fondo.
Tick, Tick…
Ma abbiamo solo una settimana di tempo e la durata di questo slice of life non è abbastanza per dare risposte a temi su cui si lotta ancora oggi. È la crudeltà del tempo che avanza, di quel ticchettio che più che un orologio sembra una bomba pronta ad esplodere. Gestito alla perfezione dalla regia di Lin-Manuel Miranda e dall'interpretazione di un cast che ha dato il meglio di sé.
Non basta cantare, anzi, non serve cantare
Andrew Garfield ha caricato l'intera opera sulle sue spalle, mostrando un gorgoglio emotivo dilaniante per lo spirito. Il suo personaggio è talmente chiuso in sé stesso da apparire fragile anche ad un occhio esterno. Si è adattato perfettamente anche alle parti cantate e a certe scelte registiche come gli sguardi in camera dove era necessario creare un contatto con lo spettatore. Il resto del cast, soprattutto Alexandra Shipp come Susan e Robin de Jesùs come Micael, hanno reso grande fede a dei ruoli messi di lato in molte occasioni, ma pur sempre centrali.
Tick, Tick…
Seppur con pochissime scene e nessuna canzone a carico, Bradley Whitford nei panni di Stephen Sondheim ha alzato il livello del film e non di poco. Non ne siamo stupiti: Lin-Manuel Miranda si è da sempre definito un grandissimo fan di The West Wing e un casting come questo era ovviamente mirato a valorizzare l'opera. Inoltre durante il film si possono notare varie citazioni televisive e cinematografiche, tra cui una proprio all'attore che interpreta il suo presidente preferito. Il palco circondato dalle gradinate in cui Larson inizia a suonare da solo potrebbe essere un riferimento ad Apocalypse Now, opera pilastro di Hollywood.
La nostra valutazione è molto positiva, soprattutto per quanto il prodotto sorprenda
Dai riferimenti al grande cinema, alla storia così ben curata dal punto di vista espositivo, Tick Tick Boom non è un film solo per chi è appassionato di musical. La storia di questo personaggio che ha rivoluzionato l'idea di musical, appunto, viene raccontata in modo tale da essere anch'essa rivoluzionaria ed aperta a quante più persone possibili. È il perfetto omaggio non solo alla creazione di Jonathan Larson, ma alla sua ideologia creativa e rivoluzionaria. Un uomo che ha imparato a scrivere di tutto partendo dallo sguardo al futuro e passando ai ricordi del passato. Trasmettendoci brividi in vita, dopo la sua morte e durante questa reinterpretazione. E benché il tempo sia finito, nei titoli di coda sentirete ancora una volta quel ticchettio, quasi a ricordarvi cosa avete appena vissuto. E soprattutto a dirvi che ora sta a voi non perdere altro tempo.
Tick Tick Boom