Mata el Diablo, resucita México…
Terra, asfalto, sangue, morte… benvenuti nella terra dei Mayans.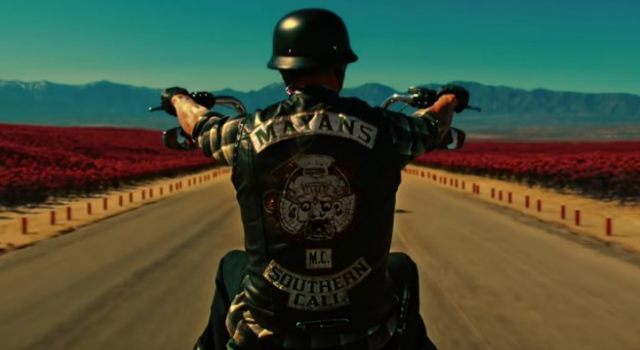 Un cane decrepito, sporco, malnutrito, spolpa gli ultimi rimasugli di un corvo mentre un fin troppo familiare rombo irrompe e destabilizza quella che è solo un'apparente e quotidiana vicissitudine. Ma è tale solo per un occhio meno attento e meno propenso alla venerazione dell'introspezione. In realtà in quel piccolo e sottovalutato banchetto vi è un mondo. Già da qui il prorompente Sutter comincia con il suo simbolismo delicato ma al contempo brutale. Nella simbologia più classica il corvo rappresenta la morte, nonché una delle reincarnazioni preferite del diavolo. Ma come già detto qui siamo nella terra dei Mayans, furibondi emissari che affondano le proprie origini nel caldo ed enigmatico Sud America. Quella terra dove le antiche culture hanno permeato la superficie e trasmesso una cultura millenaria e un patrimonio che va ben oltre il valore fisico. Qui non c'è spazio per la poesia, non vi è posto per un corvo, non c'è vino o pane. C'è un cane. Simbolo perduto di un essere che trasporta i morti attraverso un corso d'acqua per raggiungere la Terra dei Morti.
Divisi si perde
Già dai primi minuti è facile intuire la direzione la via che Mayans M.C. e il suo protagonista Ezekiel Reyes dovranno seguire. Tutto lascia presagire un disegno più grande e una degenerazione senza fine ma che parte comunque dalla quotidianità e da un fondo di speranza. Perché come per il principio di Sons Of Anarchy si respira un'aria di equilibrio, seppure instabile, ma palpabile. Tutto si regge su un sottile filo pronto a spezzarsi da un momento all'altro. E non è che ne passino poi molti.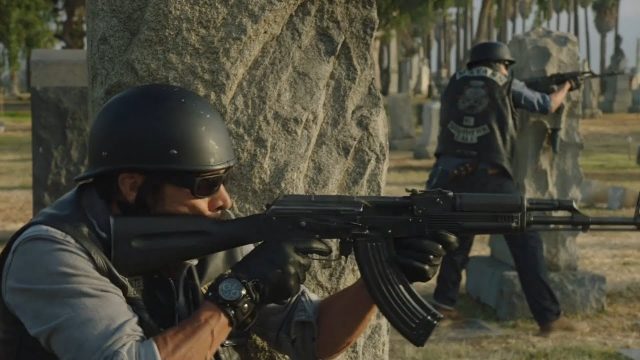 Ma siamo troppo attenti, troppo forse, per rendercene conto. Siamo troppo attenti a cercare parvenze dell'altra grande opera di Kurt Sutter. Anche il numero con cui viene numerato l'ultimo pacchetto del carico di cocaina ci induce a inneggiare a un eccessivo citazionismo (92 come gli episodi di Sons of Anarchy). Non ci siamo neanche accorti del curioso e simbolico nome del teatro in cui si svolgono i fatti. Santo Padre.
Santo Padre come le cose buone di papà o come il padre che dona un libro a suo figlio.
Una raccolta di poesie di Salinas. Un poeta che fece del mistero e dell'irrealtà i capisaldi della sua poetica. Colui che utilizzò l'urlo, in tutte le sue forme, come mezzo primario per ritrovare una persona assente. Quella persona il cui disperato bisogno sfocia nell'ossessione ma che non essendo tangibile si può trovare solo in sogno. Come la madre di Ez. La cui mancanza è asfissiante. Come anche il dolore del padre taciturno, talmente profondo da scoraggiare persino la curiosità dei figli. Loro hanno paura di chiedere… o forse hanno paura di sapere. O ancora, sono incatenati a quel legame di sangue talmente forte da poter legare le ali dell'anima umana. Forse sbagliano ma è pur vero che la vita è una tosta maestra come ce lo dimostrano i ricordi di Ezekiel.
E qui ci ricolleghiamo a una delle nette differenze tra Sons of Anarchy e Mayans M.C.
Nel rifacimento dell'Amleto di Shakespeare, che ha consacrato le vicende dei motociclisti con la morte come stemma, i ricordi erano tangibili solo nella reminescenza della mente. Erano testimonianze trasportate dai racconti, dalle foto, dalle lacrime, da un libro. Quest'ultimo oggetto passa come un testimone fortuito da John Teller a suo figlio Jax, un manoscritto originale nato dalla penna del defunto Presidente. Qui il libro invece, come già detto, è il dono materiale di un padre che attraverso parole altrui probabilmente prova a dire qualcosa che evidentemente non può espletare. In Mayans M.C. è tutto più tosto. I ricordi prendono vita e noi vediamo ciò che affligge l'anima.
Un amore perduto, un figlio perduto, una vita perduta, una speranza perduta… volontariamente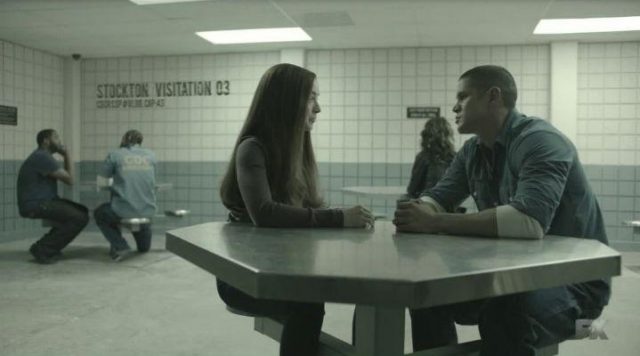 Ez ci dice che la speranza è crudele, che la vita è finita, che 20 anni in carcere devono essere la sua pena, solo sua, non di qualcun altro, non della sua amata. Troppo fragile e bella per sopportare un'attesa inevitabilmente usurante. Vale la pena di aprire una piccola parentesi sul cameo che avviene in questa fase, un cameo messo lì non a caso. Gemma Teller, la donna del caos, presiede alla scena di Ezekiel che insegue per l'ultima volta la madre di suo figlio. Questa accetta la decisione di lui di escluderla dalla sua vita ma impone l'arduo pagamento. Stavolta decide lei. La matriarca dei Samcro è lì, vede, armata di un sorriso beffardo. Lei è la madre che prese la vita di suo marito ma che subì la vendetta di quest'ultimo dall'oltretomba. Una piaga che ha perpetuato il suo male per un'esistenza intera. Quel male che ora Ez ha provato sulla sua pelle ma che prova a soffocare nell'indifferenza di una vita da aspirante criminale. Quel male che davanti alla sua amata, ora madre felice e bella, non può emergere. Lei è dall'altra parte della strada, lui indossa una casacca da Prospect. L'apparizione di Gemma non è messa lì solo per il gaudio di uno spettatore troppo nostalgico. Ha un significato.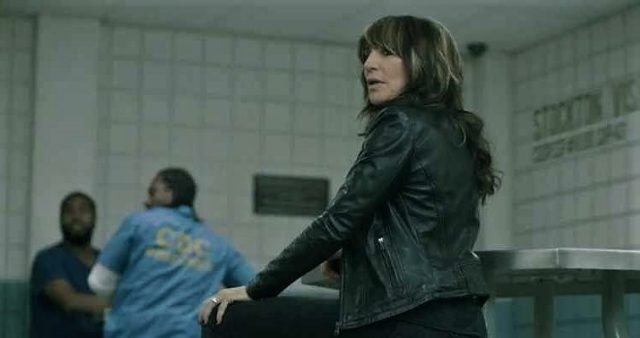 Ha un significato come la lotta di Ezekiel contro se stesso e contro un male ben radicato e profondo.
Mata El Diablo, resucita México…
Il motto di un popolo orfano, lo sponsor di una vendetta insita nelle terre desertiche che nasce da uno sfregio primordiale. I figli degli assassinati escogitano la loro vendetta conto El Diablo, il mostro che li ha privati della loro vita, Il Cartello di Galindo. Lo fanno in una tenda nel deserto, agiscono in maniera subdola, vagano con maschere orribili alla luce del sole, maschere sul cui significato bisognerebbe soffermarsi. Quella del topo ad esempio, un animale che si nasconde, che opera nell'ombra, ma che inesorabilmente agisce. Un essere al tempo stesso simbolo del demonio nella cultura cristiana ma metafora pratica del sacrificio a un fine più grande. Il topo è un soldato perfetto che spesso antepone la causa alla sua stessa vita e che esegue,qui, gli ordini del coniglio. Altro animale che nella cultura Maya rappresenta la salvezza. Come Ezechiele nella mitologia cristiana.
Al centro di Sons of Anarchy vi era la salvezza di un club, di un nome, di una famiglia. In Mayans M.C. vi è la salvezza di un popolo e la redenzione di una cultura millenaria.
Il tradimento dei fratelli Reyes è dunque il machiavellistico tentativo di permettere la resurrezione di un Paese.
Bisogna pur ricordare però che il profeta Ezechiele, che si considerava un pastore, fu dapprima ignorato e inascoltato, prima di scortare il suo popolo vero la libertà. Speriamo che Ez abbia letto la Bibbia…