ATTENZIONE: questo articolo contiene spoiler sul primo episodio di Mayans MC.
Mayans MC è appena iniziata. Nel primo episodio, dopo neanche 30 minuti, il nostro sguardo ha incrociato quello di uno dei personaggi più iconici di Sons of Anarchy. Questa apparizione inaspettata potrebbe essere solo la prima di altre sorprese simili.
Eravamo già a conoscenza della presenza di Marcus Alvarez (Emilio Rivera) in Mayans MC. Abbiamo già incontrato il presidente del club in Sons of Anarchy ed è proprio questo personaggio a rappresentare il crossover con la serie madre. Non è l'unico personaggio già noto ad aver fatto un'apparizione in Mayans MC: Les Packer (Robert Partick) è il presidente dei Sons di San Bernardino.
La sorpresa più grande e inaspettata è però arrivata durante un flashback: si tratta della comparsa di Gemma Teller-Morrow (Katey Sagal).
In un salto temporale siamo stati catapultati nella prigione di Stockton e abbiamo assistito a una scena avvenuta 8 anni fa. I SAMCRO hanno scontato 14 mesi di carcere tra la terza e la quarta stagione di Sons of Anarchy. Questo periodo coincide in parte con la prigionia di EZ. Proprio in questo flashback abbiamo incrociato lo sguardo di Gemma, uno dei personaggi più iconici di Sons of Anarchy.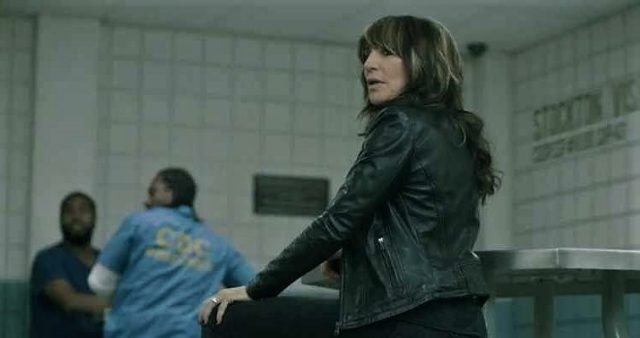 Questo cameo non può che farci riflettere. Nel pilot di Mayans MC EZ è stato il vero protagonista. Abbiamo assistito a diversi flashback che riguardano il suo passato in carcere e in adolescenza. Il passato è inevitabilmente importante per EZ, visto che le scelte fatte allora hanno avuto pesanti conseguenze sul presente. Sicuramente assisteremo quindi ad altri flashback, tra cui quelli in prigione: nulla esclude che verrà mostrato EZ interagire con i SAMCRO.
Mayans MC ha quindi posto le basi per un crossover con Sons of Anarchy, ma le due serie dovranno restare distinte.
Kurt Sutter aveva tempo fa ammesso di non voler intaccare la mitologia di Sons of Anarchy con Mayans MC. Ecco le sue parole:
Non vorrei rovinare quella mitologia. Credo che ogni personaggio con cui abbiamo a che fare possa creare una sorta di collegamento senza però suggerire alcuna storia continuata con i Sons: quell'idea, quella memoria, quella mitologia può continuare a vivere nella mente delle persone. Nei flashback non mostreremo quello che succede nel presente, quindi potrebbe essere un'opportunità per inserire dei collegamenti.
Saranno i flashback ad avvicinare Mayans MC a Sons of Anarchy. Nel passato potremmo quindi trovare dei veri e propri crossover tra le due serie, senza che questi collegamenti vadano a minare l'identità propria di Mayans MC.