Improponibili balletti, grossi arnesi rosa, facce sfigurate e cavallini ribelli. C'è di tutto in questi retroscena tratti dal set di Game of Thrones e nessuno è risparmiato. Da Daenerys a Sansa, passando per Arya, Tyrion e Jaime. Ognuno si è reso protagonista di qualcosa di davvero imbarazzante. Ma anche molto divertente per quanto ci riguarda!
1) Emilia Clarke e un… pasto indigesto
Tutti ricordiamo con raccapriccio la scena in cui Daenerys trangugia senza batter ciglio (beh, quasi) un bel cuore di cavallo. Un rituale Dothraki per garantire salute, forza e prosperità al figlio che aspetta da Khal Drogo. Forse saprete già che in realtà Emilia stava addentando nient'altro che un'enorme caramella gommosa con sciroppo a mo' di sangue.
Non è questo, però, l'aspetto imbarazzante. Il disgusto che vediamo così ben esemplificato sul volto della Madre dei Draghi era tutt'altro che una recita. "Mi ha aiutato molto avere qualcosa di davvero così disgustoso da mangiare", ha confessato la Clarke. "Non c'è stato molto da recitare". La caramella gigante, infatti, a quanto pare era tutt'altro che gustosa.
"Sapeva di candeggina e pasta cruda". Ma la cosa più tremenda è che "Ho dovuto mangiare ventotto cuori il giorno che abbiamo filmato la scena". "Per fortuna mi avevano dato una sputacchiera. Vomitavo piuttosto spesso". Davvero imbarazzante e disgustoso. Ma questo è il mondo dello spettacolo, baby!
2) Scherzi di cattivo gusto
A quanto pare Kit Harington è piuttosto orgoglioso del suo bel faccino e dei fluenti capelli. Quei burloni degli autori di Game of Thrones, allora, pensarono bene di dargli una lezione. Dopo averlo preso in disparte gli confidarono che nello sviluppo della trama Jon sarebbe rimasto sfigurato.
Per rendere più credibile il tutto gli fecero leggere anche un finto copione e addussero le giustificazioni più assurde. "Ci inventammo un'intera storia su come l'HBO considerasse Jon un personaggio troppo da 'Disney' o da 'Harry Potter'; che fosse troppo carino e il network volesse abbruttirlo un po'", ha rivelato il produttore esecutivo Dan Weiss.
Kit si fece cupo in volto e calò uno spiacevole silenzio nello studio finché David Benioff non scoppiò a ridere. Uno scherzo non molto riuscito a giudicare dall'imbarazzo generale. Che simpaticoni questi produttori!
3) Fatemi uscire!
C'è una divertente quanto imbarazzantissima appendice alla storia del cuore di cavallo. Come già rivelato, il sangue altro non era che orribile sciroppo. La Clarke ne era completamente ricoperta e risultava appiccicosa. Così appiccicosa da finire per trovarsi attaccato di tutto addosso. A malapena riusciva a muovere le braccia. Nel frattempo i conati di vomito non accennavano ad attenuarsi.
Fu così che, a un certo punto, la nostra Emilia fuggì dal set di Game of Thrones per rifugiarsi in bagno. Sfortuna volle che in quello stato non riuscisse a muoversi molto bene. Finì così per ritrovarsi bloccata nella toilet senza riuscire a venirne fuori. Un bell'imbarazzo farsi soccorrere tra vomito e sciroppo appiccicoso!
4) Grande, grosso e… rosa
La prima scena di sesso tra Khal Drogo e Daenerys è irrimediabilmente scolpita nelle nostre menti. Violenta, ruvida e impersonale. Ma come l'hanno vissuta gli attori? Con parecchio imbarazzo. Secondo Emilia Clarke, "Ovviamente c'è del nudo e devi, certo, tentare di sdrammatizzare". Jason Momoa ha deciso, quindi, di farlo a modo suo.
Mentre la sua collega aspettava con un po' di ansia che le riprese iniziassero, ecco apparire il mastodontico Khal completamente nudo, eccetto per il pube. "Non indossava una semplice calza di copertura ma una bellissima guaina rosa e vaporosa". La Clarke esplose in un misto di imbarazzo e incertezza. "Era enorme, rosa e non sapevo cosa fare!".
5) 'Ta daa!'
Nikolaj Coster-Waldau e Peter Dinklage devono ringraziare il buon cuore degli autori che non hanno diffuso qualche video sull'episodio che li riguarda. Siamo nella quarta stagione di Game of Thrones e Jaime sta scortando il fratello Tyrion lungo il vestibolo del palazzo. "Intorno a noi c'erano cento o duecento comparse", ha rivelato Coster-Waldau. "Poco prima che iniziasse la scena, Peter mi guarda e dice: 'Balliamo?'. Iniziamo a ballare e tutte le comparse applaudono e gridano".
"Poi ci fermiamo davanti alla telecamera come a fare 'Ta daaa!'". Silenzio assoluto. "Alla fine si sente solo questa tizia dire: 'Ok, facciamo finta non sia mai successo, grazie'. È stato davvero imbarazzante". Ma anche molto divertente. Tirate fuori una registrazione!
6) Cavalli in miniatura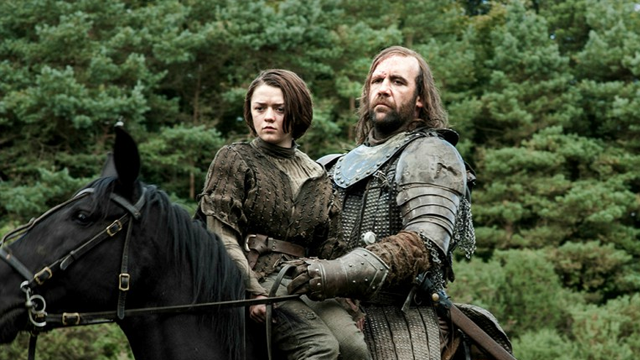 Avete presente i cavalli che appaiono nella seconda stagione di Game of Thrones? Bene, non si tratta propriamente di cavalli. Le scene sono state girate in Islanda dove esiste il divieto di importazione di cavalli vivi. Gli autori non potevano far altro che servirsi di quelli presenti sul territorio. C'era solo un piccolo problema. I cavalli islandesi sono in realtà piccoli come pony. I produttori dovettero ingegnarsi non poco per farli apparire, con un gioco di prospettive, come cavalli di dimensioni normali.
Ma la parte imbarazzante deve ancora arrivare e riguarda una nostra cara conoscenza. Maisie Williams, che in Game of Thrones fa la parte di Arya, ha avuto un po' di problemi sul set. La giovane attrice ricorda in particolare un episodio in cui il suo cavallo non voleva proprio collaborare. Maisie finì così per "cadere quasi dal cavallo e col piede incastrato nelle redini". Risate generali. "La mia gamba aveva raggiunto l'orecchio e io ero tutta un 'Oh, grandioso'". Stretching estremo!
7) Non parlatemi di torta al limone
Fate qualunque cosa ma non offrite mai a Sophie Turner della torta al limone. Per nulla al mondo! Nella quarta stagione avevamo scoperto che Sansa adora il dolce al limone e in una scena nella sala da pranzo possiamo notarla mentre lo divora avidamente.
In realtà tutto c'era tranne che ingordigia in quella scena. Sophie fu infatti costretta a girare ripetutamente l'episodio finendo per mangiarne cinquanta! Ne è rimasta segnata a vita. "Odio la torta al limone. Non c'è torta che odio di più di quella al limone!". Fan di Sophie, siete stati avvisati!