Il 14 aprile inizierà l'ottava e ultima stagione di Game of Thrones. Mentre noi spettatori non vediamo l'ora di scoprire come si concluderà la storia, gli attori della serie già lo sanno. Per loro l'esperienza di Game of Thrones è già finita. E ognuno di loro ha quindi dovuto riflettere sul significato della serie e sul proprio personaggio, congedandosi con esso. Tra questi c'è anche Lena Headey, che ha interpretato Cersei Lannister.
Lena Headey ha recentemente parlato con The Daily Beast e ha raccontato come si è preparata per interpretare Cersei Lannister in Game of Thrones.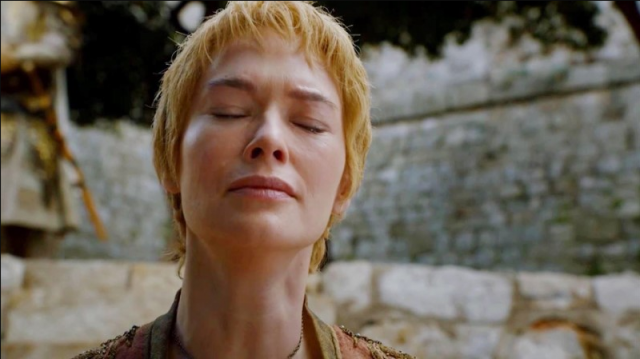 Cersei Lannister è un personaggio serio e complesso e per interpretarla Lean Headey ha dovuto trovare il modo perfetto. Scherzando, l'attrice ha dichiarato che la parrucca che è obbligata a indossare l'aiuta a impersonare Cersei. La Headey odia infatti quella parrucca e quando la indossa non è di buon umore. Ma a giocare un ruolo essenziale sono una lunga preparazione e un buone dose di talento. Ecco le parole dell'attrice:
Faccio questa cosa prima delle riprese: ho bisogno di un minuto per immergermi nel posto in cui devo essere. Devo credere a quello che sto per dire, perché credo non ci sia nulla di più fastidioso di un'audience che non ti crede. Ho quindi bisogno di un minuto per essere ciò che lei è e bloccare fuori tutto il resto.
Lena Headey ha indubbiamente amato vestire i panni della regina di casa Lannister. Ma è anche ponta a dirle addio:
Ho passato otto anni con Cersei e anche per le persone è quindi un grosso personaggio, che oggi sta per concludersi insieme alla serie. Le persone hanno come dimenticato i miei ruoli passati, che erano differenti. Ed è quello che farò di nuovo in futuro: differenziarmi.
Lena Headey ci ha portato nel suo intimo momento in cui veste i panni di Cersei Lannister. Un momento che noi fan di Game of Thrones faremo fatica a dimenticare. Ma siamo anche pronti a vedere l'attrice in nuove vesti!