Attenzione: evitate la lettura se non volete imbattervi in spoiler sulla 6×08 di Game of Thrones. 
L'ultimo passo di avvicinamento è stato fatto: ora non ci resta altro che attendere altri sette giorni per veder esplodere definitivamente la bomba. L'episodio 6×08 di Game of Thrones è la conclusione di una lunga premessa che ci porterà agli ultimi due atti della stagione. Indecifrabili al momento, ma non troppo. Sopratutto per quanto riguarda alcune storyline. Indizi svianti, decisivi o suggestivi preparano un grande mosaico nel quale ci sono ancora troppi tasselli fuori posto. Una grande macchia, però, ha sporcato un episodio a tratti bellissimo. Capirete tutto tra poche righe.
La catastrofe di Braavos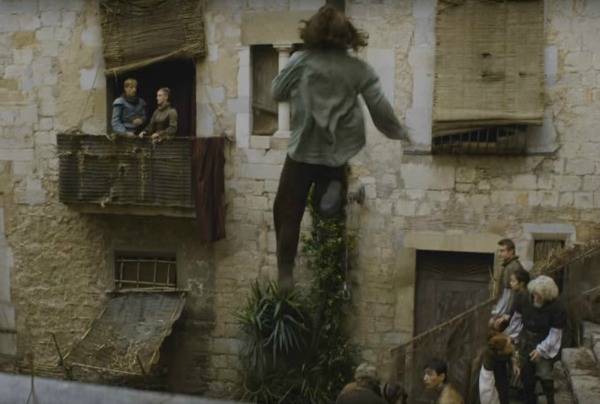 No One? No, Arya Stark. Gli ultimi sviluppi che avevano coinvolto uno dei personaggi più amati di Game of Thrones avevano dato vita all'elaborazione di teorie incredibili, tenuto in piedi la possibilità di rivedere una vecchia conoscenza e creato un hype pazzesco, ma il ritorno definitivo alla propria identità si è rivelato un disastro assoluto, degno delle peggiori pagine scritte a Dorne. Stavolta gli sceneggiatori non ci hanno capito nulla e i conti non tornano minimamente.
Riassumiamo brevemente quello che è successo. Arya, dopo esser stata accoltellata ripetutamente dall'Orfana, vaga per Braavos con il ventre squartato e una ferita che inspiegabilmente la grazia dal dissanguamento. La Stark si rifugia da lady Crane, dottoressa portentosa al pari di Melisandre con Jon Snow, e nel giro di una notte si riprende decentemente. La soluzione narrativa è forzata, ma accettabile. Non si può giustificare tutto il resto. La fuga di Arya è ridicola, senza alcun senso logico. Un momento prima riusciva a camminare a malapena, dopo un secondo riesce a correre e saltare da un muro all'altro con l'agilità di Spider-Man. In due stagioni non è mai stata in grado di affrontare l'Orfana, mentre nell'ultimo atto l'ha uccisa agevolmente nonostante avesse il ventre squartato e mille ferite sul corpo. L'attitudine a lottare al buio è parte di Arya come dovrebbe essere per un'assassina esperta come l'Orfana, molto più avanti nell'addestramento rispetto alla Stark.
La chiusura con Jaqen, quasi malinconico nel salutarla dopo che aveva firmato la sua condanna a morte, è la degna conclusione di una sequenza surreale che lascia senza parole. Non sappiamo ancora qualcosa? Jaqen non ci ha detto tutto? Ci auguriamo di sì.
Per fortuna c'è Delta delle Acque 
La macchia e la grande bellezza, si diceva. Le sequenze dedicate all'assedio di Delta delle Acque ci ricordano quanto sia affascinante e sfaccettata la narrazione di Game of Thrones. In questo caso è impossibile identificare un punto debole. Straordinario l'incontro tra Jaime e Brienne, una delle coppie più particolari della serie tv, commuovente il loro addio.
Onore, rispetto, giuramento e amore sono le parole chiave che accompagnano le sequenze del Lannister con la donna di Tarth e con Edmure Tully. E sono le chiavi di volta dell'intera vicenda, conclusasi a sorpresa senza alcun spargimento di sangue (ad esclusione del Pesce Nero, caduto stoicamente con l'onore delle armi). Il castello torna in mano a Frey e Lannister, mentre l'esercito del Pesce Nero andrà probabilmente a supportare gli Stark, impegnati nel prossimo episodio nell'attesissima battaglia tra i bastardi.
Saranno gli unici? Probabilmente no. Ci sono anche gli Arryn in ballo ed è lecito domandarsi se Sansa abbia scritto a Ditocorto oppure a Robin. La soluzione al quesito potrebbe regalare delle sorprese anche a Nido dell'Aquila, scenario solo apparentemente in perfetto equilibrio.
Scacco al ex regina 
Da Delta delle Acque ad Approdo del Re, unite dal legame tra Jaime e Cersei. All'amore cieco del primo si contrappone la disillusione della seconda, caduta in un baratro creato da lei stessa. Una fine lenta, lentissima. La leonessa è ferita, agonizzante e ad un passo dalla morte. Una morte che probabilmente non arriverà in questa stagione, ma è scritta da tempo.
La madre è annichilita dall'inconsistenza del figlio Tommen, marionetta manovrata alla luce del sole dall'Alto Passero e più ambiguamente da Margaery. L'ultimo atto è l'isolamento finale dell'ex regina, alla quale viene tolta la Montagna in relazione ad un possibile duello per singolar tenzone. Non le resta nulla, se non Qyburn e i suoi uccellini, portatori di una notizia misteriosa che potrebbe cambiare le carte in tavola. Scopriremo la vera identità dell'Alto Passero nel decimo episodio? La morte è vicina, ma non ha ancora bussato alla porta. Cersei si trascina faticosamente senza accettare la resa. Una leonessa è pur sempre una leonessa, nonostante tutto. Ma è sola, più che mai.
L'errore di Tyrion 
Da un Lannister all'altro. Da un pessimo tattico al più abile dei politici. Anche i migliori sbagliano, però. È il caso di Tyrion, alle prese con gli equilibri precari di Meereen. La strategia del nano non ha pagato e gli schiavisti sono partiti all'attacco cercando di cancellare la nuova era per restaurare la vecchia. Tyrion ha fatto un errore decisivo: ha governato ad Essos pensando di essere a Westeros. Un buon governante non ha mai una strategia universale: si adatta ad un contesto e allo stesso tempo adatta il contesto a sé. Tyrion non l'ha fatto, e il risultato è disastroso.
Chiunque rimetterà a posto le cose dovrà farlo senza Varys, partito per una missione misteriosa e dall'indubbio fascino; ogni volta che l'eunuco si muove in prima persona, un grande colpo di scena è dietro l'angolo. Il tempo delle barzellette e del vino è finito: Daenerys è tornata, c'è una città da riconquistare ed un sogno da realizzare. Un sogno lungo sei stagioni e destinato a protrarsi fino alla fine.
Umani e disumani
Dai sogni di Daenerys alle vite spezzate di due fratelli. I percorsi esistenziali del Mastino e della Montagna sono paralleli e allo stesso tempo antitetici. Passano attraverso una morte (solo apparente nel primo caso, reale nel secondo) ed una rinascita che li trasforma. Tuttavia, alla disillusione seguita alla redenzione del primo non corrisponde la robotizzazione del secondo, un Frankenstein sui generis senza più un'anima.
Il Mastino e la Montagna sono personaggi uniti da un vincolo di sangue e separati da destini opposti. La violenza è l'elemento che, paradossalmente, unisce uomini e creature disumane. Questo elemento viene espresso perfettamente nelle sequenze che li vedono protagonisti in "No One". Alla violenza dell'ascia del Mastino corrisponde la forza brutale della Montagna. La furia razionale del Mastino è il tratto che lo distingue dal fratello, irrazionale e animalesco nell'essere una macchina della morte. Sono gli obiettivi a fare la differenza, più delle conseguenze del raggiungimento degli stessi. Vederli confrontarsi sul campo di battaglia è un sogno che probabilmente l'eliminazione del duello per singolar tenzone imposto da Tommen vanificherà definitivamente, ma non si sai mai.
Non mancherà spazio per altre battaglie, altri confronti e altre rese dei conti. La fine è vicina, bene e male esistono in pochissimi casi e il mondo si distingue in persone che vanno a letto più serene, persone che non prendono sonno ed altre che non hanno più un'anima e quando la ritrovano viene spazzata via dall'universo cinico di Game of Thrones. La bomba più devastante è questa, ed è esplosa da sei stagioni.
Antonio Casu
Ringraziamo i nostri partner di  Game of Thrones – Italy, Game Of Thrones fans page -ITA- , Game of Thrones ITALIA , L'immane disgusto di Varys nei confronti dell'umanità. Team Sansa