Comporre l'albero genealogico di Game of Thrones non è una passeggiata, soprattutto alla luce dei fatti emersi nel scorso finale di stagione in cui le carte si sono decisamente rimescolate.
In occasione della conclusione in uscita, Entertaiment Weekly ha deciso di pubblicare un numero in cui dedica ben 78 pagine a Game of Thrones!
Parliamo di foto esclusive, aggiornamenti sugli attori che fanno o hanno fatto parte del cast e le storie passate presenti e future della serie targata HBO
Tra gli approfondimenti più interessanti si trova proprio un'aggiornamento dell'albero genealogico (cliccare sulla foto per ingrandirla).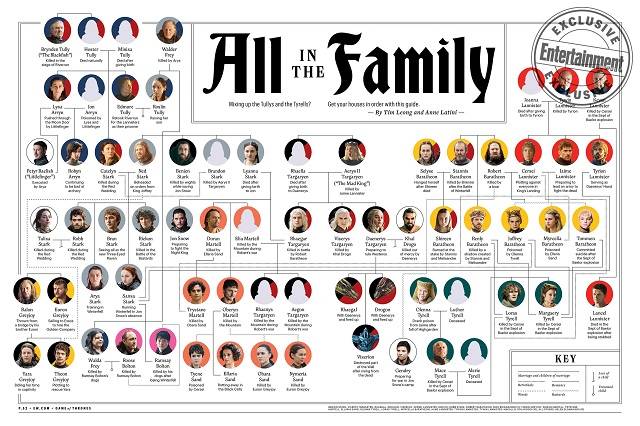 Come potete vedere, sono decine e decine di personaggi incastrati ognuno nella propria precisa posizione nella gerarchia della famiglia.
Sono considerati anche i figli bastardi, che in Game of Thrones non sono mai mancati, o personaggi deceduti di cui non si è mai visto il volto.
I più appassionati avranno già compilato personalmente l'albero genealogico di Game of Thrones, ma Entertaiment Weekly ha reso le cose più semplici a chi si è perso nei meandri degli intrecci di sangue che abbiamo potuto constatare nel tempo.
I personaggi di cui siamo venuti a conoscenza nell'arco delle scorse 7 stagioni di Game of Thrones sono una lista troppo lunga per essere ricordati tutti.
Alcuni di questi personaggi sono stati accennati sporadicamente  nel corso delle stagioni per poi essere rinominati ripresi soltanto molte puntate dopo, tanto da innescare domande del tipo: "E questo da dove esce fuori? E perchè tutti sembrano sapere con chi stiano parlando?"
Tutti i pezzi che orbitano attorno al tema Game of Thrones stanno venendo a galla, dopo 2 anni di attesa adesso manca davvero poco.
A tutti i fan che temevano di perdersi qualche legame di sangue e non riuscire a comprendere le decisioni strategiche prese di conseguenza, ecco qua l'immagine della verità!
Studiate bene questo albero genealogico e vi sembrerà tutto più semplice!