Attenzione: evitate la lettura se non volete imbattervi in spoiler su Game of Thrones 8×02
Il rumore assordante di un corno spezza il suono soave dei sussurri dell'ultima notte. Una sola volta, all'improvviso. Anche se atteso da migliaia di anni. Il rumore rimbomba tra le mura di una Winterfell incapace di dormire. Sveglia, la culla che ha accolto le anime ritrovate di donne e uomini alla deriva. Finalmente insieme. Un solo corpo, di fronte al nemico silenzioso. Un solo obiettivo, una sola speranza. Un solo, terribile, pensiero.
Tra gli amplessi della prima notte d'amore e una brocca di vino da buttar giù senza tirare il fiato. Nel mezzo di un ultimo, intenso, bacio. Persi negli occhi della donna amata, mentre il bambino riposa ignaro. Abbandonati ancora, per l'ultima volta, tra i sussurri dei giuramenti attesi da sempre, dei sorrisi fraterni e delle note di una canzone che viene da lontano. Affrancati dal dolce sapore di un dono capace di riscattare il nome dell'esule, dell'onore ritrovato di un vero cavaliere e della memoria di un mondo che non deve arrendersi.
Disorientati e disarmati, i regnanti senza corona. Se immersi negli echi di una storia passata che passata non è. Catapultata nel presente con una rivelazione dirompente. Evocata nelle solite, maledette, cripte. Ma il tempo non c'è. Non c'è più, non ora. Il nemico avanza e bussa alle porte. L'Inverno, spettrale, è arrivato. La leggenda incombe, la lunga notte è finita. E la Lunga Notte, purtroppo, sta per iniziare.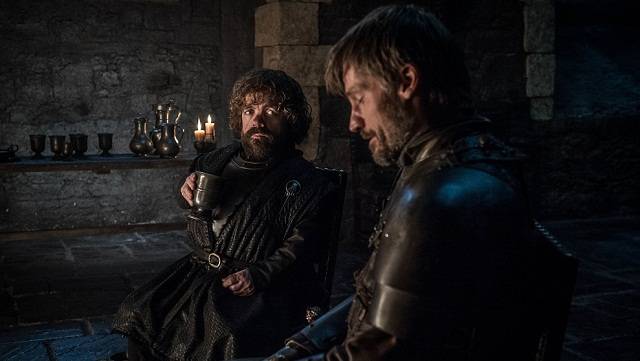 Il tempo si è ristretto a dismisura, in A Knight of The Seven Kingdoms. Si è stretto in un bocciolo, per poi schiudersi delicatamente come un fiore che pochi apprezzeranno. Ha rallentato, fino a fermarsi. Immobile e incessante, di fronte al calar delle tenebre. Come nelle prime stagioni di Game of Thrones, le più intense. Una slow motion lunga una notte, in cui corsi e ricorsi, citati e attuati, hanno chiuso i conti col passato per lasciar spazio ad un domani che nessuno avrebbe voluto affrontare.
Nessuna corsa vorticosa, nessun salto nel tempo, nessuna forzatura. Nessuna frenesia nei dialoghi, manco fossimo tornati a Blackwater. Profondità caratterizzante, in ognuno dei personaggi. Senza protagonisti né comprimari. Il nemico è là fuori, non resta che attendere e prepararsi al peggio. Per l'azione e il sangue ci sarà spazio, in abbondanza, nella terribile battaglia che vivremo tra sette giorni. Già scritta nel futuro dei tanti che ci lasceranno. E nei ricordi prossimi dei pochi che sopravvivranno.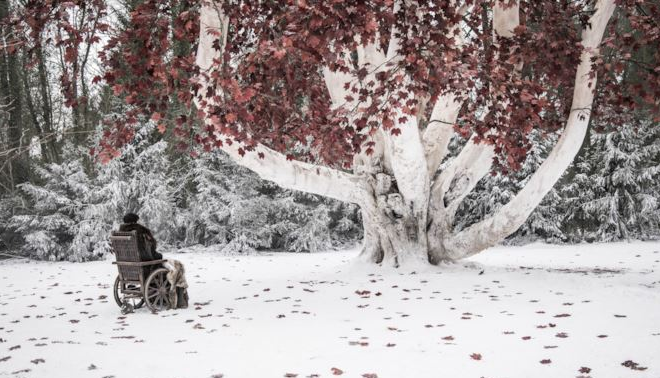 Loro hanno paura. E per noi, terrorizzati dallo spettro di un passo falso fatale, è persino peggio. Non è più lo scontro tra il Leone e il Lupo ad albergare nei nostri incubi. Non il gioco del trono, né il pensiero che la strategia possa non essere quella giusta. Non l'adeguatezza degli eroi rivolti verso il nemico. Non il destino dell'esca chiamata ad attrarre a sé la propria nemesi, Bran. Simile in questo (e solo in questo) al fratello Rickon, agnello sacrificale della Battaglia dei Bastardi.
No, non più. Non ora. Al contrario del sospetto, martellante, che il nemico possa non palesarsi davanti a noi. Non solo, almeno. Ma anche, fatalmente, alle spalle. Nelle onnipresenti cripte di Winterfell, ultimo rifugio dei più deboli e, purtroppo, di Tyrion. La dimora eterna che potrebbe riprendere vita nella forma più oscura, attraverso la morte. Non vogliamo pensare che il Night King possa destare il sonno di quel che resta di Eddard, Lyanna e tutti gli Stark scomparsi. Alzando, semplicemente, le braccia al cielo.
Non vogliamo chiudere gli occhi e vederli uccidere donne, bambini o chiunque incontrino, rimpolpando esponenzialmente le fila del nemico. Prendere possesso delle mura amiche di Winterfell e attaccare l'esercito alle spalle, mentre davanti avanza l'orda non morta. Non vogliamo pensarci, ma non possiamo non farlo. E vediamo, fin da ora, spezzarsi la piccola anima della novella Shireen che ha scaldato il cuore del povero Davos.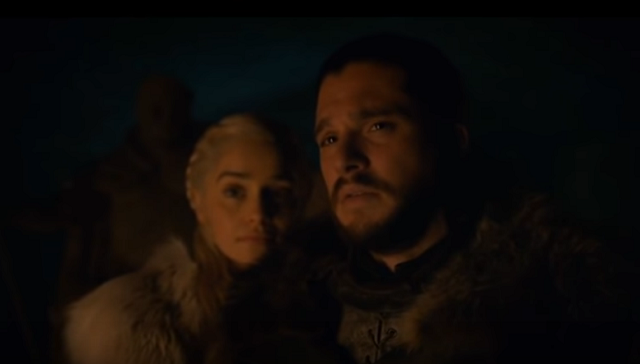 Non ci resta, allora, che intonare le note di una canzone. Venuta da lontano attraverso la bella voce di Podrick e le righe di A Storm of Swords, il terzo dei libri martiniani che hanno dato vita a Game of Thrones. Con protagonista Jenny, una ragazza di umili origini come tante altre. Bella, bellissima. Tanto da far perdere la testa a Duncan Targaryen, fratello del nonno di Daenerys, farlo andare contro la volontà del padre, il Re Aegon V, e rinunciare al Trono di Spade che avrebbe dovuto ereditare.
Per un matrimonio proibito che ha creato i primi attriti tra i Targaryen e i Baratheon, le cui casate avrebbero dovuto unirsi grazie a Duncan. E per un amore, vero, per colpa del quale si può fare davvero di tutto. Costringere un bambino ad una vita sulla sedia a rotelle. Oppure scatenare, inconsapevolmente, una guerra. Lasciando in eredità l'erede legittimo. Un Targaryen che ama un'altra Targaryen, come tante volte è accaduto. Dannati dal fato, benedetti dalla passione.
Incatenati alla leggenda del Principe che fu Promesso, evocata da una misteriosa amica di Jenny. Persino all'onere di un sacrificio necessario, indispensabile per la salvezza dell'umanità. Incarnato da Jon e Daenerys, chissà con quali ruoli. E da un brano, Jenny of Oldstones, forse scritto da Rhaegar. Padre e fratello, cantore di una ragazza che balla con i suoi fantasmi. Invece di combatterli come faranno, presto, i nostri eroi. Con la speranza che la luce spenga il buio. E Winterfell, alla fine, brilli ancora.
Antonio Casu