Attenzione: evitate la lettura se non volete imbattervi in spoiler su Game of Thrones 8×01.
Alla fine Jon Snow ha saputo qualcosa. E parliamo della scoperta più importante, la vera variabile impazzita dell'ottava stagione di Game of Thrones. Non tanto per lui (anche se l'espressione spaesata seguita alla rivelazione di Sam ha più di un sottotesto), quanto per tutti gli altri. Perché Jon Snow non è più il (quasi) delegittimato Re del Nord. E da oggi non è più, a tutti gli effetti, manco Jon Snow. Da questo momento in poi il bastardo di Winterfell è e sarà (per quello che vale) Aegon Targaryen, sesto del suo nome. Legittimo erede al Trono di Spade.
Per quello che vale, soprattutto in relazione all'impatto che la scoperta avrà sul gioco del trono. Ancora vivo negli atteggiamenti di Cersei quanto in quelli di Sansa, nonostante l'Inverno stia ormai invadendo Westeros. L'ha sussurrato prepotentemente Winterfell, primo episodio dell'ultima stagione di Game of Thrones. Molto più di una puntata preparatoria e interlocutoria, a discapito delle apparenze. Per merito, in buona parte, della rivelazione che scombinerà i piani di tutti. Ma non solo. Perché i riferimenti continui al pilot della serie hanno più di un significato nascosto.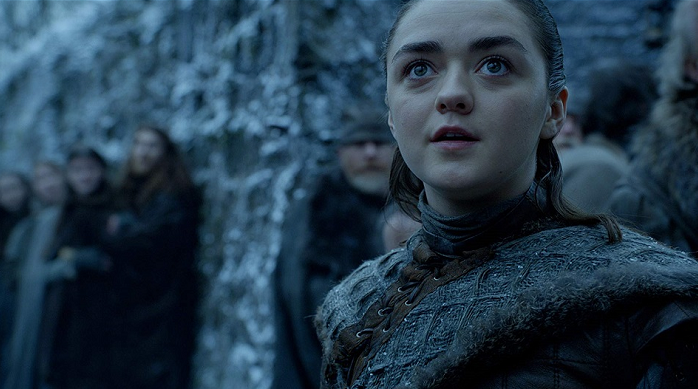 Non possiamo non rivedere nell'ingresso a Winterfell di Jon e Daenerys l'arrivo di Robert Baratheon nei primi minuti del primo episodio. Non possiamo, se riconosciamo le note di una colonna sonora già udita anni fa. E neanche se ritroviamo due vecchi amici mentre parlano di Lyanna Stark nella cripta. O la spensieratezza di un bambino curioso negli occhi della piccola Arya, ieri come oggi dispersa in mezzo alla folla ed estranea ai convenevoli formali. Oltre che in quelli del piccolo Bran, lo scalatore. Lontanissimo parente del Corvo dai Tre Occhi che ora ci inquieta.
Non possiamo se riviviamo, momento per momento, un episodio che sembra quasi un déjà-vu. Vissuto intensamente attraverso gli incontri e gli scontri dei figli ormai divenuti padri della patria, difesa ad un passo dal tracollo. Un tempo fratelli, ora chissà. Mariti e mogli smarriti sulla via di un matrimonio dai contorni viola. Compagni di sventure sopravvissuti ad un solitario destino mortifero. Amici di lunga data, artifici di un'unione disinteressata che potrebbe riunire gli Stark e i Baratheon. Sereni, persino sorridenti. Forse innamorati, nel bel mezzo di una bufera.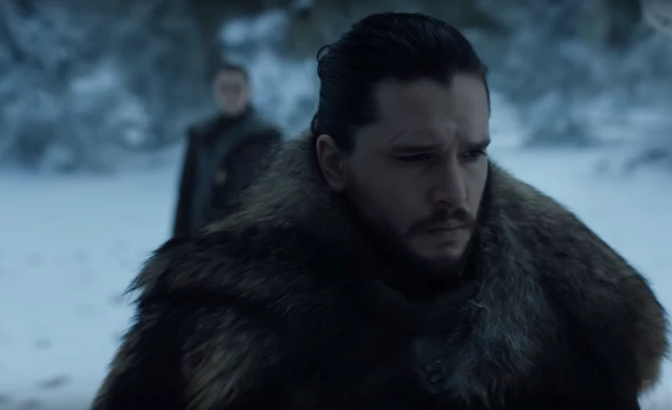 L'amore, d'altronde, non è un pericolo mortale per tutti. Lo è, tuttavia, per chi deve portare il vento del cambiamento nel duro Nord, la cui diffidenza si è accentuata con gli ultimi tragici eventi. Jon ne è sempre stato consapevole, ma la Grande Guerra ha priorità su ogni cosa. Inclusi i fragili equilibri con la sorella Sansa, lady di ferro con le effigie della regnante ideale. La corona, apparentemente svenduta in nome di un amore incompreso, è in realtà la moneta di scambio per la salvezza di un mondo intero, ma non sarà semplice convincere tutti. L'avvento dello straniero spaventa, sempre.
E Sansa, oltretutto, non è sola. I bannermen di Casa Stark stanno dalla sua parte, più che da quella del (quasi) rinnegato Re del Nord. Arya, inoltre, ha a sua volta le idee molto chiare su tutto, non solo sul destino della daga maledetta che ci ossessiona da otto stagioni. La famiglia viene prima di ogni cosa, persino dell'amore sincero provato per un fratello maggiore riabbracciato dopo tanti anni. I dissidi, finora mitigati dal dolce sapore della rimpatriata, si appianeranno quando la Grande Notte busserà alla porta di casa. Ma la giovane Stark, vogliosa di avere tra le mani un'arma davvero speciale, potrebbe essere prossima ad un nuovo viaggio.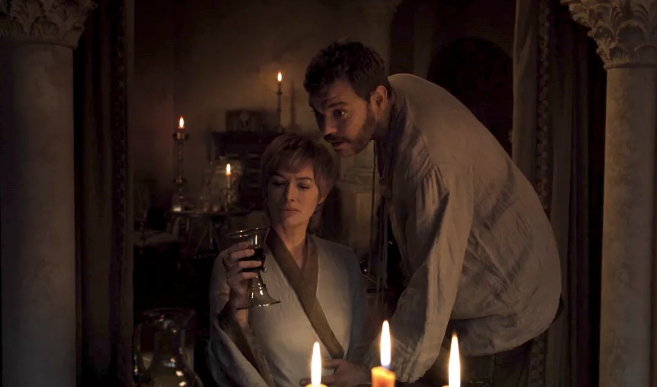 Nel gioco contrapposto di una verità vecchia come il mondo, Sparta piange e Atene non ride. Cersei, curiosamente (e forse non a caso) ossessionata dalla volontà di possedere degli elefanti, conferma una volta per tutte di essere la degna erede dell'ultimo Targaryen che ha occupato il Trono di Spade. La decisione di puntare tutto sulla Golden Company, esercito di mercenari che avrebbe potuto dare una mano decisiva nella guerra tra la vita e la morte, unita a quella di legarsi ancora di più all'inaffidabile Euron, hanno dato un'idea precisa della deriva inarrestabile della Regina.
Ancora immersa in un Gioco del Trono senza più senso, e ancorata allo spiraglio di una vendetta poetica dai tratti psicotici. Una donna alla quale la vita sembra aver strappato l'anima, anche se in qualche modo vive ancora. Umana, nell'essere madre. Ad un passo dalle lacrime, malinconicamente persa nel vuoto, nel momento in cui l'ennesimo bicchiere di vino ha preannunciato, con ogni probabilità, la perdita dell'erede in arrivo. Cersei Lannister, la Mad Queen, ha lasciato spazio per un attimo, forse per l'ultima volta, all'altra Cersei Lannister, la regina dai mille volti che abbiamo imparato a conoscere negli anni.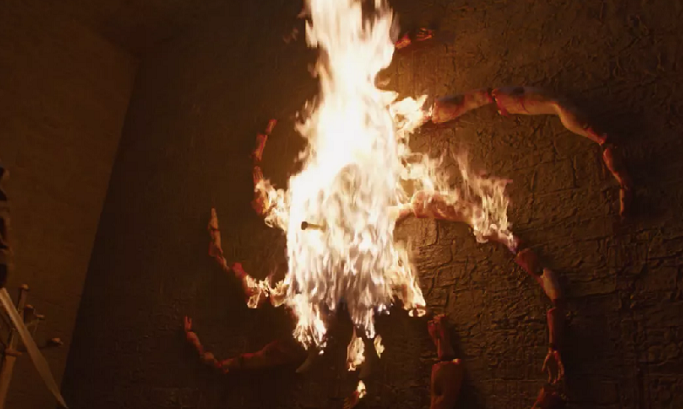 La vista atroce di un non morto, d'altronde, non è stata sufficiente per farla rinsavire. Darle un'idea del pericolo incombente, ben al di là delle fantasiose leggende. Non è stata sufficiente, ma il resto del mondo ormai lo sa. E non dormirebbe più se avesse visto quel che hanno visto Tormund, Beric ed Edd. Impietriti, di fronte all'ennesimo massacro. L'urlo spaventoso del piccolo Umber, massacrato dal Night King nel peggiore dei modi, è diventato un simbolo. Una misteriosa icona dai tratti oscuri che ha scatenato tutti sui possibili significati.
C'è chi ha visto nella macabra installazione il drago a tre teste dei Targaryen, evocato visivamente nel momento in cui ha preso fuoco. Non si può escludere affatto, ma diventerebbe complesso dare una spiegazione soddisfacente. Il Telegraph, d'altro canto, vede nel vortice costruito più di una similitudine con quel che abbiamo visto nelle grotte di Dragonstone e in due passaggi chiave delle vite di Daenerys e Jon (ne ha parlato in questo pezzo). È possibile, anche perché è uno degli elementi simbolici più ricorrenti nelle otto stagioni di Game of Thrones, ma è presto per parlare.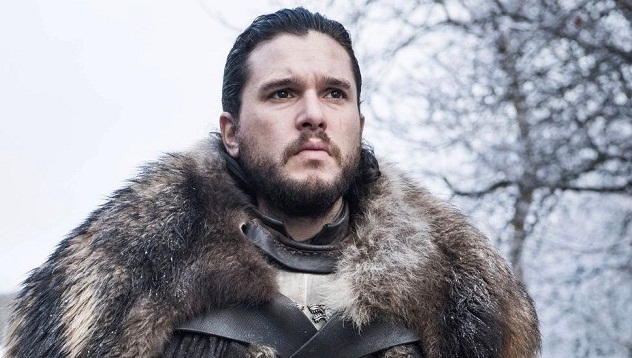 Non lo è, invece, per affrontare la grande svolta legata alla "nascita" di Aegon Targaryen. Come abbiamo evidenziato in una teoria pubblicata pochi giorni fa (troverete l'articolo alla fine della recensione), la scoperta non cambierà le priorità di Jon, uno che ha confermato più volte di non avere particolari ambizioni personali. Ma come la prenderanno gli altri? La notizia, inevitabilmente, sconvolgerà il legame sentimentale con la zia Daenerys, minando soprattutto i rapporti di forza sulla rivendicazione del Trono di Spade. Jon, con ogni probabilità, si farebbe da parte, ma cosa ne penserebbero gli alleati?
Il Nord mal digerirebbe un Re del Nord dal sangue Targaryen, seppure Stark per metà. I rapporti con Sansa e Arya, inoltre, già messi a dura prova nell'ultimo episodio, rischierebbero di deteriorarsi ulteriormente. A prescindere dalle intenzioni di ognuno, per colpa di una complicazione che rimette tutto in discussione con conseguenze imprevedibili. L'arrivo del Night King rimanderà o chiuderà definitivamente la questione, ma un dubbio sorge spontaneo: perché Bran ha avuto fretta di dare una notizia del genere in un momento tanto delicato? A cosa mira davvero il Corvo dai Tre Occhi? Per fortuna (o purtroppo) lo capiremo presto.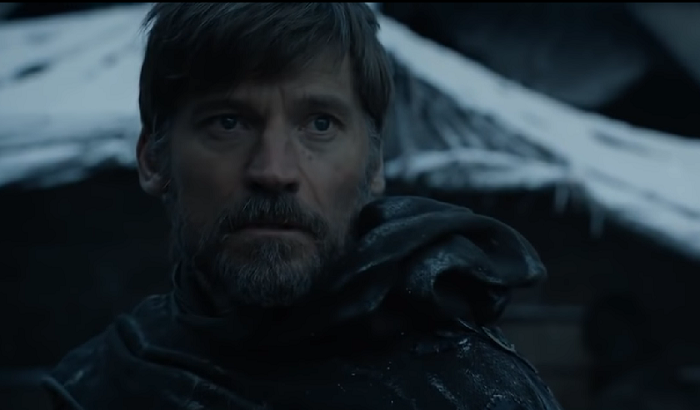 Bran, d'altronde, è uno dei personaggi più misteriosi dell'ultima stagione di Game of Thrones. E sarà importante comprendere fino in fondo quanto del piccolo Stark sia rimasto in lui. Frammenti, senza più anima. O forse no? Ha atteso a lungo un "vecchio amico", espressione insolita se si pensa all'evoluzione del personaggio. E tutti abbiamo pensato immediatamente a Jaime, palesatosi poco dopo in un incrocio di sguardi criptico che ha chiuso l'episodio con l'ennesimo riferimento al pilot. Il posizionamento della scena in chiusura del primo episodio di stagione ha evidenziato in modo deciso la centralità dell'evento, ma si tratta solo di una scelta stilistica?
Vogliamo pensare ad una suggestione che avevamo proposto due anni fa, con una chiusura del cerchio che capovolgerebbe le parti rispetto a quel che abbiamo visto all'inizio di questa lunga avventura. Con la vittima che diventerebbe carnefice, e il carnefice che diventerebbe eroe. Ripenseremmo a quel punto al "vecchio amico" di Bran, e l'espressione non avrebbe più tratti ironici. Non Jaime Lannister, l'uomo che tentò di ucciderlo. Non Theon Greyjoy, capace di fare altrettanto. Ma il Night King, la nemesi del Corvo dai Tre Occhi. Una nemesi, tanto diversa da essere simile a lui. O essere, addirittura, il polo opposto di un'unica creatura.
Vogliamo pensarci per un secondo, anche se sarebbe terribile. Ma lo sappiamo già: l'ultima stagione di Game of Thrones sarà terribile a prescindere dal destino di Bran, e per questo leggendaria. Lo sappiamo già: ci divertiremo tantissimo, in lacrime.
Antonio Casu