Attenzione: questo articolo contiene spoiler della seconda puntata di Game of Thrones 8
La teoria che stiamo per presentarvi ha del clamoroso e potrebbe rappresentare un eccezionale plot-twist dei prossimi episodi. Gli indizi, d'altronde, parlano chiaro. Gli autori li avevano abilmente occultati in bella vista e fino a questo momento non avevamo mezzi per comprenderli. Ma ora tutto è cambiato. Ora possiamo rileggere due scene in chiave radicalmente diversa. E capire cosa potrebbe aspettarci in Game of Thrones 8.
Due scene, ma sarebbe meglio dire tre. Procediamo per gradi, però. Partiamo dalla 2×10, episodio in cui Daenerys ha alcune visioni nella Casa degli Eterni a Qarth. Indelebile per molti sarà la sequenza in cui la Madre dei Draghi osserva il trono di spade in uno scenario innevato e in una reggia cadente e raggelata. Una profezia su ciò che avverrà? Ora, forse, abbiamo la risposta. Per comprenderla dobbiamo, però, analizzare prima un'altra scena.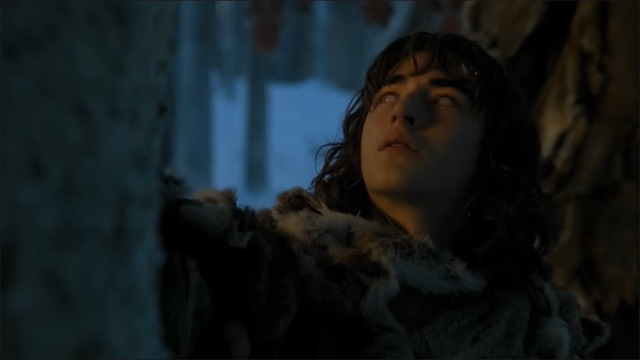 Una scena che abbiamo sempre avuto sotto gli occhi.
E che ci mostra esattamente la stessa immagine del trono spoglio e congelato. State pensando a qualche sequenza di Game of Thrones 8? Vi sbagliate di grosso. Stiamo parlando di qualcosa che abbiamo visto tanti episodi orsono. Una visione, come è stata quella di Daenerys. Una sequenza di immagini in gran parte relativa a eventi compiuti. Siamo al minuto 26 del secondo episodio della quarta stagione.
Bran si trova davanti a un albero-diga nella Foresta Stregata. Tende la mano, tocca il trono e ha dei flash. Si tratta, come dicevano, di scene in gran parte relative al passato. Non tutte, però. In una possiamo osservare il trono di spade sotto la neve, in una reggia ridotta a rudere. Lo stesso, identico e funereo scenario che contempla Daenerys. Ma che attinenza ha tutto questo con Game of Thrones 8?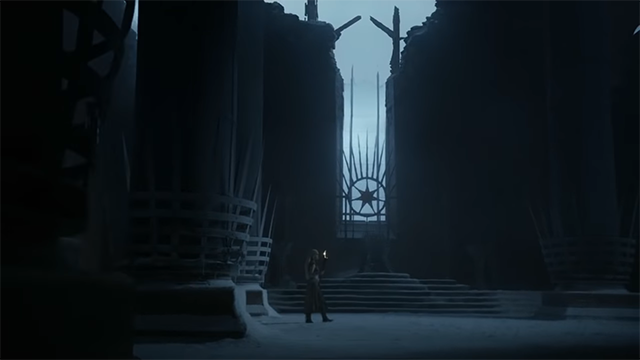 Non può essere un caso che Daenerys e Bran abbiano la stessa visione. La stessa immagine di neve e distruzione. Avete già intuito? Neve e distruzione. Un attimo ancora, però, prima di affondare il colpo. C'è una terza immagine, come anticipato. Tra le varie scene che Bran vede, in una compare anche il riflesso del Re della Notte e in un'altra vediamo chiaramente Approdo del Re su cui si staglia l'inquietante ombra di un drago.
Per intere stagioni abbiamo pensato potesse trattarsi di un drago di Daenerys.
Ma se non lo fosse? State iniziando a capire ora? Eh già! Quello che appare nella visione di Bran potrebbe essere il drago di ghiaccio. Con una mossa incredibile e di eccezionale pragmatismo strategico, il Re della Notte potrebbe non trovarsi col suo esercito al Nord. Ma aver solcato silenziosamente i lidi meridionali dirigendosi, da solo, nella capitale dei Sette Regni.
Pensateci bene. Non avrebbe problemi a giungervi sul dorso di Viserion. Lì in breve potrebbe far strage, usando la popolosa città come fucina per una nuova armata di non morti. In questo modo stringerebbe a tenaglia l'esercito asserragliato a Grande Inverno indirizzando clamorosamente a suo favore le (ancora per poco?) incerte sorti della guerra.
Certo, la teoria ha anche le sue criticità. Sappiamo, infatti, che l'obiettivo del Re della Notte non è il trono ma la rimozione della memoria e di chi ne è emblema: Bran. Perché allora dirigersi a sud? E come mai Bran non è riuscito ad anticipare le mosse del suo nemico? I dubbi, insomma, non mancano.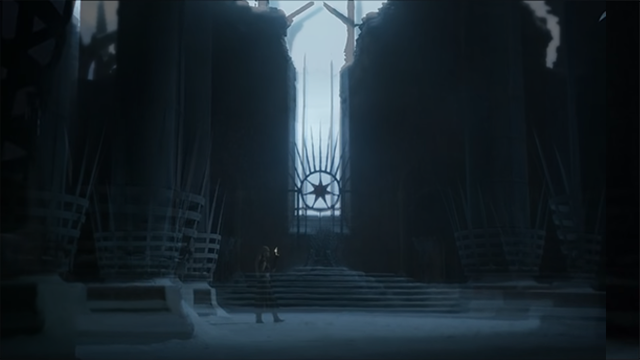 Viceversa, prestando fede alla teoria troverebbero spiegazione il trono ghiacciato, il riflesso del Re della Notte e quello del drago su Approdo del Re: le tre sequenze presenti nell'apparizione di Bran. Nella scena di Daenerys quello che colpisce più di tutto, poi, è il tetro silenzio che regna. La reggia conserva solo parte dell'alzato e non c'è più nulla e nessuno. Solo silenzio. Un silenzio di morte. E tutto questo potrebbe anche ricollegarsi incredibilmente a una nostra teoria sul finale (ve ne abbiamo parlato in questo articolo).
Non finisce qui.
Avete fatto caso che il Re della Notte non viene più inquadrato da molto tempo? Non appare né nei trailer, né nei primi episodi di Game of Thrones 8. Nella sequenza finale della seconda puntata i White Walkers sono lì. Lui, però, non c'è. In questo momento potrebbe "godere" di un sole più caldo. Non per molto, però. Perché presto, molto presto anche ad Approdo del Re potrebbe calare un tetro, silenzioso, funereo inverno. Winter is coming. Again.