Game of Thrones 8 ha spiazzato non pochi fan nella chiaccherata terza puntata. Le anticipazioni del prossimo episodio ci permettono di farci un'idea di quello che potrebbe succedere appena terminata la Grande Guerra, e ci permette di speculare sui possibili sviluppi che ci aspettano.
Il teaser si apre con grandi nubi di fumo e fiamme appena fuori le mura di quel che resta di Grande Inverno. Poiché la sigla di apertura di Game of Thrones 8 segue l'evoluzione della storia, possiamo aspettarci qualche modifica nella rappresentazione del castello nel prossimo episodio. La sequenza successiva mostra quelle che sembrano essere pire funerarie per i caduti nella Battaglia di Winterfell. Jon, Dany, Sam, Sansa, Arya, Verme Grigio e Tormund si avvicinano impugnando le torce.
Questo rito sarà celebrato da Daenerys per la seconda volta nel corso della storia. Nel finale della prima stagione, è proprio così che dice addio al suo primo amore Drogo e nel tentativo di bruciare anche se stessa rinasce dalle ceneri con tre piccoli draghi. Ora è il momento di separarsi da un altro grande protagonista della sua ascesa: Jorah Mormont. Come lui, se ne è andata per sempre anche la piccola Lyanna Mormont, decretando la fine della casata degli orsi.
In molti speculano sulla scelta di bruciare i cadaveri: forse perché il Re della Notte potrebbe tornare? Magari sotto le vesti del piccolo bambino maschio di Craster, di cui non abbiamo più avuto notizie?
Sempre nella scena del funerale, è possibile scorgere il metalupo Ghost. Era plausibile aspettarsi la sua caduta, visto che era posizionato proprio accanto ai Dothraki – i quali hanno fatto una fine davvero poco gloriosa. Per quello che abbiamo visto sinora, sembra che tutto il budget destinato alla CGI vada prevalentemente ai draghi lasciando qualche briciola a Ghost giusto per rassicurarci ogni tanto sulla sua sorte. Spero a questo punto che rimanga a Grande Inverno accanto a Sansa, la quale probabilmente si terrà alla larga da Approdo del Re.
Cersei osserva soddisfatta, in una splendida veste rosso scuro con dettagli metallici, le fila della Compagnia Dorata, i leggendari mercenari reclutati da Euron. Quest'ultimo invece fissa languidamente la Regina e in una scena successiva sembra chiederle ufficialmente la mano. Se Cersei dovesse accettare, lui potrebbe diventare Re. Tuttavia la notizia della liberazione di Yara a opera di Theon metterebbe a rischio il suo attuale status. Forse lo costringerà persino a tornare nelle Isole di Ferro per riconquistarle.
L'aggiunta all'armata di Approdo del Re vanta ben 20.000 unità guidate da Strickland, che abbiamo conosciuto nel primo episodio quando si è presentato al cospetto della Regina. Proprio lui, l'uomo che ha negato a Cersei la gioia di sfoggiare elefanti alla faccia di Daenerys.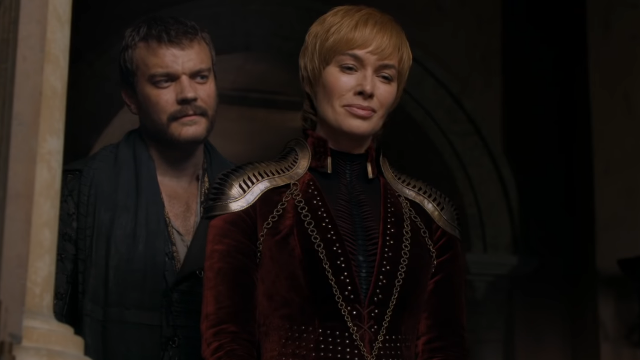 A proposito di Dany, la sentiamo dire "Abbiamo vinto la Grande Guerra. Ora vinceremo l'Ultima Guerra". L'esultanza dei sopravvissuti non sembra essere scaturita da questa dichiarazione e neanche me lo aspetterei. Il Nord non si è dimostrato desideroso di combattere per una regina straniera, per lo più Targaryen, e neanche di marciare in direzione della capitale dei Sette Regni.
Il fatto che entrambe le donne indossino vesti color rosso sangue sembra suggerire due cose: la prima è la volontà di sottolineare il proprio retaggio – sia i Lannister che i Targaryen presentano questo colore -; la seconda è il loro esplicito intento di versare ingenti quantità di sangue nell'Ultima Guerra.
Se Daenerys cammina in maniera impettita e con sguardo implacabile, Sansa sembra osservare con aria preoccupata i draghi che accompagnano la flotta Targaryen in una scena seguente. A proposito di Drogon e Rhaegal, scopriamo che entrambi sono sopravvissuti allo scontro precedente ma uno dei due pare particolarmente provato. Dovrebbe trattarsi di Rhaegal, il drago cavalcato da Jon, e presenta delle lacerazioni importanti sulle ali. Sembra il bersaglio perfetto per la balestra anti-drago preparata da Qyburn, che – non dimentichiamo – compare nella nuova sigla di apertura.
Non sappiamo con certezza quali forze del Nord seguiranno Jon e Daenerys verso Approdo del Re, ma nel quarto episodio di Game of Thrones 8 prevediamo di vedere ancora in azione Arya, Gendry, Bran e i fratelli Lannister.