Mancano due puntate alla fine di Game of Thrones 8, alla fine di tutto. Si sta per chiudere un'era, un ciclo, un'avventura. In questi due episodi finali dovranno succedere molte cose e la saga creata George R. R. Martin potrebbe riservarci grandi sorprese. Non ultima quella della comparsa di nuovi draghi. Incredibile vero? Ma dopo alcuni indizi e alcune ipotesi i fan sono impazziti per una nuova e incredibile teoria che potrebbe rivoluzionare l'universo GoT e invertire le sorti della battaglia tra Cersei e la coppia Daenerys/Jon. Ma procediamo con calma e cerchiamo di analizzare bene i fatti. Per chiarirsi le idee possiamo facilmente usare la regola delle W-questions, ovvero le domande da porsi per risolvere un problema o raccontare una storia.
Chi ha sviluppato questa teoria? Principalmente i fan, su ogni gruppo se ne parla e tutti provano a capire cosa succederà davvero. Che cosa racconta questa nuova previsione? L'arrivo di nuovi draghi nelle ultime due puntate di Game of Thrones 8 durante la battaglia tra le due armate dei Lannister e dei Targaryen/Stark, che è pure il quando. Da dove e perché è saltata fuori questa teoria? Da un fermo immagine della sigla di apertura della quarta puntata di Game of Thrones 8 e dal teaser della 8×5. Ci resta solo il come da spiegare. Ed è qui, il grande Bardo direbbe, che c'è l'intoppo. Benvenuti in un mondo di ipotesi e voli pindarici, se ne uscirete delusi ci dispiacerà molto, ma in fondo siamo come voi, fan che viaggiano con la fantasia.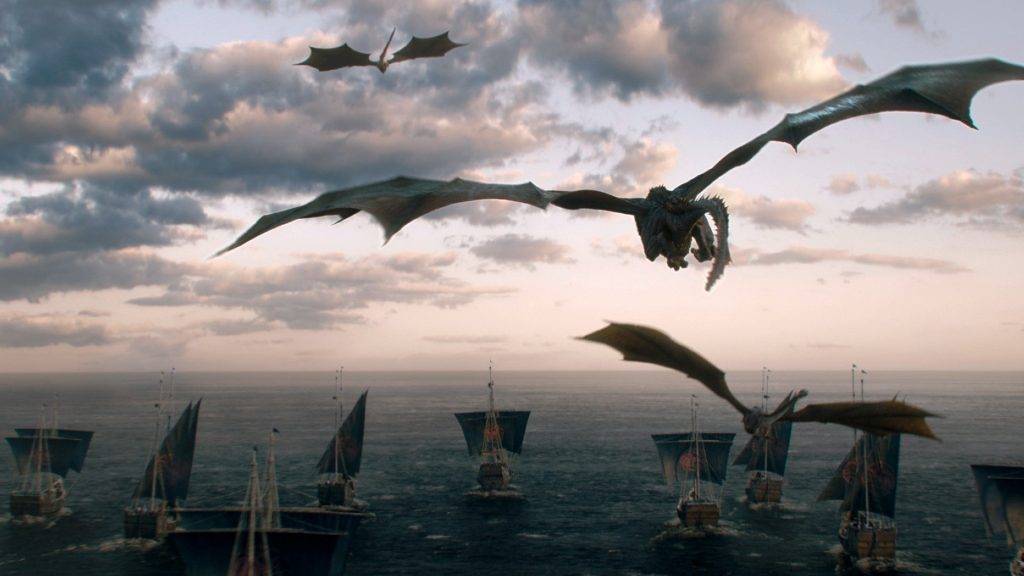 Davvero stanno per arrivare nuovi draghi in Game of Thrones 8?

La possibilità potrebbe essere reale e tra le varie supposizioni ce ne sono alcune campate in aria, ma altre molto più realizzabili. Il tutto è nato dall'ormai famoso fermo immagine della sigla in cui viene inquadrato uno dei cerchi d'oro che compone l'astrolabio di Game of Thrones. In questo si vedono tre draghi e un drago enorme dietro di loro. Per questo i fan hanno pensato all'avvento di un drago gigante in difesa dell'ultimo rimasto dei tre, ovvero Drogon. Altri hanno pensato a tre figli di Drogon stesso.
Ad avvalorare le teorie dei fan c'è anche il teaser della 8×5 in cui possiamo vedere un Tyrion che si avvicina impaurito alla finestra e osserva qualcosa che disegna stupore nel suo viso. Un altro viso tra lo stupito e l'impaurito è quello di Euron mentre guarda il cielo, poi un ruggito stridulo e poi lo schermo nero. Cosa ci aspetta? Proviamo a fare una carrellata di ipotesi e a capire se davvero possano comparire nuovi draghi in Game of Thrones 8.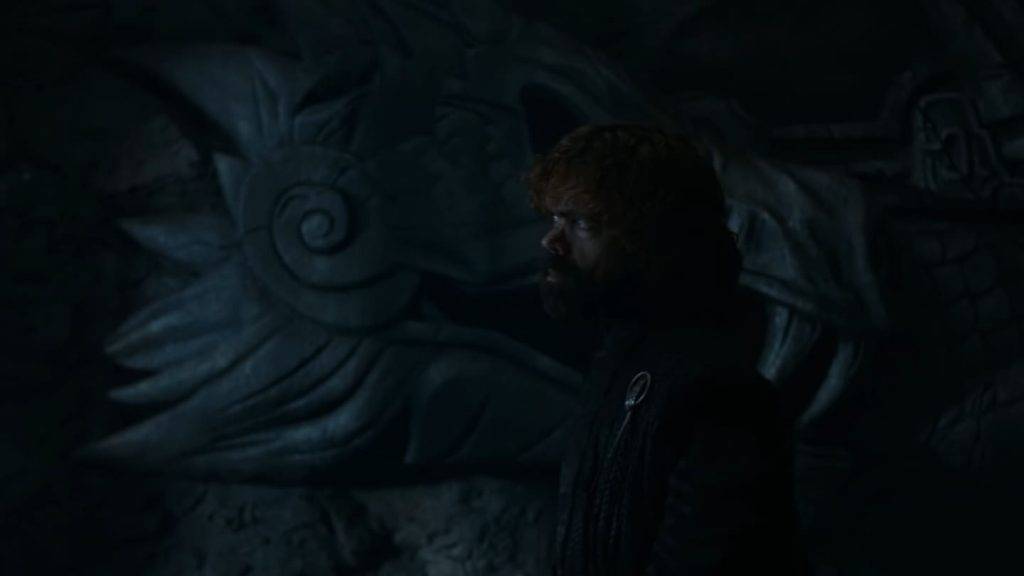 Un nuovo personaggio: Aegon "il giovane Griff" Targaryen
Parliamo di un personaggio più presente nei libri che nella serie tv. Nella produzione HBO viene citato solamente dalla Montagna durante lo scontro contro Oberyn Martell. Il più grande dei fratelli Clegane racconta di come abbia distrutto tra le sue mani la testa di Elia e del suo piccolo figlio Aegon, proprio prima di fare la stessa cosa al malcapitato Oberyn. Anche nei libri il bimbo viene creduto morto, ma si tratta di uno scambio di persona. Il giovane Griff infatti è ancora vivo e si trova a Dorne.
Che possa essere vivo anche nella serie e arrivare in soccorso della parente Targaryen? Non trovate strano che in queste prime puntate di Game of Thrones 8 si parla di un nuovo misterioso signore di Dorne? Del resto essendo figlio Rhaegar è anche lui un pretendente al trono e se dovessero morire sia Jon che Daenerys sarebbe il candidato perfetto. Dobbiamo dire che questa è l'ipotesi più improbabile, sarebbe troppo complicato sviluppare un personaggio in due puntate, ma ci sembrava giusto comunque citarla.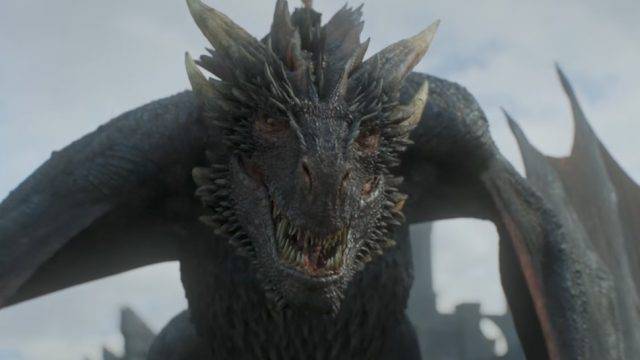 I figli di Drogon
Un'altra ipotesi molto suggestiva è quella che vede giungere in aiuto di Daenerys i figli di Drogon. Molti fan infatti hanno notato che nel finale del teaser che anticipa la quinta puntata di Game of Thrones 8 si sentono dei versi di drago molto più striduli e acuti. Sono forse i suoni emessi dai figli di Drogon? La possibilità esiste. I draghi infatti sono ermafroditi, ce lo racconto i libri di Martin in cui si dice che che gli animali non sono né maschio, né femmina, ma che sono mutevoli come la fiamma.
Per questo Drogon potrebbe aver depositato alcune uova in un posto sconosciuto. Il luogo più probabile è Valyria e questo quadrerebbe anche nell'arco temporale della serie tv. Infatti se ricordate bene Drogon sparì per qualche puntata, fino a quando venne rivisto volare tra le rovine di Valyria da Jorah e Tyrion. E quale luogo migliore che la terra natia dei draghi per figliare? Daenerys inoltre potrebbe essere anche a conoscenza del fatto e la conferma ce la da la sicurezza con la quale è pronta ad attaccare Approdo del Re e la fermezza con cui pronuncia una frase: "Devono sapere a chi dare la colpa quando il cielo cadrà loro addosso". Sicuramente con quattro draghi ad attaccare Approdo del Re il problema minore sarebbe la caduta del cielo.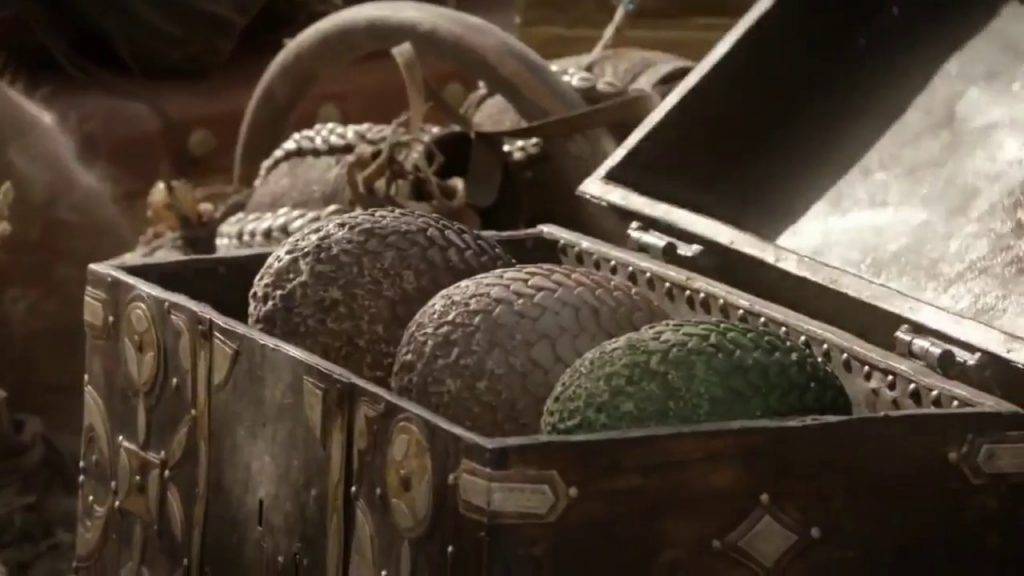 Il Drago che ha deposto le uova e da cui sono nati Drogon, Viserion e Rhaegal
Esiste anche l'ipotesi che arrivi in aiuto di Drogon sua madre, la vera madre dei draghi ovvero colei che ha deposto le uova da cui sono nati i tre figli di Daenery. La possibilità sarebbe suggestiva e intrigante. Sarebbe inoltre molto meno forzata rispetto a quella dell'avvento di un personaggio sconosciuto che cala dall'alto per risolvere la situazione.
La madre potrebbe accorrere per aiutare il figlio e per vendicare l'uccisione di Rheagal. L'avvento di un nuovo e enorme drago spiegherebbe anche la faccia sbigottita di Tyrion e la paura disegnata negli occhi di Euron nel trailer della quinta puntata di Game of Trones 8.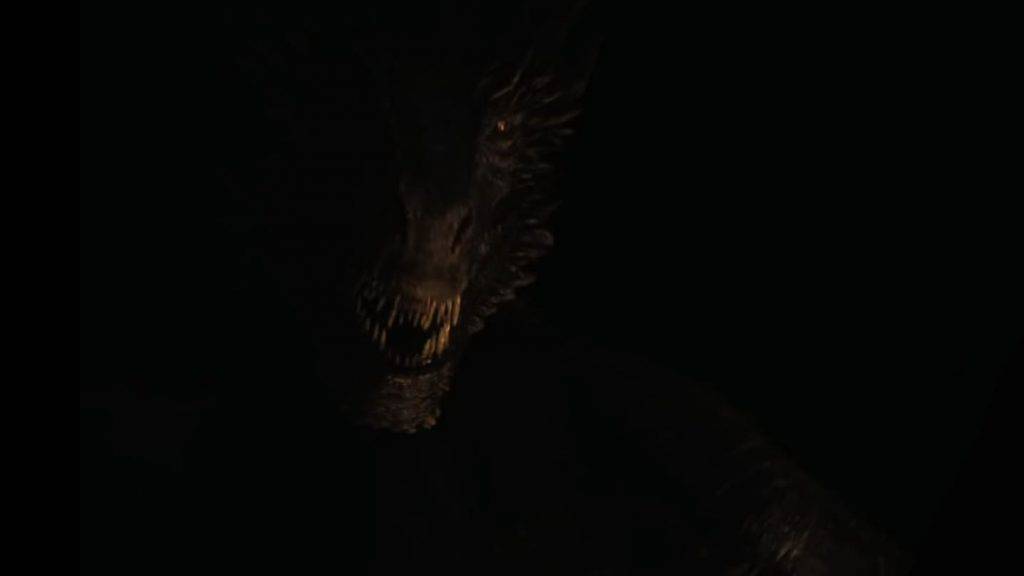 I le statue dei draghi di Dragonstone riprendono vita
Ultima, ma non per importanza è la teoria che riguarda le statue dei draghi custodite sotto le cripte di Dragonstone. Secondo molti fan queste sculture, che sono draghi ormai calcificati, potrebbero riprendere vita. Del resto anche le tre uova ricevute da Daenerys si credeva fossero ormai un raro e pregiato pezzo di antiquariato. La domanda è: come potrebbero tornare esseri viventi? Ci sono due opzioni che vanno per la maggiore. La prima è quella che li vuole risvegliati dall'urlo di dolore di Rheagal mentre muore colpito da Euron. Si pensa che lo stridio di morte li abbia fatti risvegliare per accorrere in aiuto di Drogon, l'ultimo drago ancora in vita.
La seconda possibilità è quella che vede protagonisti lo stesso Drogon e Daenerys. Nel trailer che anticipava la stagione infatti vediamo un frame in cui Drogon è immerso nell'oscurità e sputa improvvisamente fuoco. Molti fan hanno pensato che il meccanismo per risvegliare draghi ormai calcificati sia lo stesso con cui si sono schiuse le uova di Daenerys: con il fuoco. E chi meglio di un drago che sputa fiamme incandescenti potrebbe risvegliare da un riposo eterno i suoi simili coperti di pietra? Sarebbe affascinante e incredibile al tempo stesso.
Solo le prossime due puntate ci diranno cosa succederà davvero, nell'attesa noi continueremo a fare teorie e a sognare nuovi draghi, del resto siamo proprio come voi: fan a cui piace viaggiare con la fantasia.