Attenzione! Non proseguite nella lettura se non siete in pari con la visione di Game of Thrones 8.
Game of Thrones 8 sta spaccando il fandom a metà e possiamo aspettarci due distinte reazioni al finale di serie imminente. Le anticipazioni del sesto episodio permettono di farci un'idea su quello che potrebbe succedere. Ecco quindi un'analisi ragionata del trailer.
Il trailer del sesto e ultimo episodio di Game of Thrones 8 inizia con Jon e Ser Davos che camminano lentamente attraverso le rovine della città di Approdo del Re per soppesare la situazione e lo stato cui versa la capitale. Tyrion fa la medesima cosa in un punto separato di quel che rimane del luogo, con lo stesso identico sguardo attonito e scioccato – e forse anche deluso – che aveva mostrato nel quarto episodio della settima stagione. Quando Daenerys aveva brutalmente annientato le truppe Lannister e aveva inutilmente ucciso il padre e il fratello di Sam.
Successivamente vediamo Arya camminare attorno alle truppe degli Immacolati, guardando in alto verso Dany mentre esce dai resti della Fortezza Rossa, probabilmente in procinto di pronunciare il discorso di vittoria.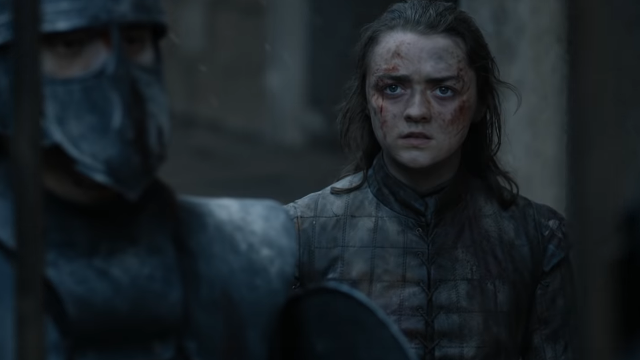 Si rivolge sia alle truppe degli Immacolati che a quelle dei Dothraki, che in una sequenza successiva alzano le armi in segno di vittoria. Se qualcuno era convinto della loro dipartita ne La lunga notte, il trailer che stiamo analizzando ha certamente rassicurato gli animi: le truppe di Daenerys sembrano riprodursi per scissione.
Nell'ultima scena disponibile nel teaser, una regina impietosa cammina decisa verso le sue armate per proclamare il nuovo corso del mondo e la sua presa del Trono di Spade. La cosa interessante di questa inquadratura di spalle è che ci permette di osservare l'intricatissima acconciatura di Dany. La sua capigliatura non è mai stata così complessa e questo conferma la teoria che le trecce rappresentano il potere che acquisisce a ogni vittoria e testimoniano il suo stato d'animo.
Non voglio essere la regina delle ceneri…
Ipse dixit. Qualcuno è ancora convinto della bontà di Daenerys e del suo trionfo sui Sette Regni? A giudicare dalla colonna sonora scelta per il trailer e dalla fotografia estremamente fredda, credo si possa intuire l'arrivo di un evento molto inquietante e violento. Forse la sua fine. Oppure, è proprio il mondo che ci viene mostrato che vuole trasmettere l'assenza di vita.
La sinistra simmetria dei soldati, le macerie, la cenere che cade come neve, non possono essere l'inizio di un mondo migliore.
Quello che colpisce è che Tyrion, Jon e Ser Davos sembrano tutti estremamente confusi e incerti sul da farsi. Ma non Arya, quello sguardo che ha sembra dirci che sta pianificando qualcosa, magari proprio il suo ultimo omicidio. Ma davvero possiamo aspettarci che sarà la giovane Stark a chiudere per sempre gli occhi alla Mad Queen? In fondo Melisandre, finora, ha predetto il giusto: "Occhi marroni, occhi blu, occhi verdi. Occhi che chiuderai per sempre".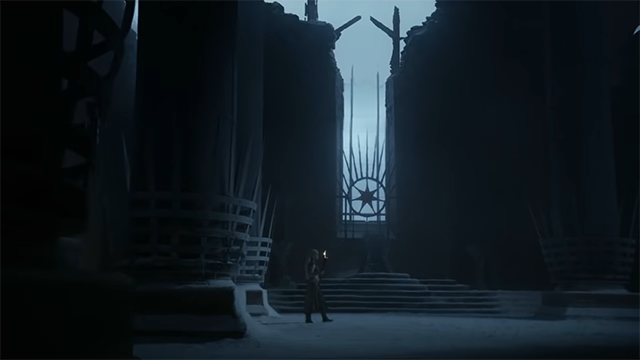 Ma Arya è già stata l'esecutrice di molte rilevanti morti. La sterminatrice del Re della Notte sarà responsabile di un altro regicidio? Se ciò accadesse, lo vedrei come un overkill davvero insensato dal punto di vista narrativo, almeno a fronte della presenza di molti altri personaggi.
Personalmente credo che Daenerys incontrerà la morte per mano di Jon Snow, forse proprio pugnalata al cuore come sembra suggerire la profezia di Azor Ahai. Inoltre, nella profezia della Casa degli Eterni, Dany non tocca il Trono di Spade: viene distratta da altro e supera quello che sembra il Cancello del Muro, forse simbolo dell'ex Nightwatch Jon Snow. In tal modo daremmo finalmente un senso alla resurrezione di Jon e a tutte le cinquanta sfumature di disapprovazione provocate dalla sua Regina in questa stagione. Se così fosse, per il dolore e il disonore, Jon potrebbe costringersi all'esilio e tornare nelle Terre dei Bruti oltre quel Muro in parte distrutto, dove può essere se stesso,come disse Tormund a inizio di Game of Thrones 8.
A quel punto, preso atto che Bran Stark è morto da tempo, sarà Sansa a controllare le Terre del Nord, mentre lo sconosciuto Principe di Dorne parte di quelle del Sud. Bronn potrebbe davvero prendersi Alto Giardino se Tyrion sopravvivesse, e non dimentichiamoci del nuovo ruolo di Gendry. Insomma, avremmo finalmente Westeros senza il giogo del Trono di Spade ma con le casate ancora in piedi. E vissero tutti felici e contenti.
Almeno fino a quando non torneranno gli Estranei.