Attenzione: questo articolo contiene spoiler su Game of Thrones 8. Non consigliamo la lettura a chi non è in pari con la programmazione italiana.
A questo punto della serie, sappiamo bene che Daenerys Targaryen cambia più volte pettinatura, e non a caso. La Regina dei Draghi sperimenta acconciature sempre più elaborate con il passare degli anni. Soprattutto negli ultimi episodi abbiamo visto delle trecce particolarmente complesse, segno del suo crescente potere.
Tuttavia, è probabile che qualcosa cambierà in seguito alla tragica decapitazione della fidata consigliera e ancella di Daenerys, Missandei, per mano di Cersei Lannister. Infatti era proprio l'ex schiava a occuparsi della sua capigliatura. Una foto diffusa dalla HBO ci ha dato materiale per riflettere al riguardo. Secondo un particolare shot del prossimo episodio rilasciato in anteprima, una laconica Daenerys si mostra a Tyrion con i capelli scompigliati e qualche semplice treccia che probabilmente si è fatta da sola in mancanza di un aiuto.
Il fatto che le sue elaborate lunghe trecce bionde siano sparite potrebbe essere un modo per gli sceneggiatori di suggerirci che è sconvolta dalla perdita della sua amica e di due draghi, che lei considera come propri figli. Non dimentichiamoci poi della recente scomparsa di Jorah. Daenerys ha, in fondo, sempre sofferto di solitudine. Se a inizio serie una vita fatta di scarsità di affetti e di abusi era la normalità, ora sa cosa significa amare. Ha conquistato un potere crescente e di pari passo anche la stima se non l'adorazione di chi la circondava. Ma si ritrova di nuovo sola, senza nessuno di cui potersi davvero fidare, e ha perso quasi tutto in un lasso di tempo davvero ristretto. Forse troppo per riprendersi.
Non è un caso che voci crescenti indichino che Dany stia diventando la "Mad Queen" proprio come suo padre, Aerys Targaryen.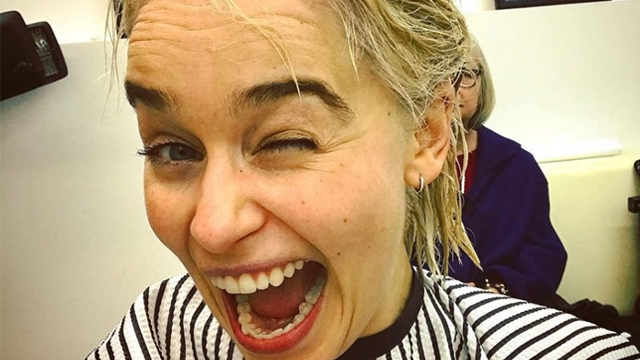 Emilia Clarke nel lontano settembre del 2017 potrebbe aver inconsapevolmente spoilerato al mondo il destino del suo personaggio in Game of Thrones 8. La Clarke aveva pubblicato una foto su Instagram rivelando che aveva tinto i suoi capelli di un biondo platino. Apparentemente si trattava solo di una scelta di comodo, fatta per non utilizzare le parrucche – che in molti mal sopportano.
All'epoca l'attenzione dei più si concentrò sul cambiamento di colore, ma non sulla lunghezza dei capelli, tagliati molto corti. O almeno finché la star di Queer Eye e Gay of Thrones Jonathan Van Ness ha detto la sua: "I suoi capelli sono molto corti adesso. Mi chiedo se Daenerys abbia optato per lo stesso taglio radicale di Emilia, cosa che sappiamo essere rilevante per la cultura Dothraki. Questo potrebbe significare che è stata sconfitta".
Proprio così – le lunghe trecce dei Dothraki stanno a simboleggiare il loro valore in battaglia ma vengono recise in caso di sconfitta. Ciò significa che, se questa teoria fosse confermata, Dany potrebbe perdere La guerra contro Cersei. Tuttavia questo non comporta necessariamente una sua dipartita (come invece suggerisce nientemeno che Stephen King), anzi potrebbe sopravvivere come perdente.