Attenzione: evitate la lettura se non volete imbattervi in spoiler sulla 6×05 di Game of Thrones. 
C'è un problema. Un grosso problema. Il mondo di Game of Thrones è di per sé incasinato e ricco di personaggi, intrecci e sviluppi, ma se ci mettiamo di mezzo i viaggi nel tempo e la possibilità di creare degli universi paralleli è la fine. Tenendo in piedi questa opzione attraverso le visioni interattive di Bran Stark, daremmo modo a Martin di scrivere altri cento libri. Considerando la lentezza con la quale sta chiudendo uno dei racconti più folli della storia della letteratura contemporanea, la missione risulterebbe impossibile. Per fortuna non è così.
L'ultimo episodio andato in onda, "The Door", ha messo in luce uno sviluppo interessantissimo: l'addestramento di Bran presso il Corvo dai Tre Occhi non gli permette solo di assistere passivamente ad eventi del passato, ma anche di interagire con alcuni personaggi e condizionare presente e futuro in un unico anello temporale. Uno solo, appunto. Lasciate da parte gli universi paralleli, chiamati in causa dagli spettatori di mezzo mondo: il condizionamento non può prescindere dall'assioma che il passato sia immutabile.
Il concetto è troppo arduo e pensate che l'autore del testo faccia più viaggi di Bran? Prima di andare avanti, chiariamo meglio le idee con un semplice esempio.
Fry e le meringhe benedette della nonna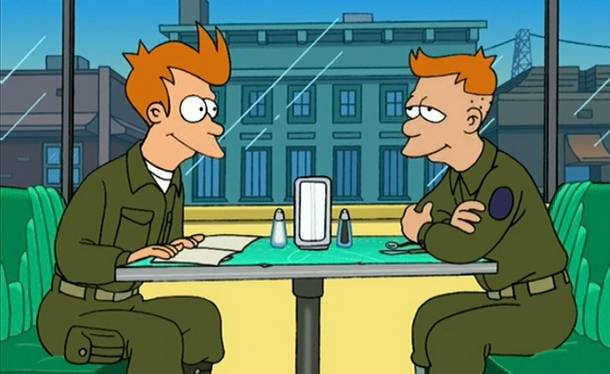 Questo è Fry (non fuggite disperati mentre intonate "The Rains of Castemere". Fry, non Frey). Questo è Futurama, e solo all'apparenza non c'entra una mazza con Game of Thrones. Almeno in questo caso. Quello seduto di fronte a lui è suo nonno.
Nel diciannovesimo episodio della terza stagione, il nostro eroe ha viaggiato a ritroso nel tempo, si è ritrovato a Roswell nel 1947 e si è imbattuto in suo nonno, l'imbranato Gavinus. Fry, terrorizzato dall'idea di mettere a repentaglio la vita del parente e sparire di conseguenza, fa di tutto per tenerlo al sicuro, ma il risultato finale è disastroso: il nonno muore in un'esplosione provocata da un esperimento nucleare. La vita di Fry finisce qui? Macché, sta per iniziare. Cosa è successo? Prima della morte di Gavinus, il nostro protagonista aveva conosciuto anche Mildred, sua nonna. E da giovane non era niente male, al punto da sedurre Fry (chiodo schiaccia chiodo, d'altronde), finirci a letto grazie alle dimensioni delle sue meringhe e generare un figlio. Fry non muore, e a questo punto il motivo è chiaro: lui non è altro che il nonno di se stesso! Il futuro non cambia perché cambia un "piccolo" dettaglio nel passato. Il sangue è quello, è diverso solo il protagonista.
Lo sviluppo dell'episodio in questione si fonda su un principio scientifico preciso. Il fisico russo Igor Dmitriyevich Novikov (non fuggite manco stavolta: in Game of Thrones siamo abituati a nomi più improbabili), elaborò a metà degli anni Ottanta il "principio di autoconsistenza". Secondo la pagina Wikipedia dedicata alla teoria, "il principio di autoconsistenza di Novikov è una soluzione ai paradossi del viaggio nel tempo. Essa, ed altri concetti simili, sono le principali teorie opposte a quella delle dimensioni parallele per la soluzione degli stessi paradossi. Il principio afferma, in sostanza, che il passato è immutabile. Più precisamente, in un anello temporale chiuso gli eventi devono essere determinati non solo dagli eventi passati, ma anche da quelli futuri: per questo motivo è impossibile impedire un evento già avvenuto dal suo futuro; tutt'al più si può far sì che si verifichi".
Non avete mai visto Futurama e il concetto non è ancora chiaro? Provate a pensare a Doctor Who (chi ha presente cosa successe a Pompei o alla foglia di Clara capirà al volo), oppure allo splendido Interstellar. Oppure a L'esercito delle 12 scimmie.
Bran non ha ucciso Hodor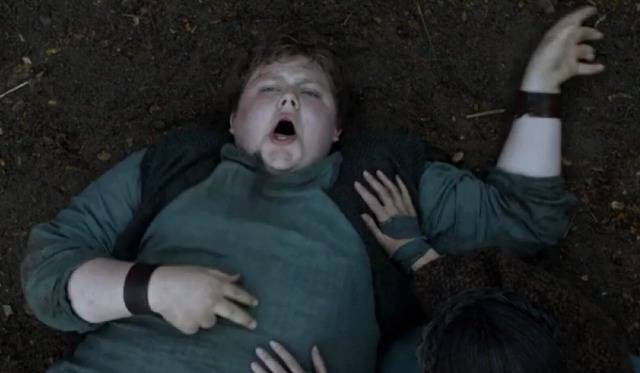 Torniamo alla questione centrale. Se quel che sostiene Novikov è vero, non esistono mondi paralleli e la morte di Hodor non è una conseguenza della spregiudicatezza di Bran, ma un punto fisso nella storia che nessuno può cambiare. Neanche il figlio di Ned Stark. Presente e futuro non mutano il passato, ma contribuiscono a crearlo. Il libero arbitrio in questo caso non c'entra niente: Bran e Hodor sono andati incontro al proprio destino. Il primo con immaturità, il secondo eroicamente.
Non proviamo ad immaginare contesti assurdi, nei quali Bran cambia la storia di Game of Thrones e salva il padre poco prima della decapitazione, per esempio. Oppure interviene nella congiura delle Nozze Rosse. Però, paradossalmente, potrebbe risultare decisivo. Un paradosso necessario. Nell'incontro tra Ned e Lyanna nella Torre della Gioia, magari. Nello scrivere la storia di Jon Snow, probabilmente. Avventurarci in teorie del genere è impossibile in questo momento, ma non mancano le suggestioni. Bran, raccordo tra passato, presente e futuro, sarà un Guardiano della Storia. Oppure, se preferite, un Signore del Tempo sui generis. Anche se non è ancora pronto e rischia di trasformarsi in una scheggia impazzita clamorosa.
In ultima battuta, si potrebbe pensare però che Novikov abbia detto una marea di cavolate, gli universi paralleli esistano realmente e Schrödinger col suo maledetto gatto indeciso abbia ragione. A quel punto  Martin dovrebbe vivere per altri 300 anni, in modo da completare la sua opera. E noi impazziremmo in un personalissimo mondo parallelo creato da Bran. Guarderemmo ogni husky nella speranza che sia Nymeria, temeremmo di essere imprigionati dal prete di quartiere e fare il cammino della vergogna, oppure, semplicemente, passeremmo il resto dei nostri giorni incollati allo schermo per guardare altre cento stagioni di Game of Thrones. Che macello. Anche se questo (almeno questo) non sarebbe un grosso problema.
Antonio Casu