# #
Esistiamo perché il nostro essere si aggrappa a qualcosa. Oltre l'esistenza concreta del sentirci carne e ossa, tutto il resto è profondamente vuoto. Come una vertigine irrinunciabile che necessita di stabilità per evitare la densità vorticosa del nulla. Nel 2004 il buon J.J. Abrams ha giocato con le leggi del tempo e dello spazio attraverso una serie tv che ha scritto la storia: Lost. In assenza di appigli siamo tutti anime perse che brancolano nel buio. Sull'Isola i personaggi incrociano le loro anime nella corsa ansimante per la salvezza, inconsapevoli che quest'ultima fosse l'Isola stessa. Il vorticare sanguinolento delle vicende ci porta ad assistere a uno degli episodi più belli di sempre: la Costante (4×05). Ma tutto questo cosa c'entra con Dark?
# #
In tre intensissime stagioni Dark ha dimostrato di meritare un posto tra le serie migliori degli ultimi tempi.
Non si è dilungata oltre il necessario e, nonostante ci voglia una buona dose di pazienza e concentrazione, è riuscita a regalarci un bellissimo finale. Pensare che inizialmente eravamo convinti che la causa di tutto fosse la scomparsa di un bambino da una piccola cittadina tedesca, poveri illusi.
Puntata dopo puntata abbiamo imparato a convivere con paradossi temporali incomprensibili come un orso polare su un'isola soleggiata. Inoltre, la scoperta di un secondo mondo ci aveva fatto temere il peggio per l'evoluzione della serie, inconsapevoli di quanto tutto fosse saldamente collegato sin dal principio.
# #
Abbiamo formulato le teorie più disparate su cosa (o chi) fosse l'Origine e sulle modalità per distruggerla sciogliendo una volta per sempre il Nodo.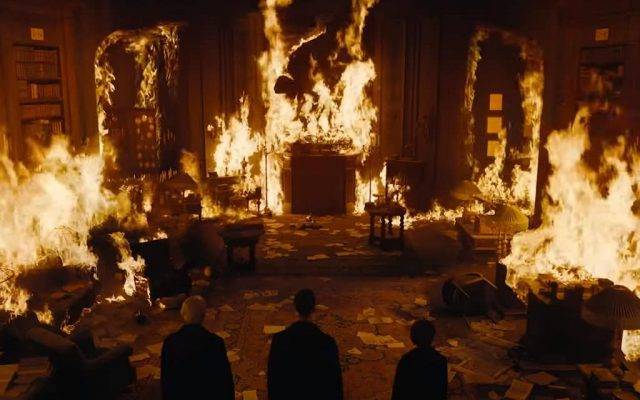 Dark diventa un infinito ed estenuante circolo vizioso e la via d'uscita ci sembra un'utopia. Tutti ricercano il Paradiso ma sembrano vivere le pene eterne tra le fiamme dell'Inferno.
"L'inferno è vuoto tutti i diavoli sono qui"
Il logorio della ripetizione ci brucia nel petto, incastonati tra la disillusione e la volontà di non perdere le speranze. Finchè il finale non ci pone faccia a faccia con la precarietà dell'essere, appesa a un filo d'oro tanto bello quanto sottile. I due mondi, le inestinguibili lotte, le apocalissi, le morti la distruzione, derivano da un atto disperato d'amore e di dolore.
Il dolore di un padre che vede scivolare via dalle sue mani la vita di un figlio e della sua famiglia. Si ritrova solo e in quella solitudine si annidano il buio e la perdizione. La speranza di fermare il tempo e riportarlo indietro è l'unico motore che tiene in vita Tannhaus. Quel gesto in bilico tra l'utopia e la follia origina i due mondi in subbuglio che abbiamo imparato a conoscere. Mondi generati dal dolore di chi sprofonda nell'immensità del vuoto.
Per questo motivo l'essenza irrinunciabile dei personaggi è il labirinto infinito di dolore e sofferenze. Sono tutti nemici di se stessi, infliggono ferite che stentano a cicatrizzare. Nessuno può essere felice, nessuno può smettere di correre perchè anche la morte diventa un concetto labile nella ragnatela del tempo. Non c'è buio e non c'è luce quando la salvezza è un coagulo nauseabondo di irreversibilità.
Non importa l'anno o il mondo, ognuno in Dark è perso.
Come un'Isola che non ha spazio né tempo ma che costringe i suoi losties a lottare controvento fino a raggiungere la salvezza. Una salvezza che miscela la sua sostanza con la morte e il sacrificio, aggrappandosi con le unghie e con i denti al concetto che più di tutti sfida le leggi della natura: l'amore.
Un amore che assume forme diverse ma che riempie di sostanza l'involucro vuoto della vita. Così Desmond ha bisogno della sua Penny: la costante che riporta la perdizione a essenza impedendogli la disgregazione. Allo stesso modo Adam ed Eva sono perfetti l'uno per l'altro ed è questa unione così forte, nata dalla lucida follia e dal suo strazio, che riesce a sciogliere il nodo e le sue pene senza distruggere la vita che contiene. L'uno era, è e sarà la costante dell'altro, in un amore che aleggia come un fantasma tra l'articolarsi inconsapevole di un mondo ignaro.
"our love is a ghost that the other can't see"
E l'esistenza nella sua concretezza deve inchinarsi alla preponderanza dei sentimenti, alla loro tenacia di sopravvivere oltre le leggi fisiche come teneri ramoscelli che nascono tra l'asfalto e non si piegano al calpestio irruente e inconscio della vita e del suo fluire.