Brooklyn Nine-Nine e New Girl sono tra le comedy più originali e "feel good" degli ultimi anni: la prima nasce dalla mente geniale di Michael Schur – autore di altre perle come Parks and Recreation, The Good Place e The Office (US) – mentre la seconda ruota attorno al carisma di Zooey Deschanel, l'adorabile attrice protagonista.
Queste serie tv condividono alcune caratteristiche: sono scritte con un simile approccio sagace e allo stesso tempo imbranato, impiegano una narrazione corale e fatta di personaggi molto forti. Le differenze nella trama, invece, rendono i due show molto diversi tra di loro sia per esperienza di fruizione che per argomenti trattati.
Un punto di forza in entrambe le comedy è dato dal personaggio principale: in New Girl abbiamo Jess, una giovane donna frizzante ed eccentrica che affronta la vita con ottimismo e la giusta dose di pazzia. La serie si avvia con il suo trasloco nel loft abitato da Nick, Coach e Schmidt in seguito alla rottura con il suo fidanzato Spencer.
Già dal pilot il carattere di Jess sembra essere uno dei motori portanti per molte delle gag, ma il suo personaggio raramente risulta forzato o fastidioso: questo grazie anche all'incredibile performance di Zooey Deschanel.
D'altro canto in Brooklyn Nine-Nine il protagonista è Jake Peralta, il poliziotto più testardo, intuitivo e immaturo del distretto. L'energia del protagonista, anche in questo caso, sembra essere il traino principale per l'aspetto più comico della serie. Peralta è un detective molto sicuro di sé anche se nasconde un privato piuttosto tragico che, col tempo, tende a sfruttare sapientemente con battute autoironiche e sprezzanti.
Tra i due Jess può risultare il personaggio più positivo e innocente, mentre Jake è colui che nell'arco delle varie stagioni attraversa i cambiamenti più sostanziali e l'evoluzione più completa pur mantenendo quella dose di infantilità caratteristica della sua identità.
Altra grande similitudine per cui New Girl e Brooklyn Nine-Nine possono competere riguarda la coralità dei personaggi.
In New Girl i personaggi secondari di Jess assumono gradualmente sempre maggiore importanza con lo scorrere delle stagioni: i coinquilini hanno la giusta chimica tra di loro e singolarmente portano la propria comicità creando mix esilaranti e innovativi. I rapporti che vengono esplorati negli episodi diventano sempre più complessi e assurdi, portando alla creazione di gag ricorrenti che riescono a catturare le risate e l'attenzione degli spettatori. Personaggi come Cece e Schmidt o Nick, poi, hanno le proprie autonome trame secondarie che aggiungono la giusta dose di realismo e riescono a mantenere il ritmo di interi sketch senza la presenza della protagonista.
D'altro canto in Brooklyn Nine-Nine i personaggi secondari sono più stereotipati e costruiti più sapientemente per finalità comiche: ognuno di loro porta freschezza e originalità ai clichè di cui fanno parte, giocando molto con le abilità e le caratteristiche degli attori. In questa serie infatti si sente molto la penna e la maestria di Michael Schur: la sua capacità di scrivere personaggi autonomi e completi si riflette anche sul cast meticolosamente scelto, capace di creare situazioni esilaranti tramite delle semplici espressioni facciali o da gesti altrimenti innocui.
Il tipo di comicità cambia molto: se in New Girl sono le dinamiche a far ridere, in Brooklyn Nine-Nine bastano le caratteristiche secondarie a suscitare ilarità.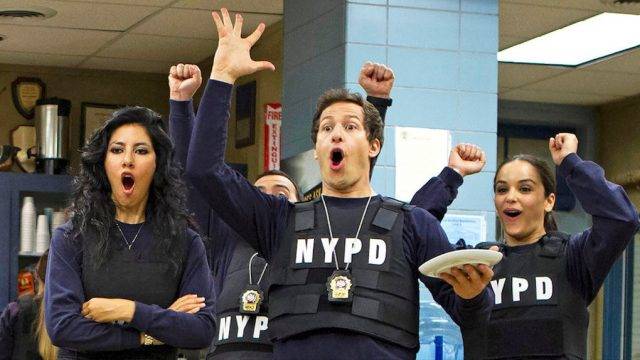 Le modalità di comicità dei due show, poi, li pongono in aperta competizione tra di loro anche grazie alle differenze presenti.
In New Girl lo stile di comicità assomiglia a quello presente in altre serie tv "corali" come, ad esempio, Friends (ne abbiamo parlato anche qui): la convivenza e la chimica tra i personaggi crea dinamiche divertenti in sé anche quando la trama del singolo episodio non è molto creativa o complessa. Non sono molti i plot twist presenti nella serie, ma segue un pattern prevedibile e confortante, dove i temi trattati sono comuni e in cui quasi tutti gli spettatori si possono ritrovare.
La principale fonte di risate è data soprattutto dai dialoghi e dalle battute scambiate con ritmo incalzante: non solo Jess, ma anche tutti gli altri si ritrovano spesso a compiere azioni divertenti e assurde semplicemente per provare di avere ragione.
In Brooklyn Nine-Nine la comicità viene spesso da motivi esterni ai personaggi: le situazioni e i casi su cui si ritrovano a lavorare creano molti punti divertenti all'interno delle puntate. Questa modalità assomiglia, per motivi anche di forza maggiore, ad altre comedy come Parks and Recreation o The Office (US). In questo caso il punto focale della serie è il distretto poliziesco in cui i personaggi lavorano: la maggior parte delle puntate, e automaticamente degli sketch, avviene esclusivamente in relazione a ciò che succede in quel luogo.
Col progredire delle stagioni, alcune situazioni si spostano anche nel "privato" dei vari soggetti, ma è evidente come questa serie sia scritta con l'intento di creare molta della comicità a partire dall'universo poliziesco in cui vivono, così come The Office (US) poneva molto l'accento sulle dinamiche di ufficio.
Queste due serie hanno poi avuto un importante momento di connessione: entrambe sono state utilizzate per creare due episodi crossover.
Nonostante il risultato sia tutt'altro che perfetto, le puntate hanno permesso di esplorare con più facilità le differenze tra i due show: vedere Jess aiutare Jake a risolvere un caso ha stupito molto gli appassionati di New Girl. I ritmi delle sue serie, accostate così tra di loro, sono più diversi di quello che potrebbe inizialmente sembrare.
Tirando le somme possiamo dire che queste due comedy sono prodotti che sfruttano sapientemente le proprie forze per risultare quanto più innovativi e divertenti possibili: se Brooklyn Nine-Nine trae la sua forza dagli spunti comici di questo tipo particolare di racconto poliziesco, New Girl d'altro canto pone più l'accento su situazioni domestiche in cui gli spettatori possono identificarsi.
Comunque rimangono due prodotti freschi e leggeri, pronti a strappare un sorriso e cullare con simpatia, assurdità e un pizzico di dolcezza il proprio pubblico.