Sex and the City è un prodotto seriale di quelli che hanno letteralmente cambiato la storia del piccolo schermo con una forza incredibile e anche un'incredibile coraggio perché non è affatto semplice parlare della sessualità femminile in tutte le sue sfumature specie se si tratta di donne single che non rispondono alla vecchia morale un po' bigotta secondo cui le bravate le fanno gli uomini mentre la donna non è autorizzata a godere e a disporre della sua libertà sessuale. Con questo non voglio dire che Samantha, Carrie, Charlotte e Miranda sono le degne eredi delle femministe sessantottine ma che piuttosto i loro personaggi equivalgono ad una sorta di evoluzione. Sex and the City per la prima volta ha fatto in modo che il grande pubblico potesse confrontarsi con una nuova realtà sociale ovvero l'esecuzione – e non più la teorizzazione o la lotta – dell'emancipazione femminile in una città dove le tendenze non arrivano ma si generano: New York.
Una serie che personalmente ho visto e rivisto infinite volte ripercorrendo tutte le sei stagioni dall'inizio alla fine o a spizzichi e bocconi sempre con la stessa voglia di commuovermi per le incertezze di Carrie che rincorre un amore disperato o a sorridere per l'ingenuità di Charlotte. Samantha non perde mai un colpo e dall'inizio alla fine dimostra di essere lei la portatrice di questo leggero e sgargiante messaggio di libertà. Lei il suo amore l'ha trovato ed è proprio se stessa l'oggetto del suo amore tant'è che l'altra parte del cielo non fa per la PR più focosa d'America, una donna che si sente completa senza bisogno di giustificare la sua felicità con un uomo al suo fianco. Miranda era quella tutta carriera e cinismo che invece, ironia del destino, si ritrova prima madre single poi madre e moglie esaurita.
Tutte e quattro insieme ci hanno fatto divertire e piangere praticamente in ogni episodio diventando un'icona dei giorni nostri.
Allora non resta che ridere ancora delle 15 scene più divertenti di Sex and the City selezionate esclusivamente per voi.
1 La sbronza colossale di Charlotte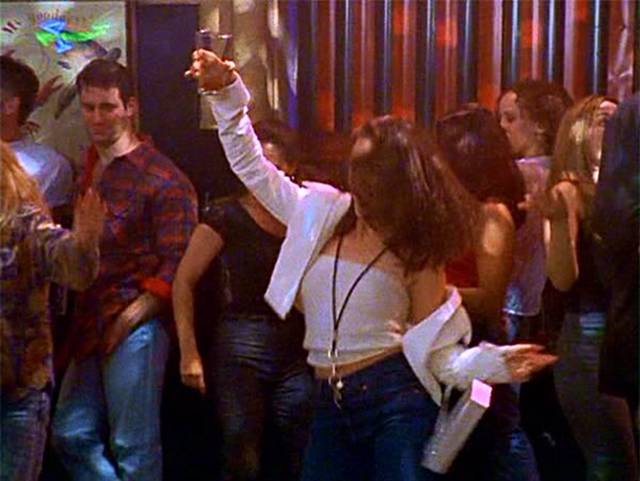 Sulle note di Doctor's Oders di Carol Douglas Charlotte si dimena, Long Island alla mano in mezzo alla pista del locale dove Carrie faceva da giurata per una sfilata di beneficenza un po' particolare. Occhi chiusi e capelli volteggianti a destra e sinistra ignara che le sue amiche dovranno trascinarla sul traghetto per tornare a Manhattan. Samantha si è adescata il suo braccio muscoloso, il pompiere tutto scolpito dei suoi sogni mentre Miranda e Carrie fanno da balia ad una Charlotte disinibita e completamente ubriaca che ondeggia sul pontile urlando a New York che lei si sposerà, si quest'anno si sposerà. Certo.