8 La vagina depressa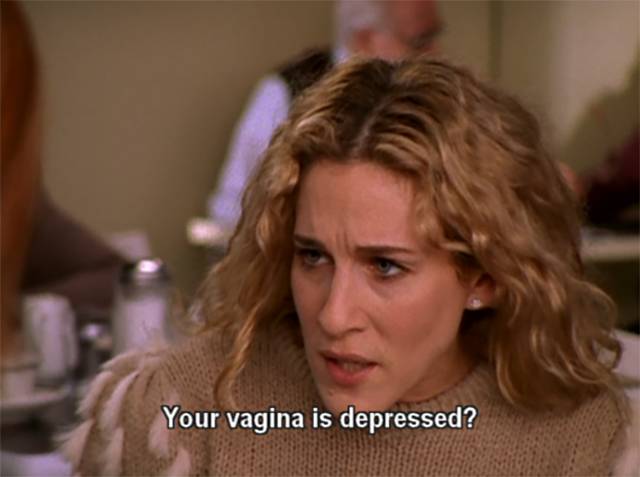 Sempre lei, mi sto accanendo sulla mora e dolce Charlotte che in un episodio racconta di avere la vulvovaginite, una patologia diagnosticatale anche come depressione della gigetta che a quanto pare non era molto soddisfatta di come Charlotte gestiva la sua vita affettiva e non. Per questo dovrà tenere un diario sullo stato di salute della suddetta. Ad un certo punto della conversazione che provoca un'infinità di battute da parte delle altre amiche, si scopre che Charlotte non si è mai data un'occhiata in mezzo alle gambe perché non trova che ci sia niente di attraente lì sotto. Ed ecco spiegato l'arcano di quella particolare patologia.
9 I fuochi d'artificio di Maria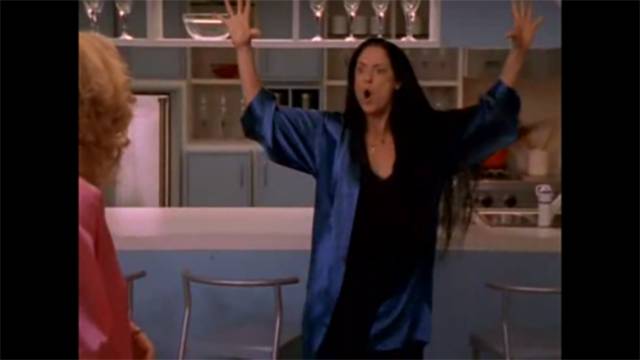 La fase lesbo di Samantha con l'esotica artista Maria dai capelli lunghi e neri non è finita nel migliore dei modi. A furia di respingere le vecchie frequentazioni maschili della biondona di Sex and the City, Maria ad un certo punto non ci vede più e si chiede che tipo di vita conducesse prima di conoscerla. A questo punto diventa il set di Donne sull'orlo di una crisi di nervi ed è così che Samantha finalmente può liberarsi di un peso a cui non era abituata: lo straparlare delle donne riguardo le relazioni. Un turbinio di stoviglie gettate a terra, piatti, bicchieri e quant'altro per ricreare i fuochi d'artificio che Samantha rimpiangeva nei rapporti con gli uomini.
10 Too big to handle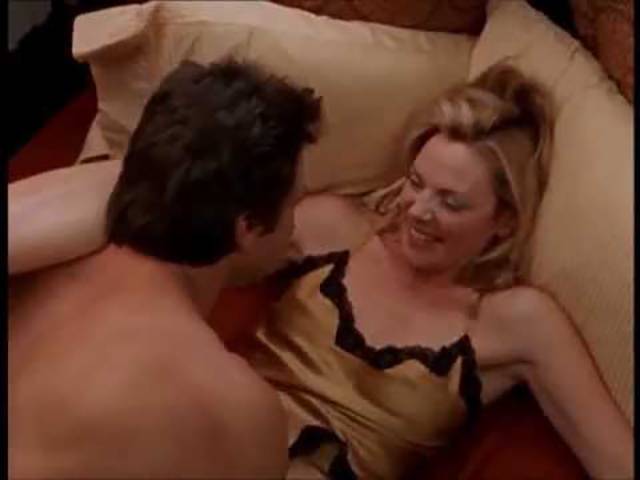 Per la serie non gliene va mai bene uno, vi ricordate del periodo in cui Samantha è uscita con un pene troppo piccolo e poi con un pene troppo grande? Ce l'ha messa davvero tutta per farlo entrare ma non c'è stato verso. Non era umanamente possibile ed è un peccato perché si trattava di un bel ragazzo a cui Samantha si stava affezionando però il troppo stroppia e di conseguenza, così come per l'altro, ha dovuto lasciarlo andare per cercare quello che le sarebbe calzato a pennello. Bellissima anche la scena del primo boyfriend con il suo little hero convinto che si trattasse non di dimensioni ma di problemi legati all'emotività o chissà cos'altro. Davanti alla sessuologa, Samantha si sforzava di trovare delle argomentazioni realistiche al suo mancato appetito sessuale fino a quando sbotta lasciando il suo uomo di sasso. Non sono io che ce l'ho troppo piccolo ma tu che ce l'hai troppo grande sarà la risposta. Fine della storia.