Molti di voi avranno passato i pomeriggi davanti allo schermo quando veniva trasmesso Gilmore Girls, conosciuto in Italia come Una Mamma per Amica. La Serie ha avuto molto successo, tanto che nel 2016 è stato prodotto un revival.
Il revival, dal titolo Gilmore Girls: A Year in the Life (Una Mamma per Amica: Di nuovo insieme), è stato accolto con comportamenti diversi tra i fan. Le critiche non sono infatti mancate.
Un secondo revival di Gilmore Girls sta per essere discusso. Potremmo quindi vedere una seconda stagione della Serie. Ecco le parole di Cindy Holland (vicepresidente dei contenuti originali di Netflix) alla Television Critics Association:
Non ne abbiamo proprio parlato. Ma Amy Sherman-Palladino, creatrice della Serie, sa che siamo grandi fan di Gilmore Girls.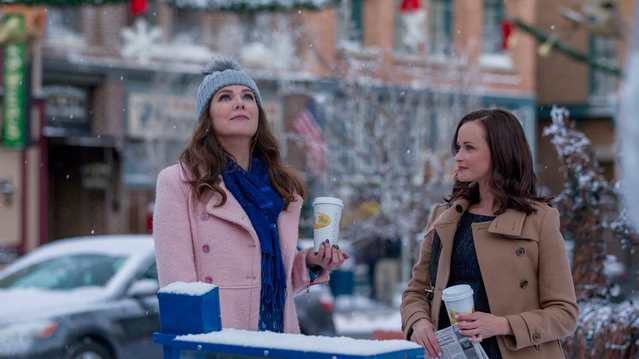 Sembra quindi che, almeno per il momento, una seconda stagione di Gilmore Girls: A Year in the Life non sia in discussione. Ciò però non significa che il progetto non verrà preso in considerazione. Attualmente la Sherman-Palladino è impegnata nella realizzazione di un altro prodotto per Amazon: si tratta di The Marvelous Mrs. Maisel. Tuttavia il suo contratto prevede una sorta di "permesso" che consentirà alla Sherman-Palladino di lavorare a un'eventuale seconda stagione di Gilmore Girls.
Lo scorso anno Ted Sarandos, Chief Content Officer di Netflix, aveva dichiarato di aver parlato con i Palladino per il sequel di A Year in the Life. Ecco le sue parole:
Abbiamo ovviamente amato il successo della Serie e i fan hanno apprezzato il modo in cui è stata realizzata: ha offerto ciò che speravano. La cosa peggiore è stata dover aspettare un paio d'anni prima che la tua Serie preferita facesse ritorno e temere un'insoddisfazione, ma i Palladino hanno offerto qualcosa di buono e le persone volevano averne di più. E abbiamo accennato ai creatori questa possibilità.