Chi cavolo è il padre?
È più o meno la domanda che noi fan di Una Mamma per Amica continuiamo a farci da un po'.
Mi è sembrato giusto dare sfogo all'interrogativo che attanaglia tutti noi all'inizio, in modo tale che non ci saranno altri improvvisi sfoghi durante il continuo di questo articolo (forse…).
Ma evitiamo spoiler in favore di coloro che ancora non hanno visto A Year in the Life.
Perché ancora non lo avete visto? PERCHE' ?!?!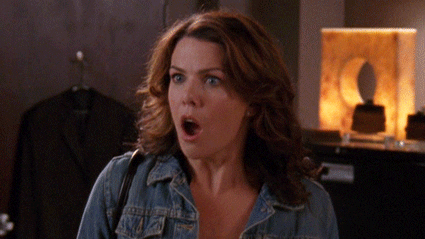 Comunque, Una Mamma per Amica ha segnato la nostra infanzia, la nostra pre-adolescenza, la nostra adolescenza e quella fase che si trova a cavallo tra 'domani ho un esame ma giuro, questo è l'ultimo episodio' e 'oh, cavolo! La mia ex-compagna di classe del liceo si sposa tra una settimana, ed è già incinta?!'. Insomma, possiamo dire senza remore che Una Mamma per Amica è stato il sottofondo della nostra vita.
Ed è sicuramente una delle ragioni che ci ha incoraggiato ad essere…
quello che siamo!
Ma sì! Avete presente quando mettete a fare il caffè, poi andate in camera a 'studiare' e vi scordate completamente di controllarlo e di chiudere il gas? Oppure quando in tv danno un episodio a caso di Gilmore Girls e voi siete lì, con in mano una fetta di quella pizza surgelata che vi salva la vita quasi due giorni a settimana da un paio di anni e riuscite a far scivolare tre gocce di pomodoro sul divano bianco che vostra madre vi aveva raccomandato di non sporcare?! Esatto, siamo proprio noi, dei perfetti Gilmore!
Se solo potessimo avere un sottofondo musicale per ogni nostra 'folle cretinata' potremmo veramente far parte di questa famiglia.
Ma a questo ci hanno già pensato loro, i protagonisti di questa meravigliosa Serie Tv che attraverso delle bellissime e, alle volte, molto particolari scelte musicali, ci hanno trasportato in un mondo apparentemente lontano, ma che in realtà è molto più vicino a noi di quanto sembri.
Le canzoni che hanno fatto la storia di Una Mamma per Amica sono tantissime, ma queste 20 sono forse quelle che più resteranno nei nostri cuori.
1. Where You Lead – Carole King
If you're out on the road
Feeling lonely and so cold
Come si fa a non iniziare con il brano dei brani, con la canzone che ad ogni inizio puntata ci faceva agitare quasi quanto Lorelai dopo il decimo caffè.
È, ancora oggi, il brano che più ci fa emozionare e cantare a squarciagola, il marchio di fabbrica di Una Mamma per Amica.