Nel 2008 si concludeva una delle serie tv che ha accompagnato l'infanzia e l'adolescenza di molti di noi: Una mamma per amica (Gilmore Girls in lingua originale). La storia delle ragazze Gilmore, ideata da Amy Sherman-Palladino (creatrice anche di Fleabag e The Marvelous Mrs. Maisel che potete trovare in streaming su Amazon Prime Video), ha avuto un grandissimo successo nei primi anni duemila, tanto che, nel 2016, ne è stato realizzato un revival: quattro puntate della durata di un'ora e mezza ciascuna (praticamente quattro film), ambientate durante le quattro stagioni dell'anno e rilasciate in streaming su Netflix. Ma neanche il ritorno sulla piattaforma ha saziato i fan e qualche mese fa si è parlato di far continuare la serie tv con un musical, progetto al quale Lauren Graham (Lorelai Gilmore) era pronta a partecipare.
Una mamma per amica è una serie tv che segue le vicende di Lorelai e Rory Gilmore, madre e figlia che vivono nella ridente cittadina di Stars Hollow, città immaginaria situata nel Connecticut. Lorelai Gilmore, interpretata da Lauren Graham (Parenthood) è una mamma single che sogna di aprire una locanda tutta sua, dipendente dal caffè e dalla parlantina inarrestabile. Figlia di una famiglia altolocata, a sedici anni rimane incinta e si trasferisce a Stars Hollow per crescere la piccola Rory da sola. Per interpretare la mamma più famosa delle serie tv, Lauren Graham ha dichiarato di essersi ispirata al rapporto con suo padre.
"Non avevo le idee chiare su come interpretare il ruolo di una mamma – ero in contatto con mia madre, ma non regolarmente. Ho iniziato senza sapere come una mamma 'dovrebbe comportarsi' e come 'dovrebbe essere'. Quindi ho pensato all'amicizia con mio padre – è a quello che mi sono ispirata".
Rory Gilmore, invece, interpretata da Alexis Bledel (The Handmaid's Tale) è una ragazza estremamente intelligente e un'avidissima lettrice, col sogno nel cassetto di essere ammessa ad Harvard. Si dimostra spesso più matura dei suoi coetanei, anche se rimane pur sempre un'adolescente. La sua vita sentimentale è costellata da tre grandi amori: Dean, il ragazzo della porta accanto; Jess, il tenebroso che ti spezza il cuore; Logan, l'amore più maturo. I sentimenti, però, non le fanno mai (o quasi) perdere di vista l'obiettivo di diventare giornalista.
La serie tv inizia con una Rory Gilmore adolescente alle prese con il suo primo amore e si conclude con la sua laurea a Yale. Lorelai, dal canto suo, riesce a realizzare il suo sogno e ad aprire una locanda: il Dragonfly Inn. Alla fine della settima stagione, però, Una mamma per amica è stata cancellata, lasciando tutti con l'amaro in bocca, dato che la conclusione non è piaciuta ai più, probabilmente anche a causa del passaggio di testimone avvenuto tra la sesta e la settima stagione: Amy Sherman-Palladino e il marito, infatti, hanno abbandonato la produzione della serie.
Ma come si conclude la settima stagione di Una mamma per amica?
La non più piccola Rory Gilmore si è laureata a Yale a pieni voti, ma la sua relazione con Logan è naufragata dopo una proposta di matrimonio che la ragazza non ha voluto accettare. Mentre progetta un viaggio per gli Stati Uniti con la madre e prepara dei curriculum da inviare, riceve un'inaspettata proposta di lavoro: seguirà la campagna elettorale di Barak Obama per conto di un giornale online. Il viaggio e la festa di laurea organizzata a Stars Hollow, quindi, vanno in fumo.
Lorelai Gilmore, dal canto suo, è in ansia per la partenza della figlia e rimane profondamente colpita quando Luke, con la complicità dell'intera cittadina di Stars Hollow, organizza una festa a sorpresa per salutare Rory. L'episodio, quindi, si conclude con un bacio tra Luke e Lorelai e un ultimo caffè al diner prima della partenza.
Dopo la cancellazione della serie tv si è iniziato subito a parlare del ritorno di Una mamma per amica, anche sottoforma di film. La proposta della pellicola cinematografica, però, è stata scartata da Netflix perché non avrebbe attirato una fetta sufficiente di pubblico sulla piattaforma streaming. Ma i fan di Rory e Lorelai Gilmore, dei loro dialoghi incalzanti e dei loro continui riferimenti alla cultura pop non si sono dati per vinti e nel 2015 è arrivata la notizia del revival che ha visto il ritorno dell'intero cast della serie madre.
Una mamma per amica è tornata in streaming su Netflix, e con essa Lauren Graham e Alexis Bledel hanno potuto nuovamente vestire i panni di Rory e Lorelai. Noi, invece, abbiamo potuto passare qualche ora sul divano a goderci i quattro film che compongono Gilmore Girls: A Year in the Life. Nel revival vediamo come si è evoluta la vita delle protagoniste nei nove anni in cui siamo stati separati: la carriera di Rory, purtroppo, non ha preso la piega sperata, mentre la vita di Lorelai sembra essere a un punto morto.
Qual è, quindi, il finale definitivo di Una mamma per amica?
Il quarto episodio del revival in streaming su Netflix, ambientato in autunno, vede Lorelai Gilmore alle prese con un viaggio in stile Into the Wild, dal quale ritorna senza neanche averlo portato a termine. Dopo aver chiamato la madre e aver condiviso con lei un ricordo del padre recentemente venuto a mancare, Lorelai torna a Stars Hollow, dove chiede a Luke di sposarla.
Rory, invece, è in rottura con la mamma da quando ha deciso di dare una svolta alla sua carriera scrivendo un libro, ma non uno qualunque: vuole raccontare la sua storia e quella della madre, ma Lorelai non è d'accordo. Durante l'assenza della mamma, la ragazza vive anche la sua ultima avventura con la Brigata della Vita e della Morte, chiudendo per sempre la sua relazione clandestina con Logan, in procinto di sposarsi.
L'altra donna Gilmore le cui vicende sono seguite da vicino nel revival di Una mamma per amica è Emily, che si trova a dover superare la morte del marito. Trasferitasi a Nantucket, inizia a lavorare come guida presso il museo del faro locale, decide di vendere la casa che per anni aveva condiviso con Richard e si ferma stabilmente nella cittadina di mare con la sua nuova domestica Berta e la sua famiglia. Inoltre, abbandona il club delle Figlie della Rivoluzione, cui un tempo era legatissima.
Alla fine dell'episodio, Rory convince Lorelai a dare una chance al libro, intitolato Gilmore Girls, mentre lei e Luke convolano a nozze in segreto, perché non riescono ad aspettare il giorno prestabilito (anche se la cerimonia prefissata si farà comunque). Nell'ultimissima scena del film, Rory e Lorelai chiacchierano sugli scalini del patio della piazza di Stars Hollow e la ragazza confessa alla madre di essere incinta.
Un cliffhanger che lascia presagire l'intenzione di tornare con nuovi episodi.
Il ritorno di Una mamma per amica su Netflix (dove potete trovare in streaming anche gli episodi della serie madre) è stato attesissimo, ma non ha soddisfatto completamente i fan, molti dei quali – in articoli e video dedicati – hanno criticato il modo in cui i personaggi si sono evoluti, manifestando il loro dissenso nei confronti della conclusione scelta dalla Palladino. Un altro tasto dolente legato allo sviluppo delle vite di Lorelai e Rory riguarda l'incoerenza di alcuni elementi del revival con la settima stagione, che aveva preso una piega diversa da quella voluta dalla creatrice: la Palladino, infatti, ha sfruttato l'opportunità datale da Netflix per correggere il tiro, dopo aver lasciato la sua creazione in mano a David S. Rosenthal.
Il finale di Una mamma per amica – Di nuovo insieme non ha convinto al cento per cento neanche il volto di Rory Gilmore, Alexis Bledel, che ha rilasciato delle dichiarazioni sul destino della sua Rory durante un panel nel 2017:
"Ho detto ad Amy che speravo che Rory avesse un finale migliore dopo tutta la fatica che ha fatto. Volevo vederla avere successo ed essere indipendente. Quindi è stato difficile da digerire, per me".
Già dopo l'uscita del revival, si era parlato di un secondo ritorno di Una mamma per amica, sempre su Netflix, e la stessa Luren Graham aveva affermato che, secondo lei, la storia di Rory e Lorelai Gilmore non sarebbe finita con Gilmore Girls: A Year in the Life. Alexis Bledel e altri membri del cast, al contrario, non erano altrettanto certi di un ulteriore ritorno e, difatti, le voci di una nona stagione si sono spente dopo poco.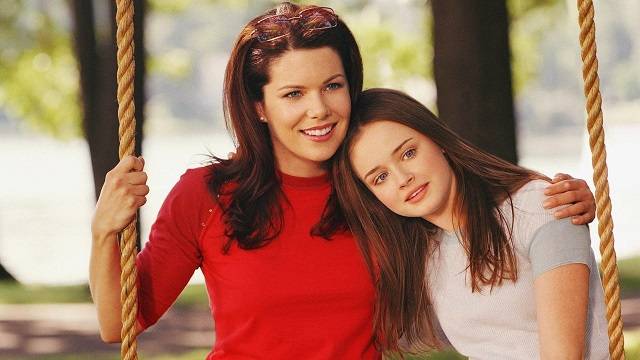 Nel frattempo, però, non si è smesso di parlare di Una mamma per amica: sia Alexis Bledel che Lauren Graham, ma anche altri membri del cast, hanno continuato a rilasciare interviste, raccontando com'è stato tornare sul set di Stars Hollow e commentando il finale della serie tv creata da Amy Sherman-Palladino. Il volto di Lorelai Gilmore, in particolare, ha commentato in una video-intervista le ultime quattro parole pronunciate da Rory, che la creatrice di Una mamma per amica aveva deciso fin dal primo episodio.
"Ho scoperto le ultime quattro parole a metà di questa stagione e la mia reazione è stata 'Ah, davvero? Ah!'… Ha senso se pensiamo al percorso della serie tv, ma capisco… Lascia anche un dubbio".
Dubbio che, forse, potrebbe essere chiarito nella fantomatica nona stagione della serie tv.
Recentemente, infatti, si è tornati a parlare della possibilità che Netflix realizzi un'ulteriore stagione di Una mamma per amica. Già alcuni membri del cast si erano espressi sull'argomento, ma recentemente la Palladino è tornata a vagliare la possibilità di un ritorno. A riaccendere la speranza, però, sono state soprattutto le parole della produttrice di Netflix Cindy Holland, che non si è sbilanciata, ma ha lasciato intendere che potrebbe esserci spazio per un secondo revival.
Ci sono tante cose da valutare, certamente, come la possibilità di far tornare nuovamente l'intero cast: la mancanza di qualche abitante di Stars Hollow scontenterebbe sicuramente i fan e, in particolare, è necessario garantire il ritorno di Lauren Graham e Alexis Bledel. Quest'ultima, in particolare, negli ultimi anni è stata impegnata con la serie tv The Handmaid's Tale e non si sa quando potrebbe essere disponibile. Quel che è certo è che qualsiasi nuova stagione di Una mamma per amica sarà su Netflix. Di sicuro la storia di Lorelai e Rory Gilmore ha ancora qualcosa da dire e noi accoglieremo sempre a braccia aperte il ritorno delle nostre "Gilmore Girls".