The CW aveva annunciato la fine di The 100 con l'uscita della settima stagione.
Gli ultimi episodi sarebbero dovuti uscire entro il 2020, ma l'emergenza mondiale COVID-19 ha mandato in panne i piani di un sacco di show.
A causa della dichiarazione di pandemia del coronavirus c'è stata la concreta possibilità che anche le riprese di The 100 slittassero in avanti, invece la produzione ha resistito e ha concluso il lavoro.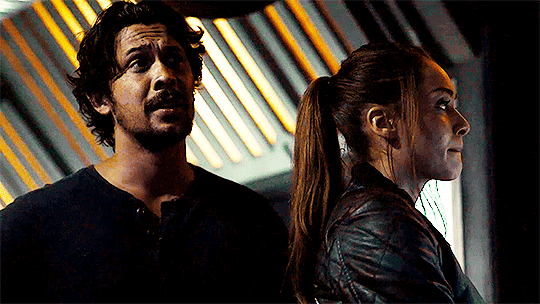 Quando il coronavirus è diventato un problema di dominio mondiale, molte produzioni hanno deciso di chiudere temporaneamente i battenti e mettere in pausa il lavoro per evitare inutili e pericolosi contagi: per quanto riguarda The 100 invece non è stato così.
Le riprese non sono state sospese non perchè in casa The CW siano degli incoscienti, ma perchè mancavano all'appello solo alcune scene dell'ultimo episodio (il 100esimo per chiudere il cerchio) che si è deciso di portare a termine.
Gli attori protagonisti hanno dovuto dire addio ai propri personaggi in un clima di timore di questa malattia che sta riguardando tutta la popolazione.
Ogni protagonista però ha trovato un momento per raccogliere i pensieri e salutare per sempre il proprio alter ego in The 100, in molti hanno condiviso con i fan le proprie sensazioni.
Bob Morley (interprete di Bellamy Blake ha scritto sul suo profilo Twitter:
"Quando qualcosa sta per finire, può essere difficile ricavarne un chiaro significato. Il perché, il messaggio, la lezione? A questo punto, si può solo guardare indietro e ringraziare per ciò che è stato. Ci si sente più saggi come esseri umani. Ne sono grato. State bene, siate gentili."
Marie Avgeropoulos, volto della sorella di Bellamy Octava Blake, ha pubblicato una foto della locandina della settima stagione della serie e ha scritto:
"Il mio primo giorno di riprese del centesimo episodio. Una sensazione di grande emozione. Octavia sarà sempre una parte di me in qualche modo. Un ringraziamento va a tutti coloro che mi hanno dato l'opportunità di raccontare la sua storia, al cast e alla troupe."
Mentre Sachin Sahel che interpreta il dottor Eric Jackson ,uno dei personaggi secondari, ha pubblicato una lunga ed emozionante lettera dedicata allo show e al suo personaggio.
The CW ha ritenuto che le ultime e definitive riprese potevano essere effettuate nonostante la pandemia del coronavirus e non sarebbero state pericolose per tutta la troupe.
Durante la storyline dello show di The CW i protagonisti ne hanno viste di tutti i colori mentre nella realtà erano sani e salvi, purtroppo questa volta è stato diverso: anche la realtà è diventata pericolosa.
Se tutto va bene l'ultima stagione di The 100 composta da 16 episodi sarà rilasciata negli USA il 20 maggio 2020.