Il 2016 ci ha portato molte nuove serie televisive degne di nota. Dall'osannata Westworld a Stranger Things, da crime come The Night Of e American Crime Story fino al nuovo prodotto Marvel Luke Cage è stato un anno molto prolifico per quel che riguarda i nuovi prodotti seriali.
Passando in rassegna invece le serie non iniziate durante quest'anno che va concludendosi, vi sono state molte conferme. Vediamo quali in questa classifica.
Ovviamente da qui in poi la presenza di spoiler è altissima.
11) Daredevil (seconda stagione)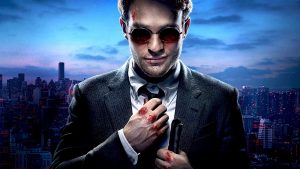 La serie Marvel/Netflix conferma quanto di buono visto nella prima stagione. Anzi, non solo ritroviamo brevemente il magnifico Vincent D'Onofrio nei panni di Wilson Fisk, ma si aggiungono al cast Jon Bernthal ed Élodie Yung, nei panni rispettivamente di Frank Castle "The Punisher" ed Elektra Natchios.
Se la prima stagione era servita come premessa per inquadrare la nuova realtà nella quale si cala Matt Murdock, il nuovo capitolo vede l'eroe di Hell's Kitchen ormai in lotta contro tutti i maggiori criminali del quartiere e non solo, vista la presenza, molto più rispetto a prima, della setta Ninja "La Mano", che cerca di resuscitare i morti tramite strani procedimenti e servendosi di bambini rapiti.
Tutto quello che si vede in questa stagione (incluso il cliffahanger finale) e nella prossima farà da apripista ad una miniserie dal titolo Marvel's The Defenders, improntata sui supereroi newyokesi della Marvel, così da unire il mondo di Daredevil a quello di Jessica Jones, Luke Cage e Iron Fist.