7- Sons of Anarchy
Sons of Anarchy è un maledetto bivio. Seguire il punto di vista psicologico-emotivo tracciato da quell'antieroe protagonista, tanto magnifico quanto dannato, che risponde al nome di Jax Teller, oppure seguire l'evolversi della criticità degli eventi criminali e sanguinari con artefici i trafficanti d'armi dei Sons of Anarchy? La biforcazione finisce con il confluire nella stessa maledetta direzione, la serie ci farà amare questi sanguinari, carnefici ed al contempo vittime, anime unite da un legame indissolubile, criminali giustificati dallo spettatore e dalla polizia del piccolo paese di periferia, distante dal mondo civilizzato. Il dramma familiare (basato sull'Amleto di Shakespeare) lega le vicende del biondo Jax, alle trasformazioni del suo club d'appartenenza. Una serie epica, una singolare partita a scacchi tra bene e male. Molte anime oscure, molte anime oneste, molti bugiardi, e molti soldati valorosi, SoA è la contraddizione dell' infinito chiaroscuro di ogni personalità. Criminale ed onesta che essa sia.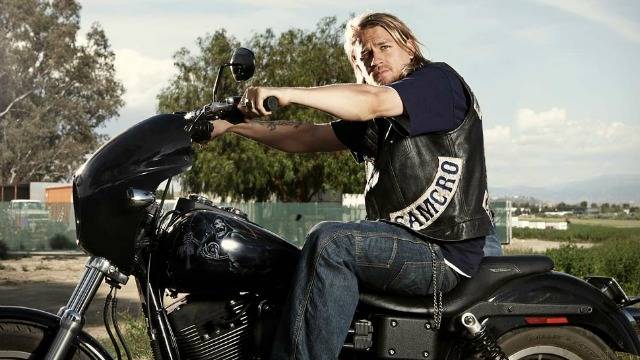 "When we take action to avenge the ones we love personal justice collides with social and divine justice. We become judge, jury, and God. With that choice comes daunting responsibility. Some men cave under that weight. Others abuse the momentum. The true outlaw finds the balance between the passion in his heart and the reason in his mind. His solution is always an equal mix of might and right."
8- The Following
The Following è una serie che mostra come creare uno dei dualismi seriali più affascinanti, morbosi e incredibili: Joe Carroll l'ex professore di letteratura, diventa un magnetico serial killer con la predisposizione al femminicidio. Ossessionato dalla scrittura del suo romanzo autobiografico, ingaggia una sfida psicologica con Ryan Hardy, ex agente F.B.I., il suo antagonista ed artefice del primo arresto, risalente ad otto anni prima. Questi due, semplificando, hanno un morboso rapporto di stima che li intrappola in un'empatia quasi inconcepibile, riassumibile con la tipica sindrome di Stoccolma.
Joe distorce la bontà di Ryan – anche se già questo non era proprio l'essenza del puro – e lo porta a compiere gesta avventate, sempre più maligne, manipolandolo allo scopo di poter scrivere il romanzo della sua vita. Lo scrittore tenta di plasmare la realtà alle gesta della scrittura del suo stesso romanzo. Per Ryan Hardy, dare la caccia al male gli permette di smarrirsi in esso, solcando la stessa via dell'antagonista.
Quanto mai profetiche sono queste parole: "Quando io morirò, anche tu morirai"